Blog
These are not the state's official rankings, just how I voted for the Preseason Basketball Rankings in the South Dakota Media poll.Good luck to all the teams and players.
Class B Girls
1. Viborg-Hurley
When a team wins the state title and you return four starters, you can bet there will be high expectations the following season. A strong senior class that includes Coral Mason (15.7 ppg) and Denae Mach (14.7 ppg), will provide much of the scoring again with Estelle Lee and Shelby Lyons providing more steady play in the starting rotation. Head Coach Molly Mason has the right mindset entering the season, "Coming off a championship season, we have really had to reset and focus on a new season/new team. Of course, we want to be where we were come March, but we understand that there are so many talented teams and players in Class B, that we will have to earn everything."
2. Wolsey-Wessington
The Warbirds finished a tough schedule last season with a 13-8 mark, their sights are set much higher this year. "We have set some high goals for ourselves," said Coach Josh McGillvrey, "we have the right mindset that every team we play is going to be a dog fight. If we can stay healthy, I truly think we can be a contender." Leah Williams and Mya Boomsma returning already make Wolsey-Wessington a feared opponent but the addition of all-state center, Mallory Miller (19.5 ppg, 13.2 rpg, 3.5 bpg), in the middle makes them a state contender.
3. Corsica-Stickney
The Jaguars look good on paper but there are a lot of hurdles for this team. Just two starters return from their 22-4 squad a year ago and USD recruit, Avery Broughton, will start the season on the bench as she returns from her second ACL injury. Payton DeLange (6.5 ppg, 5 rbpg, 1.8 apg, 2.4 spg) must step up in her 5th season of varsity basketball. Sutten Eide, Jacey Kemp, Ashlyn Lefers, Mara Lagge and Kendall Olawsky are ready to pick up the slack. "We have a lot of missing pieces to fill," said Coach Lorisa Broughton, "We are not going to be able to have an off night and still cruise to a win. We also need to replace a lot of scoring. So being able to create shots and then take them is going to be big. We plan to play a lot of girls."
4. Castlewood
The Warriors didn't have a senior on last season's team that went 16-6 and made it to the SoDak 16. This year with Mackenzie Everson and Maddie Horn leading the way, Castlewood figures to be a legitimate state title contender.
5. Howard
Five starters return five starters from last year's 15-8 squad. Abby Aslesen, Kate Connor, Trinity Palmquist and Rylee Rudebusch all can attack the rim and fill up the points column. They'll look to improve their outside shooting and overall team defense to take the next step up under coach Wade Erickson, "We made a deep run last year to the SoDak 16 where we didn't play well at all and that has the girls hungry to get back on the floor. We graduated one senior last year and bring back a good combination of experience and some younger girls that are ready to contribute."
Others to watch
Centerville – The Tornadoes have some unfinished business after a 20-3 season with an exit in the SoDak 16. Four starters return including Thea Gust (14.5 ppg). "Last year we set the school record in points allowed per game (39.6)," said Coach Tucker Tornberg. "We hope to continue to play high-level defense this year and hang our hat on our ability to get stops and rebound."
De Smet – The Bulldogs rode an unbelievable season by Kennadi Buchholz all the way to a state title game. This year they'll regroup with Jayda Burke, Alyssa Asleson and Emma Albrecht leading the way along with freshman, Hazel Luethmers, who has the potential to be one of the best players in the area.
Jones County – Scott Matthews has a solid team back including 5 returning starters from last season's 16-6 team. "We feel like we can have a good season and make some strides this year," said Coach Matthews. "Our five starters will be playing their 10th and final season together. We hope their leadership and the team's off-season time spent in the gym will pay off for us." Look for Jadyn Jensen and Mallory Valburg to lead the way.
Wall – Three starters back from their state tournament team could spell success in Wall again. Paige Kjerstad, Nora Dinger, April Schulz and Alexis Stephan lead a solid group.
White River – The Tigers are coming off a great span of seasons where they were led by experience. This season they'll be less experienced but still solid, "They have been working hard during the off season and we look forward to seeing what they can achieve," said Coach Logan Tucker. "We have a good combination of size and shooting, and I think we can be a strong team on the defensive side."
Faith – Every season Faith puts a great team on the court and Head Coach Bryan Carmichael will do that again returning three starters from his state tournament team. TyAnn Mortenson, Shada Shelby and Jaysee Jones are returning to the lineup to set the tone. "We have a very tough schedule and will have to be at our very best to compete in each game," said Carmichael. "Hopefully we see steady improvement throughout the season so that we are ready to compete in the post season."
Class B Top Players

Avery Broughton has vaulted Corsica-Stickney into contention each and every year of her varsity career. The

5'11" senior can play any position on the floor. She is particularly deft at defending and protecting the rim. She is a four time All-State selection (Three 1st team, One 2nd team), School career points leader (1909), School career rebound leader (1014). Last season she produced 18.5 ppg, 10.2 rbpg., 4.3 apg, 2.5 spg, 2.3 blocks per game. She recently signed to play at the University of South Dakota next season. She's also had some bad luck. she missed time during her junior year because of an ACL tear and then in the offseason tore her other ACL. She is expected to be reinstated to the team at some point this year depending on her recovery process. Even with the injury she remains the top player in the class.
---
Class A Girls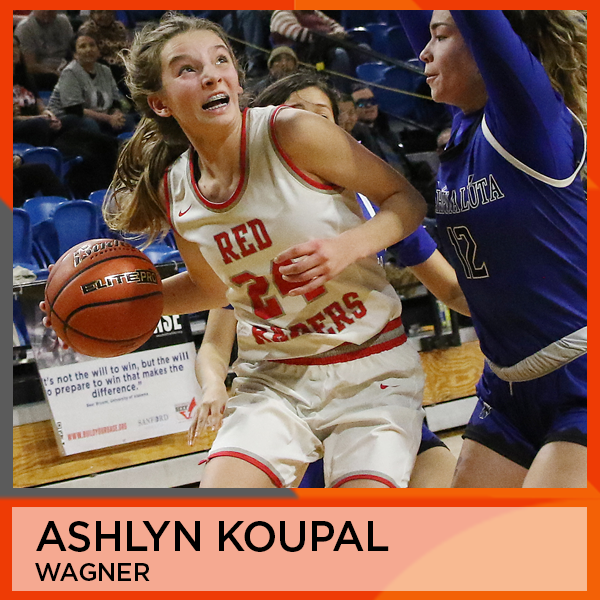 1. Wagner
Last season Wagner came into the state tournament as the top seed and made it the semifinals before losing to the eventual champions. This season head coach Michael Koupal has their six top players returning to action to build on that experience, "Wagner again will use a balanced attack and could have anyone score 20 on any given night," said Koupal. "These girls play for each other; they don't care who scores but what is the end result." Emma Yost, Shalayne Nagel, and Eve Zephier headline a great group of seniors who can all put up big numbers. Macy Koupal, Lydia Yost, and Ashlyn Koupal could all see big boosts this year. Ashlyn is just a freshman but is a mismatch with her length and quickness at 6'1". She averaged 10ppg and 6 rpg as an 8th grader last year and could develop into one of the best players in the state before long. She collected offers from Nebraska, Creighton, Colorado State, SDSU, USD and NDSU this offseason. Overall, this team has the most talent in the state and have learned how to win together with last year's disappointing finish at state. They will come back even better this year.
2. Hamlin
Tim Koisti has put some very good teams on the court over the past several seasons. This team is one of the best. USF recruit Kami Wadsworth is back to lead the way after making a charge to the title game last year. They have much more than Wadsworth however, they return freshman point guard Addison Neuendorf as well who could take a major step up as one of the best in the state. Brooklyn Brandriet, and Ally Abraham are going to be keys in the Charger run this season as well.
3. St. Thomas More
It's rare that a state champion returns all but one key player, including possibly the best player in the state and not come in as the favorite. The difference between Wagner, Hamlin and St. Thomas More is razor thin. They could easily compete for a title this year with Reese Ross leading the way. Ross is a Utah commit with crazy athleticism and leadership. She scored 68 points in the three tournament games last year and looked like the best player in the state. She's surrounded by talent again with Jada Mollman, Gabby Robbins and Scarlet Grimshaw all back in the lineup. If anything holds STM back it will be their depth and size on the interior. Mollman and Ross can both play inside but they don't have a ton of players who can play big in the paint. That being said, the Cavs will be a big threat to win it all again.
4. Flandreau
Last season Flandreau played much better than their 13 seed in the SoDak 16. They finished 18-3 but bring back just four key players. SDSU commit, Claire Sheppard, (15.6 ppg) is one of those returners. Sheppard continues to develop into one of the most versatile players in the state. Lily Klein, Lizzie Pavlis and Sadie Iott should see big improvements with increased roles this season. Head Coach Megan Severtson knows development of their younger players will be important, "Outside of our four returners from last season, we are very young and inexperienced. I would expect there to be a learning curve we will have to work through early in the season. Class A is very good this year and I would consider our region to be one of the best in the State."
5. Sioux Falls Christian
Sioux Falls Christian returns four starters from their state tournament team and look to make gains quickly this winter, "We lose a lot of size and posts from this past season," said Coach Dan DeJong. "We will need to play a faster style of basketball this season and be able to generate points in different ways. We will have a good combination of upper and lower classmen that will need to learn to blend." Ellie Lems (14ppg), Jaxsyn Swift (7.4 ppg), Peyton Poppema (6 ppg) and Moriah Harrison (5.6 rpg) give this team a great framework to build.
Others to watch
Mount Vernon/Plankinton – SDSU commit, Emilee Fox (18.8 ppg), is one of the best players in the state. Coach Preston Kristensen thinks this team is on the way up, "We have a group that put in a lot of time during the summer to compete at a high level. We are looking forward to seeing how we can put it all together and grow as the season goes on to play our best basketball when post-season begins."
Vermillion – I think Vermillion is ready to be a state tournament team this year. All five starters are back from a 17-6 squad including a pair of sophomores who could see exponential improvement, Brooke Jensen and Kasey Hanson. "Our team is a year older and ready to compete with all the teams on our schedule," said Coach Jon Brooks. "If we can stay healthy and continue to improve we feel we can be a tough out when post season play comes around."
Tea Area – SDSU commit, Katie Vasecka (19 ppg), will lead the Titans again this year. Just two starters are back for Tea, but coach Adam Schorzmann likes their trajectory, "This year we have a great blend of experience with youth and energy on our team. We will look to compete in every game we play, even with a tough schedule of going against seven of the top AA teams in the state."
West Central – It seems like West Central constantly gets overlooked and constantly continues to put winning teams on the court. Head Coach Joe Caffrey doesn't return any starters from his state semifinal team from a year ago but thinks this team will show improvement, "We hope the team will improve as the season progresses and to playing our best basketball at the end." Cambell Fischer, Molli Thorteon, Tessa VanOverbeke and Jazelle Jarding should play big roles this season.
Lakota Tech – The Tatanka went 20-1 entering the state tournament last year and should not be overlooked. They lose a few seniors but return a deep group of talented players including Shayla Bravo, Moriah Morisette and Jodene Hunter.
Florence/Henry – A charge into the SoDak 16 showed the potential for this young Falcon group. They have almost everyone back from that 17-5 showing a year ago. Caylin Kelly (17 ppg, 10.5 rpg) could develop into a first team all-state caliber player with a great supporting cast. Trinity Watson (14 ppg), Taylor Watson (7 ppg) and Reese Schmidt all return to the starting lineup as well. Plus, Haley Hlavacek returns from a knee injury for her junior season. "We are looking to take the next step after playing in the SoDak 16 game last season," said Head Coach Mitch Reed. "We should have leadership and depth."
Sisseton – Last season Sisseton shot out to an 8-1 start and showed signs of being a top five type of team. They finished 18-5 and exited in the SoDak 16 against SF Christian. This season with 3 talented players returning to the starting lineup they have a chance to be a surprise team. Hannah Leverson, Emmalee Nielsen and Tara Nelson are a very good nucleus and Coach Sara Lincoln has some very good young players ready to adopt a bigger role this year.
Parkston – This team has a reputation for toughness, and they are going to be tough again this year. Abby Hohn (14.1 ppg) and Faith Oakley (6.8 ppg) will be two of the leaders for the Trojans. They have just two starters back from their 16.6 team a year ago but have a big group of potential players ready to pick up the slack.
Sioux Valley – Four players with starting experience return to the court under Head Coach Jamie Granum following a 15-7 season where they showed signs of improvement. Isabelle Bloker (14.8 ppg) made 84 3's as a freshman last year and will free up the offense with her range. "We have a lot of girls that need to be guarded on the perimeter," said Granum. "Any one of them are capable shooters!"
Rapid City Christian – The Comets are coming off a 14-8 year and bring back three starters and Alexa Ham who return from a season ending injury. Olivia Kieffer has been a consistent 20 point scorer since she was an 8th grader. The future USD Coyote is set to lead this team as a senior. "I am optimistic that we can have a good season," said Coach Joe Kieffer. "We have a solid crew returning with the addition of some good players."
Class A Top Players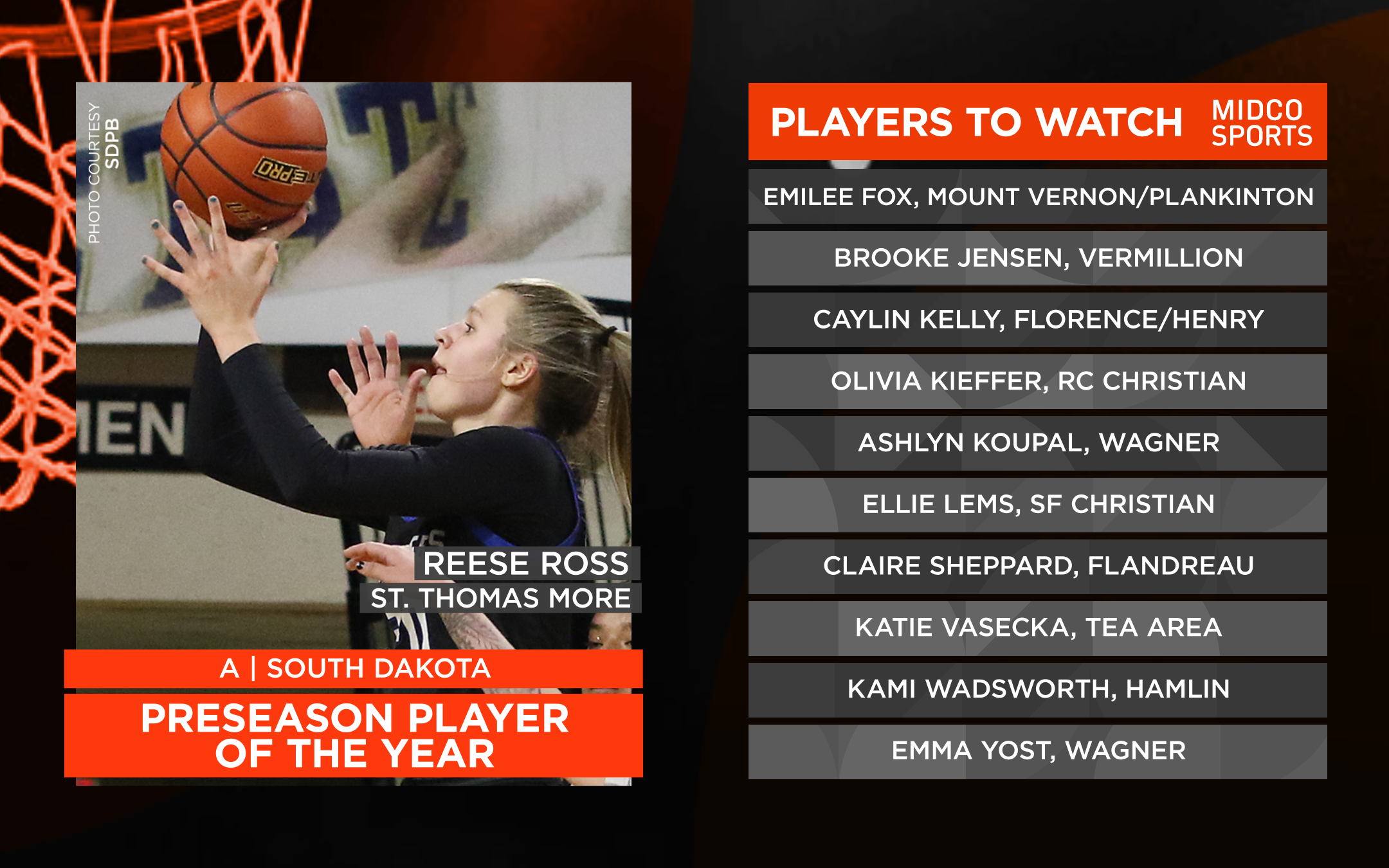 Reese Ross
Ross was a huge part of St. Thomas More's run to a title last season. She averaged 18.8 ppg, 9.8 rpg and 2.2 steals per game. She spent last summer playing summer ball with North Tartan in Minnesota. Her coach Brandon Kandolin said she was moved around to the center spot and handled it well but she's a wing player by trade. She's lettered on varsity since she's been an 8th grader. Her future coach at Utah said, "

Reese is a long, versatile, athletic wing that will be a great addition to our team. She brings a toughness and winning attitude with us, having played for a nationally respected EYBL program (North Tartan) and St. Thomas More in South Dakota, the same school as Dru Gylten

.

She can really defend, shoot the 3, attack, rebound, and she will develop into a fantastic wing at the Pac-12 level."
Class AA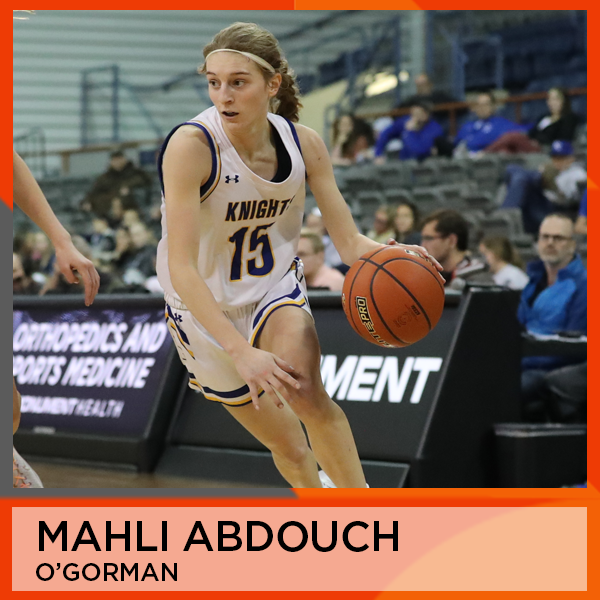 1. O'Gorman
The Lady Knights are coming off a state title with two returning starters back. Mahli Abdouch (12.5 ppg, 5.2 apg) will step up as a leader in this her junior year. Abdouch is committed to the Jackrabbits and has had an outstanding summer. Kira Mentele (9.5 ppg, 5.8 rpg) plays with intensity and should have an increased role on this season's team. Look for Lucy Moore to get more playing time and give the offense a jolt. Paydyn Peterson, Clare Benson, Karsten Schlimgen, Aweng Akoi and Julia Eggert should round out a nice rotation. "We have some good players in our program looking to fill spots, but it will take time to get varsity experience." Don't expect O'Gorman to get out of the gates and go wire to wire but do expect them to be a favorite at the end of the season.
2. Jefferson
The Cavaliers made great strides in their inaugural season last year. This year they'll be able to build off that tremendous start that included an upset in the first round over top-seeded Washington. In that game Cierra Watkins, Jaidyn Dunn and Aliyah McGovern-Harrington all shined and all three are back this season.
3. Washington
Life will be tougher without Ndjakalenga Mwenentanda in the lineup, but Washington still has a very good team. "We had an outstanding year last year finishing with a consolation championship at the state tournament," said Coach Jamie Parish. "We are returning four of our five starters and think that we have developed some young talent that might find ways to fit in." Brooklyn Harpe (11 ppg), Hannah Harpe (2.9 apg), Alexus Motley (8.8 ppg), and Taylor Thompson (5.7 rpg) are all seniors with a lot of varsity experience. Washington may have the most depth with a very good group of seniors and young underclassmen who are ready to step up.
4. Brandon Valley
It's hard to gage this Lynx team. They return just one starter, but that player may be the biggest impact player in the state. Hilary Behrens (17 ppg) is an SDSU signee who can play in the frontcourt or backcourt and create mismatches. However, they'll need to find some fresh players to make this team a contender, "We will be a team that is young on experience on the varsity floor that will be tested early by some of the state's best," said Coach Mike Zerr. "We hope to compete each night out and play our best basketball when it matters the most in February and March." Jaida Metzger, Rylee Schlotman, Kennedi Deckert, and Paisley Hoff will all have a chance to make an impact this season. Look for a lot of different rotations and players in Zerr's lineup until the second half of the season when this team could make a run.
5. Stevens
The Raiders lost six key seniors from last season's title game-team. Head Coach Adam Dannenbring still has high hopes this year, "We will be a much different team with the loss of our six seniors from last season. We are not very tall, but we are fast and skilled. The season will come down to how well we play defense and rebound. Last season we scored 55 points a game and gave up 40 points per game. We are hoping to keep that ratio this season." Taaliyah Porter (9.3 ppg) could take off as one of the top players in the class this season. Macey Wathen, Brittany Jones, Hailey Oswald, Gabbie Love, Claire Fierro and Isabell Higgins all have an opportunity to make an impact.
Others to watch
Pierre – The Govs return five starters and should be able to take off quickly this season. Remi Price (12.5 ppg), Ayvrie Kaiser (10.0 ppg) and Reece Tervilliger (10 ppg) are all double-digit scorers which make them a tough team to guard. "I think we have many returners ready to step up for us," said Coach Kirk Beebout. "I expect it will be someone different on a nightly basis while we also need everyone to excel in their role for us to be successful."
Lincoln – The Pats return a solid backcourt with Mariah Siem and Addie Fawcett as seniors this year. "We felt like we took a major step forward by getting back to the state tournament in 2022, and we would like to get back to that tournament and make a deeper run," said Coach Matt Daly. Lincoln has a solid post in Kierra Lubovich but need to find more consistent jump shooting to move into the top five.
Harrisburg – The Tigers made a run to the state tournament last year and always have talent in the fold for another run. Kayleigh Hybertson, Jaylee Hofer, Hannah Eide, Abigail Flanagan and Makinley Lawrenson are just a few of the names that are ready for a big season.
Watertown – The Arrows started last season strong but couldn't keep the momentum going all season. Maddy Rohde, Jaida Young and Kendall Paulson should provide great senior leadership. If they get solid play from some promising underclassmen they'll be tough to contend with.
Spearfish – Four returning starters should give Spearfish a head start this year under Coach Dakota Johnson, "We return quite a few contributors from last year that have grown a lot over the summer." Tayler Duncan, Mya Kochuten, Jozie Dana and Brylee Grubb all return to the starting lineup. Mya Kochuten could be one of the breakout players in the class.
Huron – Kody Kopfmann takes over the Huron girls' team with three returning starters including Isabelle Ellwein (9.9 ppg), Heavan Gainey (6.9 ppg, 5.6 rpg), and Hamtyn Heinz (13.4 ppg).
Yankton - After last season, the Gazelles graduated five seniors all of whom saw varsity action. "We need to find some scorers to compliment the return of Claire Tereshinski. Defensively the Gazelles are looking to return to a team that hangs their hat on the defensive end with a bend but don't break mindset," said Coach Trey Krier. Claire Tereshinski has two years of varsity experience and will give Yankton their best option on offense.
Roosevelt – Blake Bradfield will take over in his first season as the varsity head coach. They will be a very young team led by Katie Spicer. Some of those younger players are sophomores, Brooklyn Koll, Morgan Johnson, Madison Smalley, and Aubreigh McCall. Juniors Camryn Wilkinson and Elisabat Assefa will also get varsity playing time this season.
Aberdeen Central – Look for seniors Taryn Hettich and Anna Malchow to lead the way for the Golden Eagles. Head Coach, Mikayla Arechigo, will take a strong group of underclassmen and try to make them contenders this season. Taryn Hermansen is a freshman post player who could be the next big thing in a couple of years.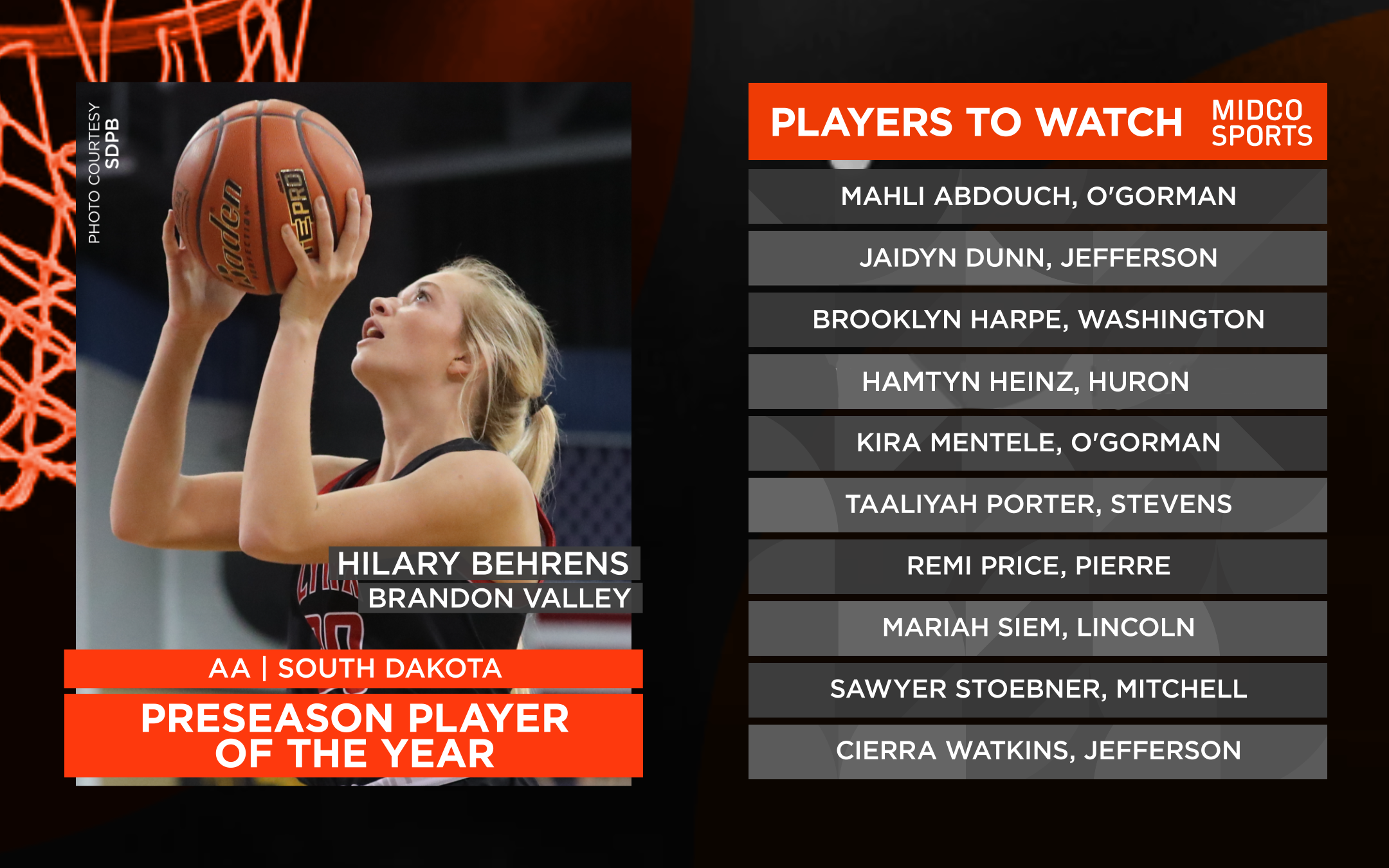 Class AA Top Players
Hilary Behrens is entering her senior year in what's been an outstanding career at Brandon Valley. She averaged 17 ppg, 5 rpg, 4 apg, 4 spg last season and has signed to play at SDSU next season. There are several other fantastic players in the class but none more important to her team than Hilary.
---

Filed Under Power Rankings | Basketball | Varsity Sports | SD High School