Blog
Track and field in the Dakotas is never a straightforward proposition.
Thanks to our always unpredictable "spring" weather – and I'm using that term loosely – conditions are seldom ideal to compete in, given the constant high winds and random April snowstorms.
But even though Mother Nature continues to limit the opportunities for our area's athletes to perform, she hasn't been able to cap the elite-level talent that continues to emerge from this region.
Track has always been a big deal in the North and South Dakota prep scene, but seldom – if ever – has our neck of the woods produced this many DI-caliber runners, jumpers, and throwers, to say nothing of the nationally-ranked times and marks these young men and women have put up.
To help celebrate the best of the best as the outdoor track season (hopefully) begins to gain steam, I've selected six athletes from either side of the border who I believe are poised to be the standouts in their respective classes to make up "The Dakota Dozen", the brightest twelve stars in the Dakotas high school T&F universe for this upcoming season.
At least one boy and one girl per class makes the list to ensure every classification in both states is represented, though admittedly in the seven years of this exercise, I sometimes break my own guidelines.
Every year, this list of honorees is comprised of returning state champions and record holders, and that's certainly the case for the 2023 edition. Read on to find out who made this elite squad of T&F dynamos known as…

SOUTH DAKOTA
Simeon Birnbaum, Rapid City Stevens
For 50 years, Sioux Falls Lincoln's Jim Reinhart stood alone as the unanimous choice as South Dakota's greatest prep distance runner. Despite graduating in 1973, the former Patriot and Notre Dame standout held the all-time state record in the 800m (1:50.50) and 1600m (4:06.30) while also maintaining top-ten status in the 3200m for a half-century.
But Reinhart's long reign as the Rushmore State's distance king was ended last spring after the emergence of a supreme talent from the Black Hills.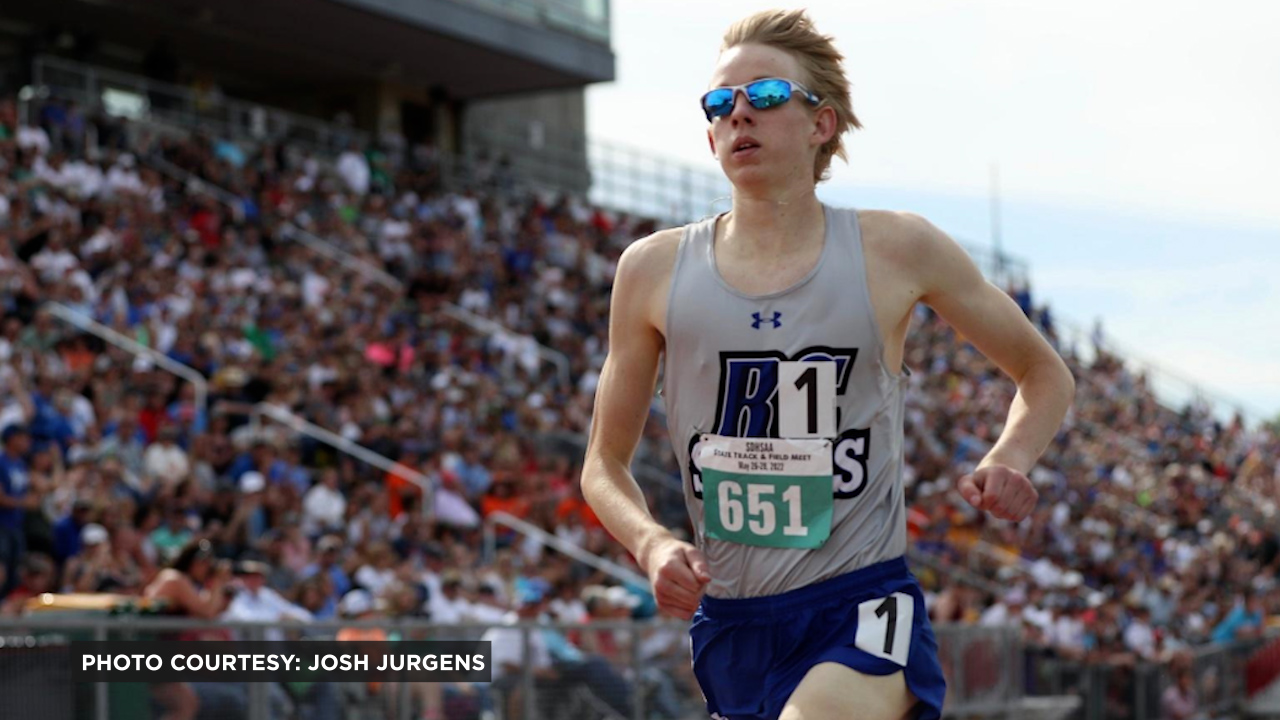 Already a multi-time state champion entering his junior season in 2022, Simeon Birnbaum established himself as one of the top runners in the country last April after defeating a top-ranked national field in the Arcadia Invitational mile in California. In May, he followed up that performance by breaking the state's 3200m record at the Howard Wood Dakota Relays before claiming four more SDHSAA state titles in the 800m, 1600m, 3200m, and Sprint Medley.
Incredibly, Birnbaum's best was yet to come, as the following month in Seattle at the Brooks PR Invitational, he'd break the 4-minute barrier in the mile, becoming just the 17th high school athlete in history to do so – and only the third to do it as a junior. And at the Nike Outdoor Nationals in Eugene, he'd go 1:50.12 to take second in the 800m and to claim the state's long-standing half-mile mark as well.
The Oregon commit is now a senior, and he's poised to further distance himself from the once-untouchable times Reinhart posted a half-century ago. Fresh off a second straight AA cross country title – and a second straight invite win at Arcadia over Easter weekend, this time in a near-national 3200m record time of 8:34.10 – Birnbaum's continued pursuit of history will be the biggest storyline in the Dakotas' track and field scene this spring.
Ali Bainbridge, Sioux Falls Lincoln
A future Nebraska Cornhusker, Ali Bainbridge has been winning SDHSAA state titles since 2018, first in Class A in cross country, the 1600m, and 3200m as a freshman at Lennox before adding three more titles in AA after moving to Sioux Falls before her sophomore year. Currently No. 6 all-time in SDHS in the two-mile, Ali captured her second state XC title this past fall, and she'll headline a talented group of top-class distance runners from the Rushmore State, including O'Gorman sophomore Libby Castelli, Brandon Valley junior Mia Wentzy, and Rapid City Stevens senior Brionna Holso.
"Ali loves what she's doing," LHS coach Jim Jarovski said of the latest Patriots distance standout. "Her work ethic is as good as I've ever seen in the 25 years I've been here at Lincoln. Her attitude is outstanding, and the example she sets as a role model for our team is really impressive."
Gracelyn Leiseth, Hamlin
Speaking of impressive, Gracelyn Leiseth has already etched her name atop the South Dakota record books, smashing the all-time shot put mark last year with a gaudy 52-6.75 effort at the state meet. That throw was almost four feet (!!) better than the previous record and doubled as the best in the United States in 2022 among prep athletes.
The day prior, Leiseth had held the state discus record for roughly two minutes before Custer's Kellyn Kortemeyer eclipsed Gracelyn's throw of 160-11 with a 165-11. But the Florida commit reclaimed that all-time record this April – in her second outdoor meet of the season, no less – with a 171-8 bomb that ranks No. 2 nationally.
"I was a little bit in shock," Leiseth said days after going beyond the 170-foot barrier. "I wasn't expecting to get the record this early in the season, but I'm grateful for it and thankful for all the people who've helped me along the way."
"I don't look at all the records, because then I get nervous and feel like, 'Oh my gosh, I need to beat this.' I've gotten better about knowing those (marks), taking them in, and feeling like, 'You can do this.'"
The Chargers senior has also hit the 52-foot mark in the shot again this spring, going 52-6.25 in her first indoor meet of the year to once again lead the nation.
Simply put, she's one of the best throwers the region has ever produced…and that's saying something.
Blake Boyster, Custer
2022 was a special year for Blake Boyster. After winning a state title in the 400m as a sophomore in 2021, the Wildcat sprinter pulled off a come-from-behind victory in the Howard Wood Dakota Relays Special 200m before claiming the sprint treble (100m, 200m, 400m) in Class A at the state meet four weeks later. The NDSU commit will be in the mix to be a state champion in all three sprints again, with a three-peat in the quarter-mile – a race that's seen Boyster already hit 49.45 this spring – very much in play.
Daniela Lee, Colman-Egan
As a sophomore in 2022, Daniela Lee was a big reason the C-E Hawks cruised to their first SDHSAA T&F team title in 19 years after she claimed the 100m and 200m and anchored a pair of sprint relay teams to championships. Her return – and that of 400m/800m champ Reese Luze and almost everyone else from last year's squad – mean Colman-Egan will be the team to beat in Class B again in 2023.
Kaleb Foltz, Tri-State and Jovi Wolf, Chester
These two Class B athletes burst onto the South Dakota track scene last spring as sophomores, with each winning a pair of individual state titles – Wolf in the 200m and 400m, Foltz in the 800m and 1600m – while anchoring their team to a relay championship. (Of note, Wolf was 0.01 away from a sweep of the sprints after finishing runner-up to Ipswich's Ty Kadlec in the 100m.) In a class that brings back a number of state medalists from 2022, these two stand out above the rest.
NORTH DAKOTA
Bariborve "Cece" Deebom, Fargo Davies
The quest to be a North Dakota all-time great might not feel that dramatic for Cece Deebom this spring, if only because she's already cemented her spot as one of the top all-around track athletes in Peace Garden State history.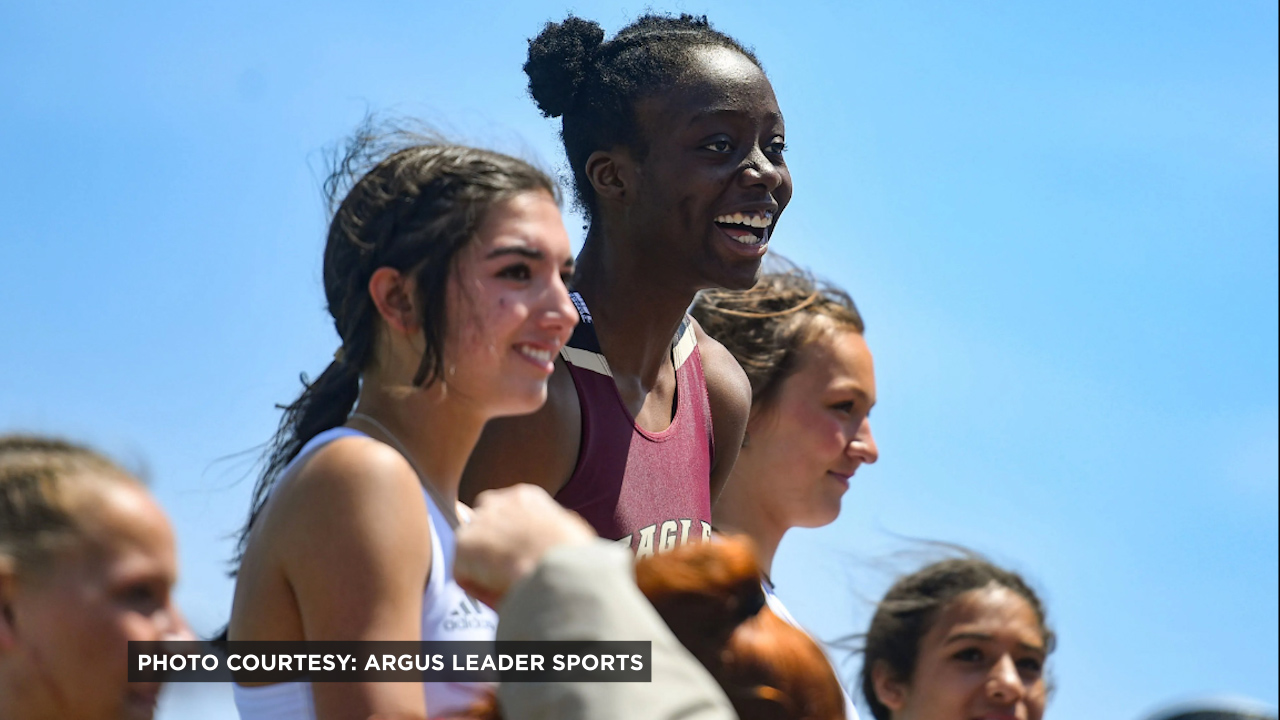 As a junior in 2022, the Davies star set new state records in the long jump (19-7) and the 100m hurdles (14.00, a jaw-dropping half-second faster than the No. 2 mark) while also posting top-eight times in NDHS history in the 100m (11.90, 2nd), 200m (24.41, 3rd), and triple jump (38-1.5, 8th). Her triple jump mark is all the more impressive when you consider it happened the first time she competed in the event at an official meet.
Longtime Davies head girls coach Rory Beil has seen his share of outstanding athletes come through the program over the years and knows how special a talent like Deebom is.
"Cece would be good if she did nothing but show up on Day 1 and practice, but she loves the sport, she works really hard, and she's a great teammate," said Beil, the 2021 North Dakota High School Coaches Association State Coach of the Year.
"She's become a student of the hurdles and long jump to gain hundredths of seconds and fractions of inches, and she's certainly one of the best that's going to go down in North Dakota history…She's been a joy."
Now a Nebraska commit, Deebom has already won eight Class A state titles and will be a major favorite to claim four more at the Bismarck Community Bowl this May. If she goes four-for-four again, that 40-point haul will be a big boost to the Eagles' chances for their fifth team championship since 2016.
Ethan Moe, Williston
The last two editions of the Class A Boys 800m at the NDHSAA State Track Meet have become the stuff of legend. In 2021, the field was loaded with multi-time state champions and came down to the wire, while in 2022, the race was so elite that a 1:55.93 was only good enough for ninth place.
The similarities between those two races are many, but the most pertinent? In both years, the same guy crossed the tape first.
Once an underdog, Ethan Moe is now the one to beat as a two-time defending half-mile state champ and the 2022 runner-up in the 1600m. The NDSU commit will have a talented field to contend with again this year – highlighted by Grand Forks Central runner/future Bison teammate Quinn Roehl – but no one's doubting Moe's ability to come through when it matters most.
Kelsie Belquist, New Rockford-Sheyenne
It's impressive enough to win four individual titles at one state meet, but Kelsie Belquist would go one step further in 2022 by breaking a pair of longstanding meet records on her way to a 40-point weekend at the Bismarck Community Bowl.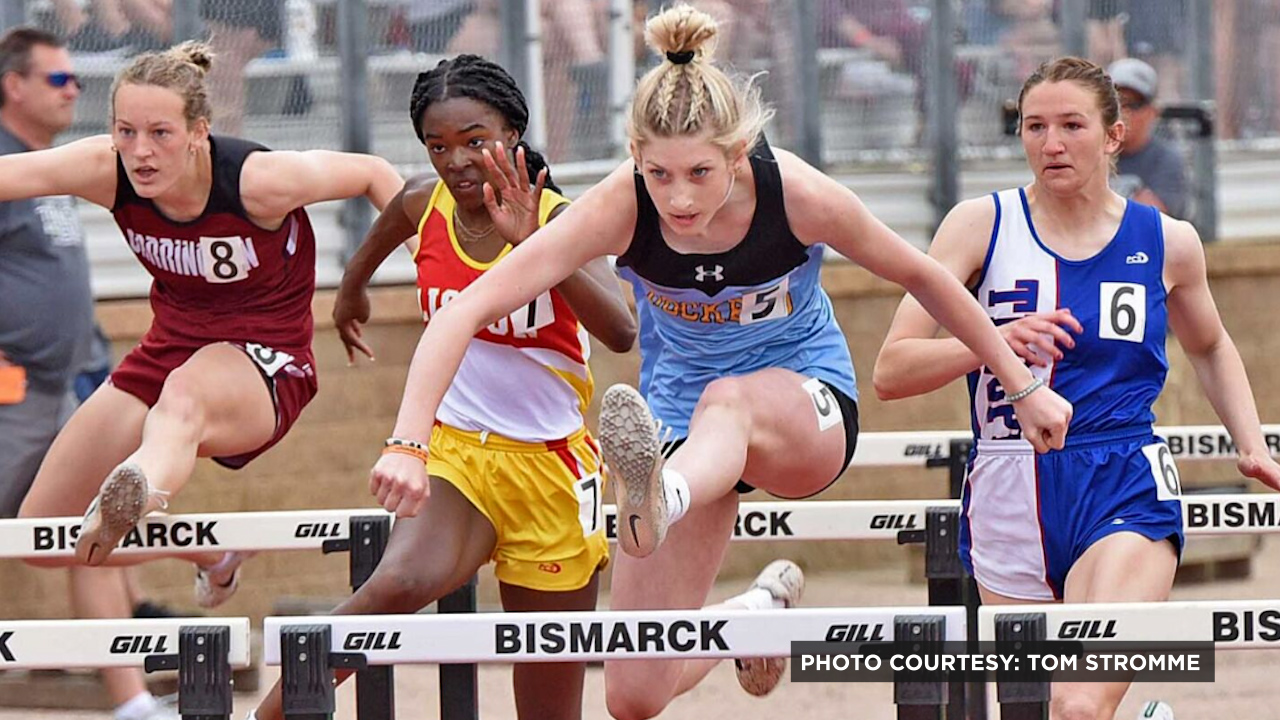 The then-sophomore – who won state crowns in the 400m and 300m hurdles as a freshman in 2021 – broke the NDHSAA Class B state meet record in the 200m (24.63) and smashed the overall state record in the 300m hurdles (42.02) by a quarter of a second before adding winner's medals in the 100m hurdles title and 400m to cap a perfect weekend.
Kelsie's parents were accomplished athletes, and her older brother is UND all-conference wide receiver Bo – who won a pair of state T&F titles for the Rockets in his day – but if she continues in this vein on the track to go along with her accolades on the volleyball and basketball court, there might not be much of a debate in the Belquist clan over who the best athlete in the family is.
Ryan Brynjolfson, Bismarck Century
The Patriots have had their share of outstanding multi-dimensional T&F athletes in recent years, and Ryan Brynjolfson is the latest in that mold. As a junior, Brynjolfson was an NDHSAA state champ in the long jump and high jump and took second in the 110m hurdles, a performance that helped lift Century to their sixth Class A boys title since 2015. He'll be one to watch again in the jumps and hurdles this spring before he departs for the Ivy League to compete at Cornell. (…Ever heard of it?)
Brynn Hanson, Des-Lacs Burlington/Lewis and Clark
As a 7th grader in the spring of 2021, Brynn Hanson was a surprise champion at the NDHSAA state meet in the Class B 3200m. Two years later, it's a surprise when she doesn't win, as the Lakers star has captured a pair of state cross country titles and claimed the track distance treble – 800m, 1600m, 3200m – since earning her first state plaque. The competition in the distances will be fierce this year, as Annika Stroh of Sargent County is back after finishing a close second to Hanson in all three races in Bismarck last May, but the now-freshman standout from just west of Minot has proven she's up for the challenge.
Jack Packer, Kindred
The latest to come off the North Dakota conveyor belt of throwing talent, Jack Packer claimed the Class B shot put and discus title in 2022 and will be favored to do the double again this spring for a Vikings squad aiming for their fourth consecutive team championship. Interestingly, the NDSU commit is one of only three returning male state champions in the class, along with Tallen Thorson of Harvey/Wells County (300m hurdles) and Levi Reis of Ellendale (javelin).

Filed Under ND High School | SD High School | Running/Track and Field