Blog
Now that each of the eight teams in the National Collegiate Hockey Conference have played exactly half of their 24 league games this season, it's a good time to look at who's stood out and project who's in line for postseason accolades at year's end.
A lot can change between now and March, but if the season ended today, my postseason All-NCHC and All-Rookie ballots would look like this:
NCHC 1ST TEAM ALL-CONFERENCE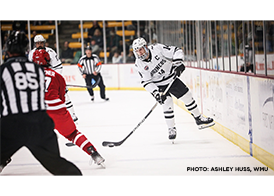 FWD - Jason Polin, Western Michigan : The Broncos' senior captain is leading the nation in goals (21) and already has five (!!) hat tricks on the season, including back-to-back three-goal performances in Western's victory at the Great Lakes Invitational over the holidays. The league's most outstanding player so far, and it's not close.
FWD – Ryan McAllister, Western Michigan : With an NCAA-best 39 points in just 24 games, the freshman's emergence has been a major reason WMU is leading the NCAA in goals per game (4.33). It's hard to see anyone passing the former Canadian Junior Hockey League MVP for NCHC Rookie of the Year, and if not for Michigan's Adam Fantilli, he'd be the favorite to win that award at the national level.
FWD – Carter Mazur, Denver : A key reason for the reigning national champs' 19-5 record so far, the sophomore's 17 goals rank second behind only Polin in the national standings. Five of Mazur's scores have been game winners, too, the most in the NCHC.
DEF – Dylan Anhorn, St. Cloud State : The Union transfer's 23 points are joint-most among NCHC defensemen this year, plus his presence on the back end has helped the Huskies surrender less than two goals per game (1.95), the second-fewest in the nation this year.
DEF – Mike Benning, Denver : The Most Outstanding Player at the 2022 Frozen Four, Benning has picked up this year where he left off last April. He might not hit the 15-goal mark like he did a season ago en route to earning 2nd Team All-NCHC honors, but his overall play and his numbers (7 goals, 15 assists) are among the best in the league once again.
GOAL – Jaxon Castor/Dominic Basse, St. Cloud State : It's a bit of a cop-out to give the 1st Team nod to two netminders here, but how can you choose between this 1-2 punch that Brett Larson has utilized evenly -- and to great success -- all season long? Goaltending was a huge question mark for SCSU entering this year after the graduation of five-year starter David Hrenak, but the incumbent Castor and Colorado College transfer Basse have combined to make it a strength for one of the stingiest teams in the NCAA. These two rank first and second in both save percentage and goals against average in the league, unheard of for a tandem that have split the minutes evenly in 2022-23.
NCHC 2ND TEAM ALL-CONFERENCE
FWD – Massimo Rizzo, Denver : It's hard to leave the Pioneer sophomore off the 1st Team when you consider his 32 points rank fifth in the nation and third in the NCHC. He's the straw that stirs the drink on DU's top line.
FWD – Jami Krannila, St. Cloud State : The Huskies' leading scorer (11 goals, 14 assists) boasts one of the top plus-minus numbers in the league (+17). You could make an argument for Krannila's teammate, Grant Cruikshank, too.
FWD – Jack Randl, Omaha : The UNO senior's 15 goals are a big reason why the Mavs are in third place in the league table at the midway point. He's been quiet of late – just one point in his last five games – but with two series on the horizon against a Miami team that's struggled defensively this year, Randl's arrow is pointing up.
DEF – Chris Jandric, North Dakota : UND's season hasn't gone the way many envisioned it, but with 3 goals and 20 assists this year, Jandric's play hasn't been the problem.
DEF – Zak Galambos, Western Michigan : With a league-high 9 goals from the blue line, the AIC transfer has fit right in during his first season in Kalamazoo, adding punch from the backend to the nation's top offense.
GOAL – Magnus Chrona, Denver : The solid numbers (2.07 GAA, .918, 3 shutouts, 15-5-0 record) are only half the story. The quiet confidence he exudes as a four-year starter and national title winner give an already loaded Pioneers team an extra sense of belief that's hard to replicate.
NCHC ALL-ROOKIE TEAM
FWD - Ryan McAllister, Western Michigan : See above. Perhaps we should've anticipated that a guy who scored 139 points in 60 games in juniors would have success at the college level, too
FWD – Ben Steeves, Minnesota Duluth : No freshman in the country has more goals than Steeves' 12 this season, as he's tied with Golden Gopher/World Junior Championship stars Logan Cooley and Jimmy Snuggerud as the NCAA's most prolific first-year goal-scorers. Not bad company to keep for the New Hampshire native.
FWD – Jackson Blake, North Dakota : The last freshman to lead North Dakota in scoring was Brock Boeser in 2015-16. While Blake's not going to reach 60 points like Boeser did during UND's run to their eighth national title, his point-per-game pace still puts him in rare air for a first year in Grand Forks.
DEF – Joaquim Lemay, Omaha : Despite missing four games recently with an upper-body injury, the smoot-skating 4th Round pick of the Capitals has stood out this year for the Mavs.
DEF – Jacob Guevin, Omaha : The other half of the Quebec-born freshman defense pair at UNO, Guevin put up huge offensive numbers in juniors and has already hit double-digit assists in his debut college season.
GOAL – Kaidan Mbereko, Colorado College : The Tigers' freshman has been as good as advertised after stints as Team USA's netminder at the last two editions of the World Junior Championships, posting top-four numbers in the league in every major goaltending category.
Who did I miss? And who's going to find a way into the final lists over the last two months of the season? Like you, I can't wait to find out.
Enjoy the stretch run of the best league in college hockey!