Blog
The defending state champions from Four Winds-Minnewaukan have the roster to make a push for a repeat. Who will be the Indians biggest threat? Will we see a different team from region one take charge after Kindred graduated a talented senior class? Region two has a bunch of serious contenders and don't count out the private schools from out west. As you'll read below I feel that both Shiloh Christian and Bishop Ryan will be right in the mix come tournament time. Make sure to scroll down to the bottom to check out our top ten players to watch in addition to our preseason player of the year. Good luck to all the teams and enjoy the season!
Boys Class B
1. Four Winds-Minnewaukan
Fresh off winning the program's second state championship and completing a perfect season, the Indians enter the 2022-23 season as the team to beat. The Indians graduated two standout seniors off last year's team including Mr. Basketball finalist Jaden Yankton. The top returner is 6'4" junior Deng Deng (17 ppg, 7.6 rpg, 79 stl, 62 blk) who has one of the best skillsets in the state. Deng is outstanding in transition and has thrown down some explosive dunks. If he improves his outside shooting and ball handling skills, he'll be nearly impossible to defend at the high school level. Look for junior Dalen Leftbear (11.4 ppg, 5.5 rpg) and senior Kelson Keja (5.5 ppg, 71 stl, 110 ast) to be the other top offensive contributors for Rick Smith's squad. The offense might take some time to gel with new pieces, but the Indians' aggressive style on defense will continue to be suffocating for opponents. I have a feeling we'll see Four Winds-Minnewaukan in contention once again come March.
2. Central Cass
The Squirrels have been blocked in recent years by rival Kindred. The Vikings have reached the state championship game in back-to-back seasons but lost a lot of production from their departing senior class and are all dealing with some injuries. The region one door is open for the Squirrels, and they have the cast of characters to take advantage. The Squirrels return four starters from a team that finished 19-4 overall last winter. They are led by the trio of senior Sam Kobbervig (11.9 ppg), and juniors Cole Holzer (13.9 ppg, 7.6 rpg) and Carter Vrchota (13.2 ppg, 4.3 rpg, 2.0 apg). Holzer and Vrchota were both all-region selections as sophomores. Holzer and his 6'6" frame make him a tough matchup. He can score at all three levels and does a great job of cleaning the glass on a nightly basis. Head coach Matt Norman is excited about the talent on his team, but he knows that it won't mean much if the Squirrels don't play the right way. "Offensively, we want to push the ball and attack the rim. We will have a number of weapons this year so we will need to focus on sharing the basketball and passing up good shots for great ones." I see Central Cass representing region one at state for the first time in a decade.
3. Bishop Ryan
The Lions rattled off 20 wins last season and played really good basketball down the stretch. They gave Kindred all they could handle in the state semifinal round in a 61-55 loss before settling for a 4th place finish. 6'3" senior guard Brady Feller (17.8 ppg, 5.8 rpg, 48 treys) who made the all-tournament team at state last year is back to lead the way. Feller is a threat to score from anywhere on the court and is an ultimate competitor. When the game is on the line late, he's a player that you want to take the last shot. Senior Ian Johnson (11 ppg, 44 treys) is another great shooter that has had another year to improve his skillset. The team also gets back a top rebounder in Conner Thompson who missed last season with an ACL injury. Look for the Lions to leap right back into the state tournament again this winter.
4. Bowman County
The defending region 7 champs return quite a bit of varsity experience led by a talented junior class. Twin brothers Bohden (20 ppg, 5 rpg, 69 stl, 77 treys) and Bishop Duffield (16.4 ppg, 5.2 rpg, 62 stl, 40 treys) are a pair of playmakers on both ends of the court. Both were all region selections while Bohden also made 2nd team all-state. Either one has the shooting skills to get hot on a given night as evidenced by Bohden drilling seven triples in one game last year. Ronnie Stewart takes over head coaching duties from Nick Walker. There might be some bumps early learning a new coaching philosophy, but with a talented group like this I feel they'll be one of the top teams by season's end. Winning the region won't be easy with Hazen and Trinity returning some solid talent and you can never count out Beulah.
5.Grafton
The Spoilers graduated quite a bit off last year's region championship squad, but the cupboards are far from bare for head coach Riley Lillemoen. Many of the opposing coaches I chatted with leading up to the season had high expectations for Grafton again. So, that leads me to believe that the Spoilers have some talent from last year's JV squad that are ready to make the leap to varsity. Grafton has some great returning shooters in juniors Ryan Hanson (9.3 ppg, 72 ast, 62 treys) and Braylon Baldwin (14.1 ppg, 119 ast, 54 treys) to rely on for scoring production. Both those individuals hit more than 50 triples last winter. Tony Villarreal (12.1 ppg, 6 rpg, 76 ast) is a great athlete who excels as a rebounder and leading the team in transition. The Spoilers will be young, but they have a good shot at winning their third straight region crown.
6. Shiloh Christian
Returning the player who scored the most points at last year's state tournament is a good place to start for Shiloh Christian. 6'7" senior Jay Wanzek (14 ppg, 9 rpg, 27 blk) played some great basketball down the stretch last season and will be tough to contend with in the paint this winter. Senior Kyler Klein was a defensive menace last year racking up 80 steals for the Skyhawks and he should be able to contribute more offensively this season. 6'6" Atticus Wilkinson (4 ppg, 5 rpg) was strong on the boards last year and will be another key piece in the lineup if the Skyhawks want to make another deep postseason run.
7. Thompson
Competing in region two is always a challenge, but Thompson might have what it takes this season to grab that magical ticket to state. The Tommies return four players that were part of the varsity rotation last year led by 6'2" sophomore Jake Starcevic who averaged 13 points and dished out an impressive 83 assists in 2021-22. Starcevic, who also plays quarterback for the football team, has outstanding court vision and is one of the better playmakers in the state. Junior Drew Overby has benefited from Starcevic's passing as he hit 39 treys last season en route to averaging 7.6 points per contest. 6'5" sophomore Karter Peterson is another player expected to make a big leap after averaging eight points and seven rebounds per game as a freshman. Head coach Brandy George is excited to get the season rolling. "We have a young, athletic group that has been together a long time. We will still have some growing pains along the way but are excited about the possibilities. Our region will be very competitive once again."
8. LaMoure-L-M
A new era begins this season for Loboe basketball as longtime head coach Darren Thielges passes the torch to his son Tyler. Tyler inherits a team that finished 3rd at state last year with an impressive 24-4 record. But a lot of key pieces graduated from that squad highlighted by all-district performers Corban Potts and Charlie Bowman. Thielges says, "We have had strong junior varsity success the last few years, so the cupboard is far from empty. We will have to form our identity and address some losses from last season as quickly as we can. Our early season schedule is tough, and we have many strong teams in our district/region. We embrace that reality, but also realize there is a lot of work ahead of us on this season's journey." 6'2" senior Colton Ness (11.1 ppg, 5.4 rpg, 61 stl, 64 ast) and 6'4" junior Max Musland (12.6 ppg, 54 stl, 58 treys) will be expected to carry the scoring load early. Musland is one of the best shooters in the state. He shot over 41% from downtown last year and he does a nice job of using his length on defense to cut off passing lanes. This group has had a lot of success across multiple sports in recent years and that competitive drive will be a huge factor come tournament time.
9. North Border
A third team out of region two? Why not? I'm looking forward to some competitive basketball in the northeast corner of the state this winter. The Eagles have just as good of a shot at advancing to state as any of the other region two programs mentioned in this top ten. North Border compiled a 20-3 record last season and return my preseason player of the year in 6'4" senior Ayden Stainbrook (21.4 ppg, 8.9 rpg, 51 treys). The University of Jamestown commit was a 2nd team all-state pick a year ago and has the ability to beat you from the perimeter or by posting up. He and fellow senior TJ Cosley make a great 1-2 punch on offense. Cosley averaged 19.8 points per game and was impressive on defense racking up 64 steals and 43 blocks. The Eagles have the high-end talent to be ranked among the top five teams, but concerns about their depth keep them lower on this list. If the supporting cast can take a big step forward this winter, the sky is the limit for the Eagles.
10. Stanley
From one bird to another, the Stanley Blue Jays nab the final spot in our preseason top ten. The Blue Jays were able to make it to state last year by knocking off Powers Lake in the region final, 55-43. All-region pick Josh Hetzel will be on top of the opposing team's scouting report each game. The 6'0" junior averaged 13 points per game last year and buried 52 three-pointers on 35% shooting from distance. Hetzel also sets the tone for the team's defense where he led Stanley in steals with 70 as a sophomore. Fellow junior Jack Hynek has the potential to make a big leap this year after averaging nine points and seven rebounds last season. The Blue Jays have some good depth and will be adding in some talent from last year's JV squad. Look for Kory Anderson's bunch to be playing on region championship night once again this winter.
BUBBLE TEAMS: North Star, Kindred, Linton-HMB, Hillsboro-CV, Powers Lake-Burke Central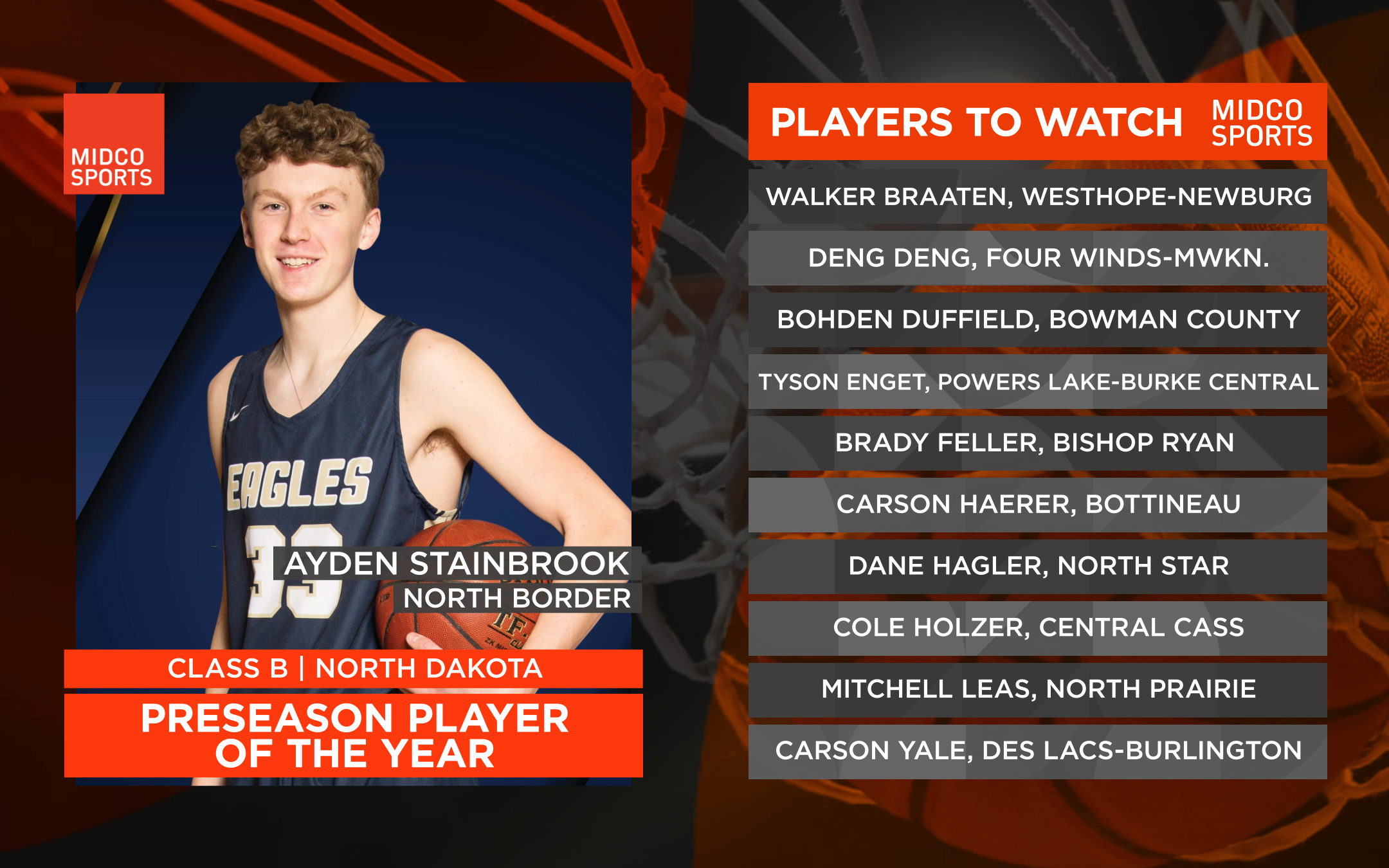 PRESEASON PLAYER OF THE YEAR:
Ayden Stainbrook, North Border senior (21.4 ppg, 8.9 rpg, 51 treys)
NEXT 10 PLAYERS TO WATCH:
Walker Braaten, Westhope-Newburg sophomore (22.3 ppg, 10.4 rpg, 90 stl, 45 treys)
Deng Deng, Four Winds-Mwkn. Junior (17 ppg, 7.6 rpg, 79 stl, 62 blk)
Bohden Duffield, Bowman County junior (20.2 ppg, 5.1 rpg, 69 stl, 68 ast, 77 treys)
Tyson Enget, Powers Lake-Burke Central senior (25.2 ppg, 8.6 rpg, 116 stl, 119 ast)
Brady Feller, Bishop Ryan senior (17.8 ppg, 5.8 rpg, 48 treys)
Carson Haerer, Bottineau junior (23 ppg, 6 rpg, 88 ast, 83 stl, 60 treys)
Dane Hagler, North Star junior (20.5 ppg, 5.9 rpg, 78 stl, 125 ast, 35 treys)
Cole Holzer, Central Cass senior (13.9 ppg, 7.6 rpg, 31 treys)
Mitchell Leas, North Prairie senior (23.1 ppg, 84 stl, 29 treys)
Carson Yale, Des Lacs-Burlington senior (Missed last season due to injury)

Filed Under Power Rankings | Basketball | Varsity Sports | ND High School