Blog
Class AA
PRESEASON RANKINGS CLASS AA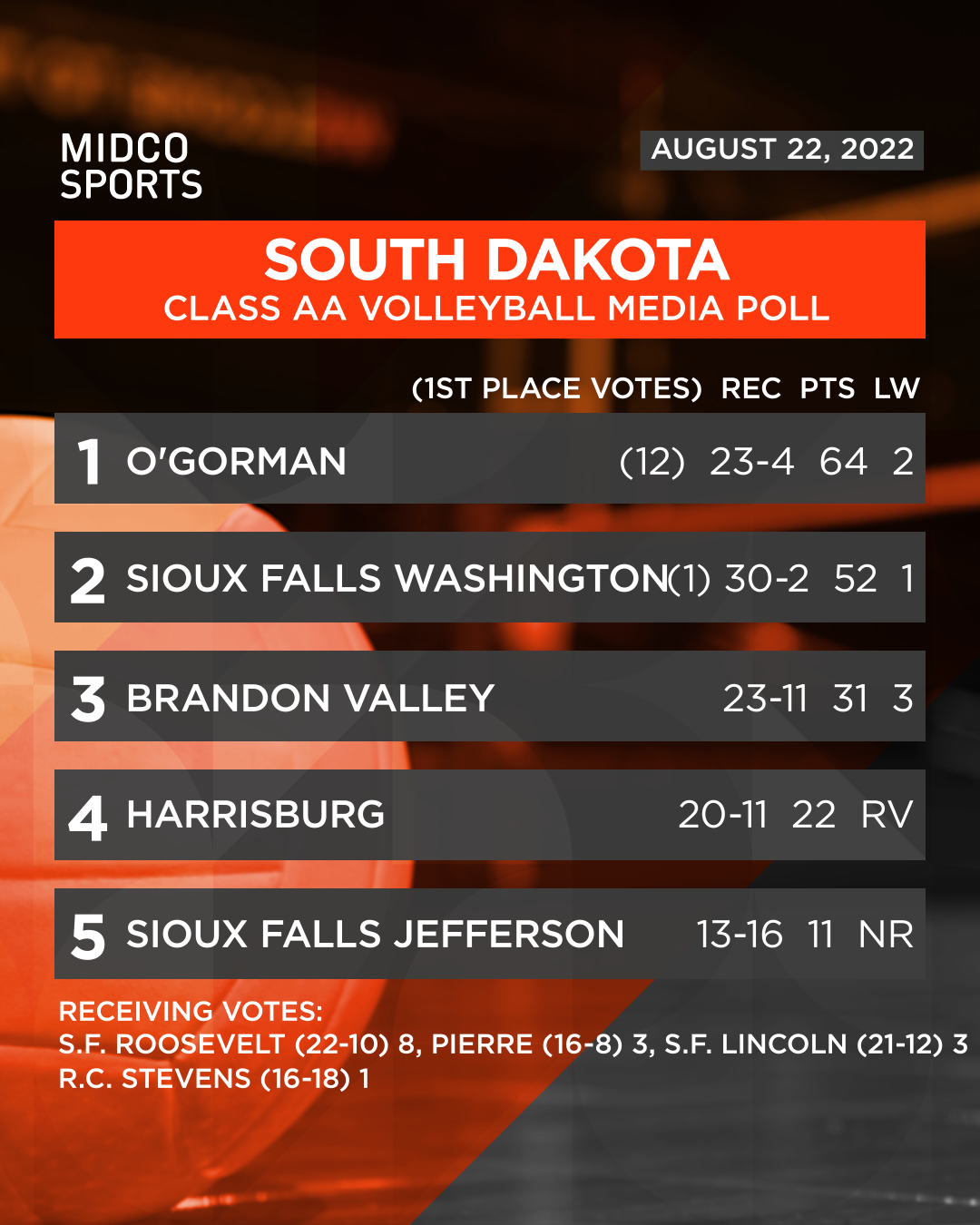 O'Gorman needed a big comeback in the championship finals but that is exactly what they did. They were down 2-0 against Washington and then won the final three sets to claim back to back titles in Class AA.
They graduated five seniors from that team but return Bergen Reilly, Brogan Beck, Brooke Harvison, Gabby Jones and Makayla Tiahrt to name a few.
Washington came up just short last season but as usual will be locked and loaded for another deep playoff run.
The Warriors bring back one of the top attackers in the state with Joslyn Richardson on the outside and bring back their setter Macie Malchow.
Brandon Valley has been on an upswing the past few seasons. Mya Heil and the rest of they Lynx are hoping to continue that trend.
Harrisburg had a young team last year, they're still young this year but bring back more experience,
Jefferson just missed out on the state tournament last year but return nearly everyone this year.
State tournament participants, Huron, Brandon Valley, Pierre, Watertown, Roosevelt and Lincoln all will be competitive again.
Top Players in Class AA
Bergen Reilly, O'Gorman
Joslyn Richardson, Washington
Ayvrie Kaiser, Pierre
Lizzie Tyler, Mitchell
Brogen Beck, O'Gorman
Maddie Paulson, Jefferson
Morrison Samuels, Harrisburg
Gabby Jones, O'Gorman
Brynn Gose, Huron
Lily Sanchez, Pierre
Taryn Kirsch, Washington
Class A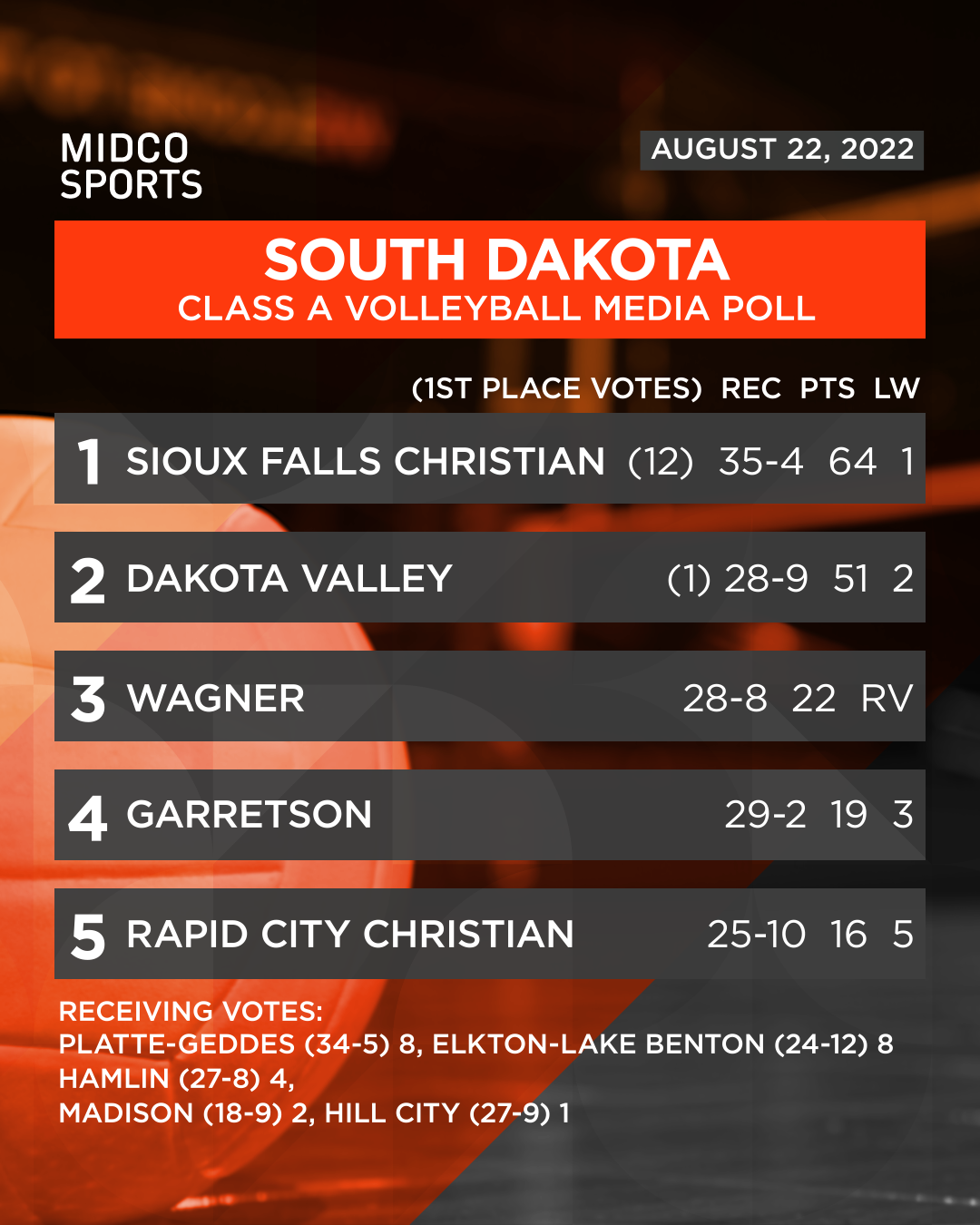 In Class A Sioux Falls Christian has won 10 state championships since 2010. Let that sink in. Each year Darci Wassenaar regroups, rebuilds, and dominates Class A. Last season they defeated the Garretson Blue Dragons in straight sets to win their 6th straight title.
This year they start fresh once again. They bring back their setter in Addisen Barber. She was thrown into the varsity lineup last year and passed with flying colors.
Peyton Poppema, Sidney Oostra and Ellie Lems got some court time last year and will take a step up this season.
Dakota Valley has been a fixture at the top of Class A as well. Last season they had to push through several injuries and still made it to the state tournament.
The Panthers return their top two attackers in Jorja Vandenhul and sophie tuttle as well as their all-state setter in Logan Miller. This is a strong and deep team that will challenge Sioux Falls Christian this year.
Wagner went to the state tournament with a young group and expects to be in the hunt.
Garretson is another contender to watch. Logan Bly, Kaylin Koch, and Lexi Gawarecki all return from a state runner-up team that challenged everyone in the class.
Rapid City Christian has one of their best teams in school history, They'll rely on Olivia Kieffer to do much of the scoring.
Platte-Geddes returns their top four attackers last year including Karly Vanderwerff and Cadence Van Zee, two of the top front line players in the state with their setter Avery Devries delivering the ball
Baltic with Emma VanRegenmorter and both their setters back in Baily Teveldal and Jacie Wendland will be improved.
Dell Rapids, Madison, RC Christian and Wagner all could be in contention this year as well.
Top Players in Class A
Olivia Kieffer, RC Christian
Logan Miller, Dakota Valley
Audrey Nelson, Madison
Tevan Erickson, Elkton Lake Benton
Jorja Van Den Hul, Dakota Valley
Caden Van Zee, Platte-Geddes
Karly VanDerWerff, Platte-Geddes
Avery Devries, Platte-Geddes
Emma Yost, Wagner
Logan Bly, Garretson
Anna Egge, RC Christian
Mataya Ward, Belle Fourche
Ally Abraham, Hamlin
Gracie Fast, Redfield
Sophi Randall, Dell Rapids
Dani Deffenbaugh, Kimball White Lake
Tyra Gates, Miller
Class B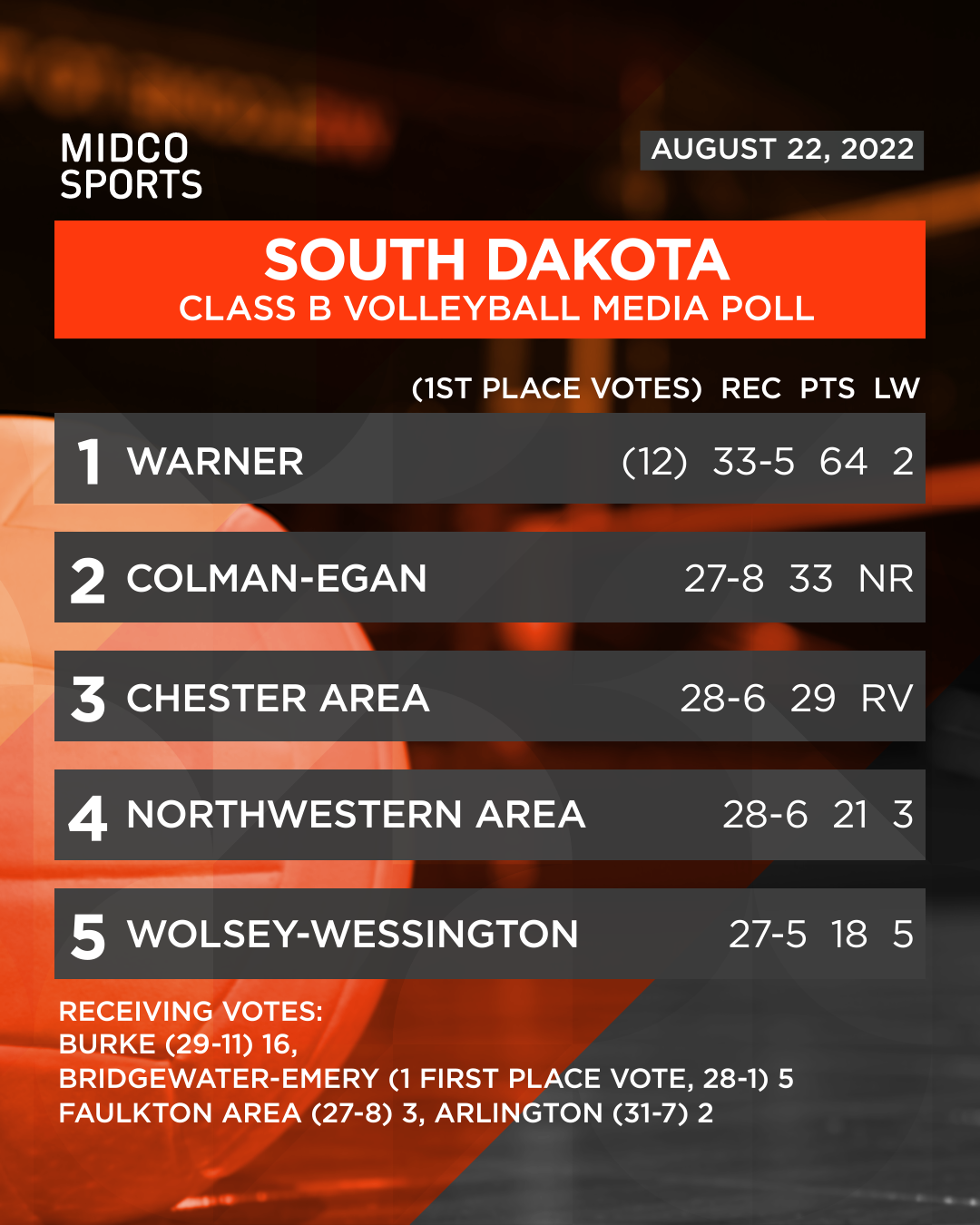 This class has had either Warner or Northwestern claiming the title in each of the last 6 seasons. Last season was Warner's turn. This year Warner has the same team… minus two seniors lost to graduation.
Kyra Marcuson led the team in kills Ava Nilsson was one of the best setters in the state and Courtney Bjorgaard led the team in digs last season, they are all part of an outstanding junior class in Warner.
Colman-Egan is coming back with confidence after making the finals last season.
They will be challenged as usual by Northwestern. Chester Area is always in the mix as well.
Colman-Egan, Faulkton, Burke, Wolsey-Wessington all
Top Players in Class B
Mya Boomsma, Wolsey-Wessington
Ella Haven, Northwestern
Ava Nilsson, Warner
Adisyn Indahl, Burke
Katelyn Schroeder, Hitchcock-Tulare
Peyton Ostenson, Edgemont
Kyra Marcuson, Warner
Kailee Frank, Burke

Filed Under SD High School | Volleyball