Blog
What a year for track and field 2022 turned out to be.
If the return of the sport 12 months ago was a breath of fresh air after the pandemic-enforced suspension of spring activities in 2020, its follow-up album was a reminder of just how special T&F in the Dakotas can be.
How good were some of the performances this spring? The now-rewritten record books tell the story.
Most years will see two or three all-time records go down between the two states. In fact, 2021 was an above-average year, as three state records were broken in North Dakota and three more in South Dakota.
But 2022 took things up a notch, as this spring saw eleven new all-time bests in the Dakotas, including:
South Dakota
100m: Spearfish's Jaden Guthmiller (10.45)
400m: Brandon Valley's Julian Watson (47.46)
3200m: Rapid City Stevens' Simeon Birnbaum (8:55.22)
3200m: O'Gorman's Alea Hardie (10:10.83)
Shot Put: Hamlin's Gracelyn Leiseth (52-6.75)
Discus: Custer's Kellyn Kortemeyer (165-11)
Long Jump: Aberdeen Central's Sam Rohlfs (24-0.75)
North Dakota
100m Hurdles: Fargo Davies' Cece Deebom (14.00)
300m Hurdles: New Rockford-Sheyenne's Kelsie Belquist (42.02)
Shot Put: Jamestown's Anthonett Nabwe (49-10)
Long Jump: Fargo Davies' Cece Deebom (19-7)
Naturally, the assault on the all-time top-ten lists carried over to the Platinum records books as well, with 13 new marks posted – the most ever in the eight-year history of this friendly interstate competition.
For the uninitiated, the Platinum Awards were established in 2015 to recognize the top individual performance in each event contested in North and South Dakota during the season. It doesn't matter if that performance occurred in a tune-up meet in March or on the final weekend of the season; as long as it happened during a sanctioned meet, it counts.
After splitting the Platinum spoils between the states a year ago – North Dakota's boys and South Dakota's girls had the most wins in their respective competitions in 2021 – the Rushmore State is back on top in 2022, with South Dakota athletes earning 20 of the 34 available titles.
While no boys defending their Platinum crowns from a year ago, two girls did – O'Gorman's Alea Hardie in the 1600m and Rapid City Central's Matayah Yellow Mule in the triple jump.
Interestingly, two record-breaking throwers – Custer's Kellyn Kortemeyer and Hamlin's Gracelyn Leiseth – earned Platinum status for the second year in a row…only they traded events this time around. Kellyn took the Platinum title in shot put in 2021 and discus in 2022, with Gracelyn doing in the inverse. Not bad for a couple of Class A kids…who also happen to be two of the best in the nation.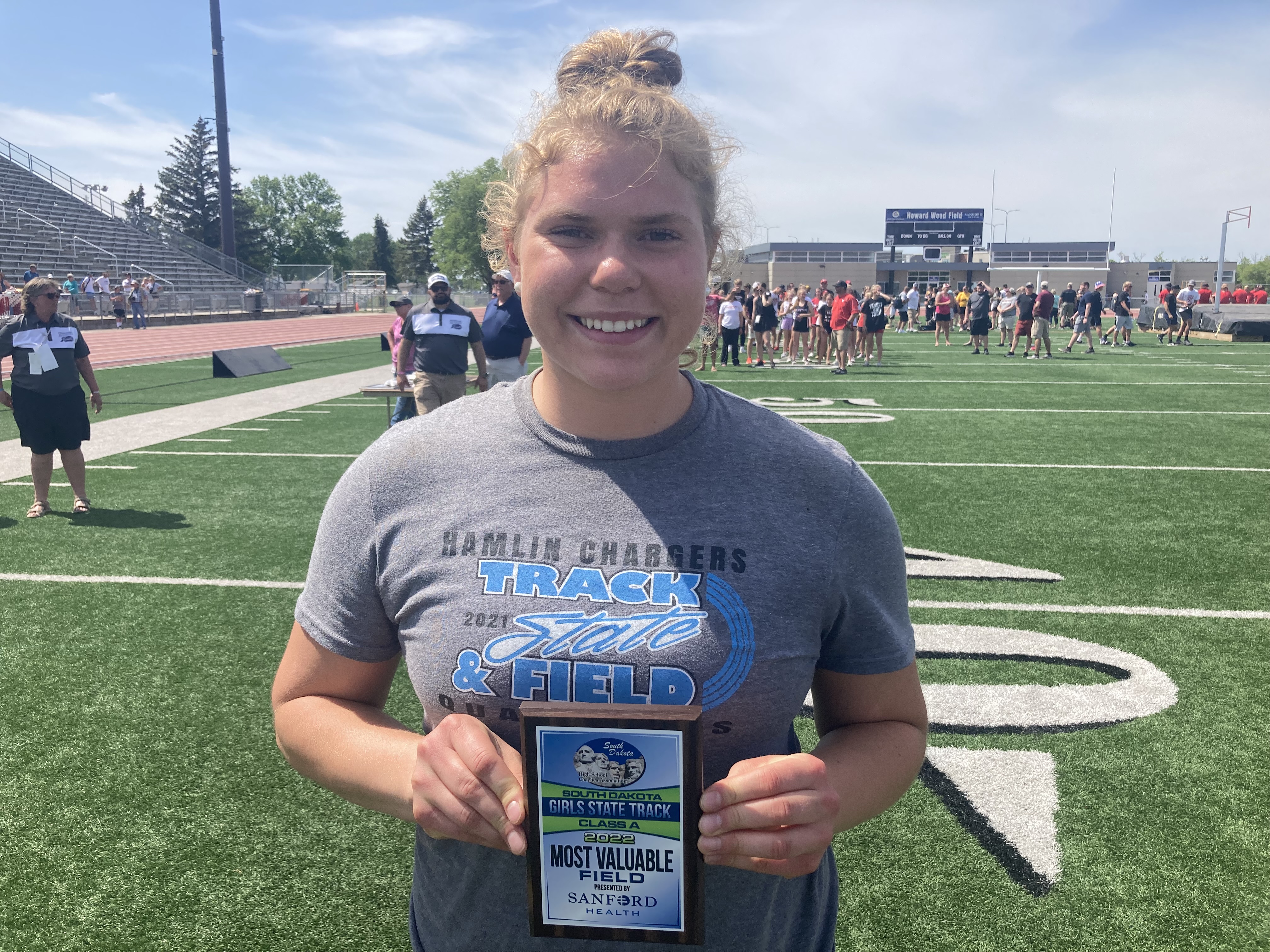 (FYI: As of June 2, Gracelyn's shot put toss of 52-6.75 is No. 1 among US prep throwers, while Kellyn's discus throw of 165-11 ranks No. 4 in the US. Plus, Jamestown's Anthonett Nabwe – who as you saw above set the North Dakota shot put record with a 49-10 at the NDHSAA State Meet and won the discus and javelin in Class A as well – is currently No. 5 in the nation in the shot. Nabwe's going to throw at Minnesota next year, while Kortemeyer's off to Nebraska. Leiseth is still just a junior and will have her pick of the best DI throws programs in the country when the time comes.)
2022 saw Sioux Falls Washington's Kael Miedema (shot put + discus) and Aberdeen Central's Sam Rohlfs (long + triple jump) reach double-Platinum status, while two more achieve triple-Platinum in Rapid City Stevens' Simeon Birnbaum (800m, 1600m, 3200m) and Hardie (800m, 1600m, 3200m), becoming the fifth and sixth athletes to accomplish that rare feat in a single season.
But while those four had incredible springs, Cece Deebom of Fargo Davies did them – and everyone else since this competition started – one better, as the junior became the first in Platinums history to go quadruple-Platinum, with top marks in the 100m, 200m, 100m hurdles and the long jump. Well done!
And while we had one athlete take home four Platinums for the first time, we also had four athletes take home Platinum in the same event for the first time. Michael Nhial of West Fargo Sheyenne, teammates Paul Olson and Jaiden Peraza of Kindred, and Dawson Reckling of Kadoka Area all cleared 6-8 in the high jump this year to be the first to pull off a four-way tie for top spot in any event.
It just goes to show that even after nearly a decade of this competition, there's still room for something new now and then…
In any case, here's the full list of our 2022 Platinum Champions! Congrats to our winners!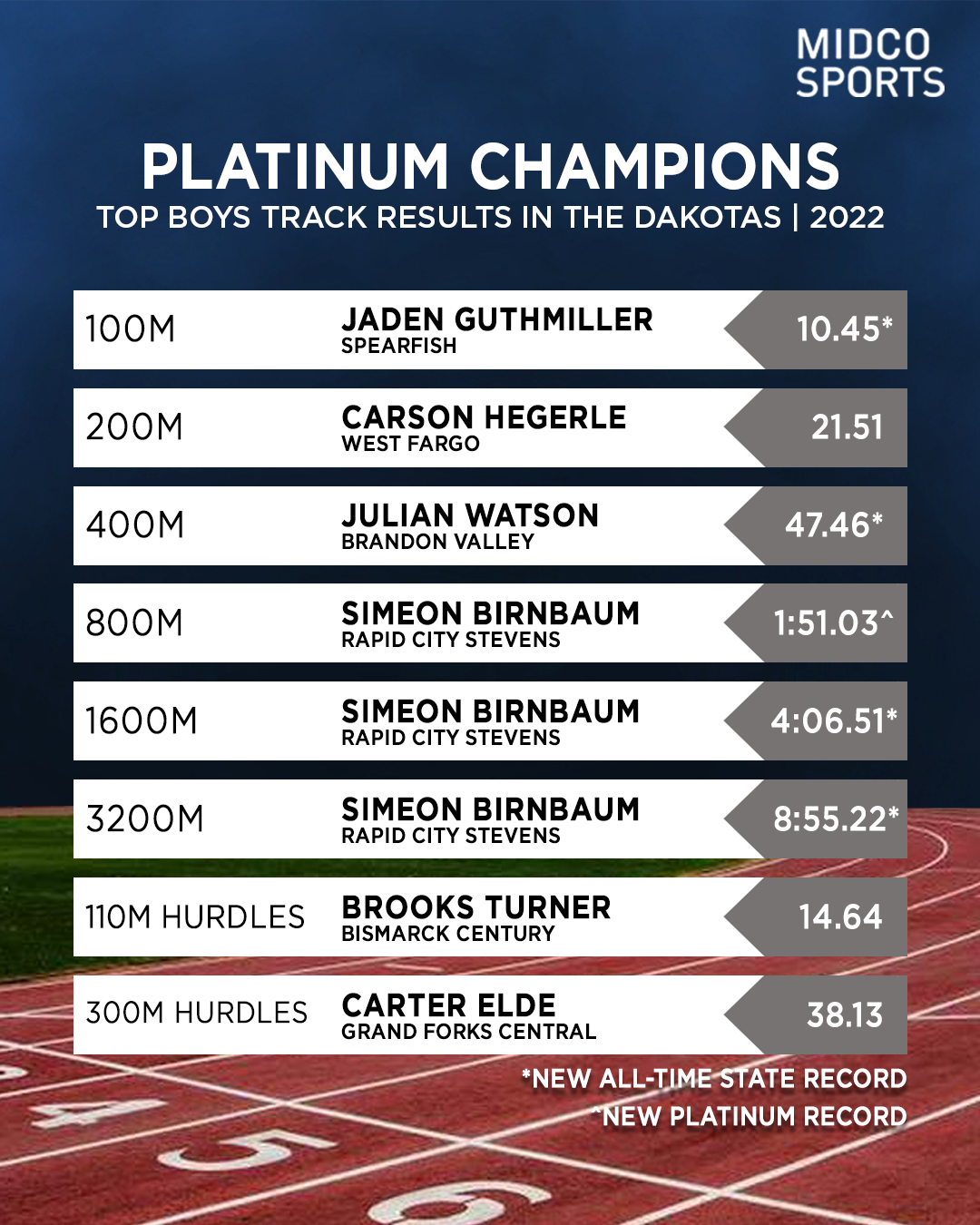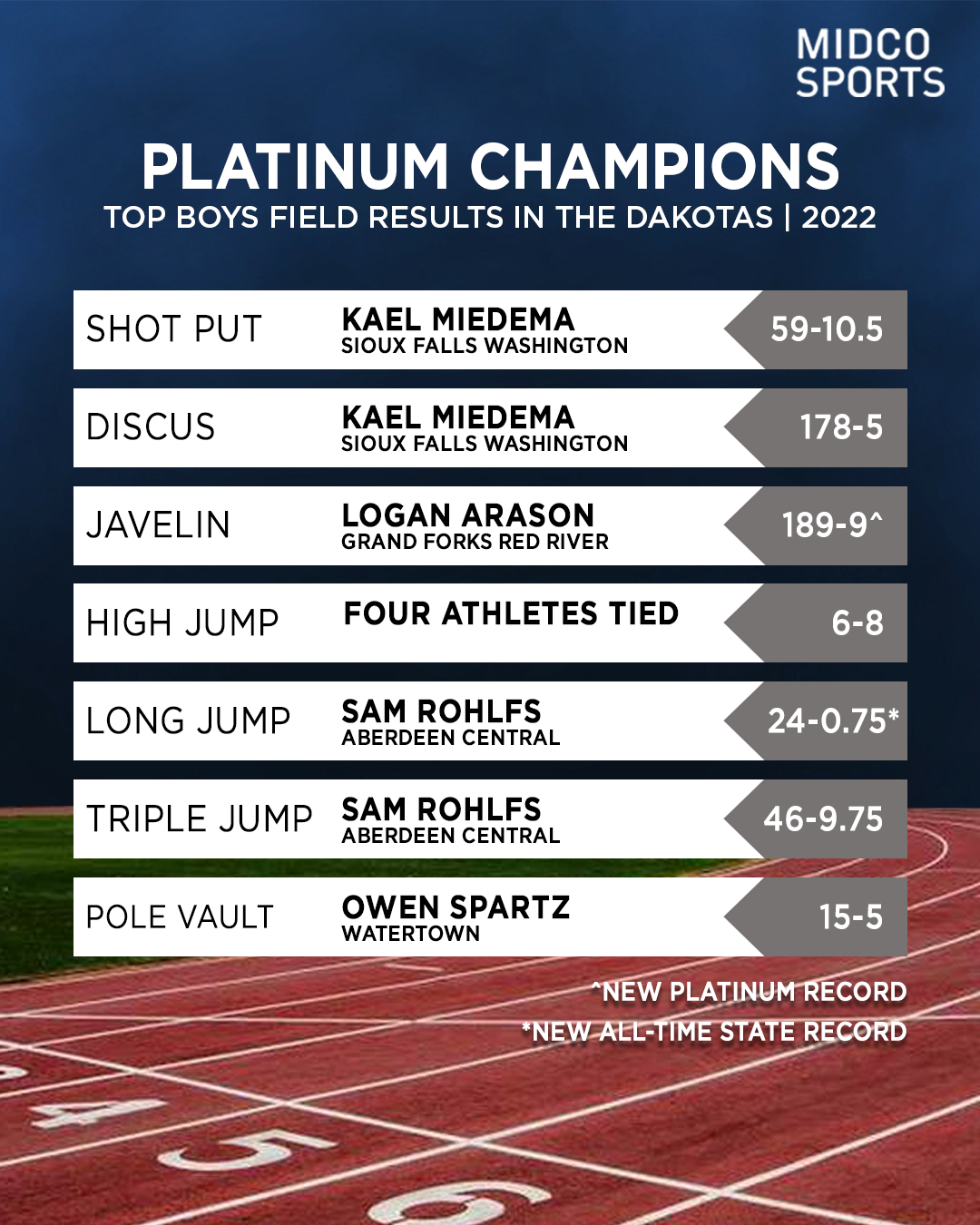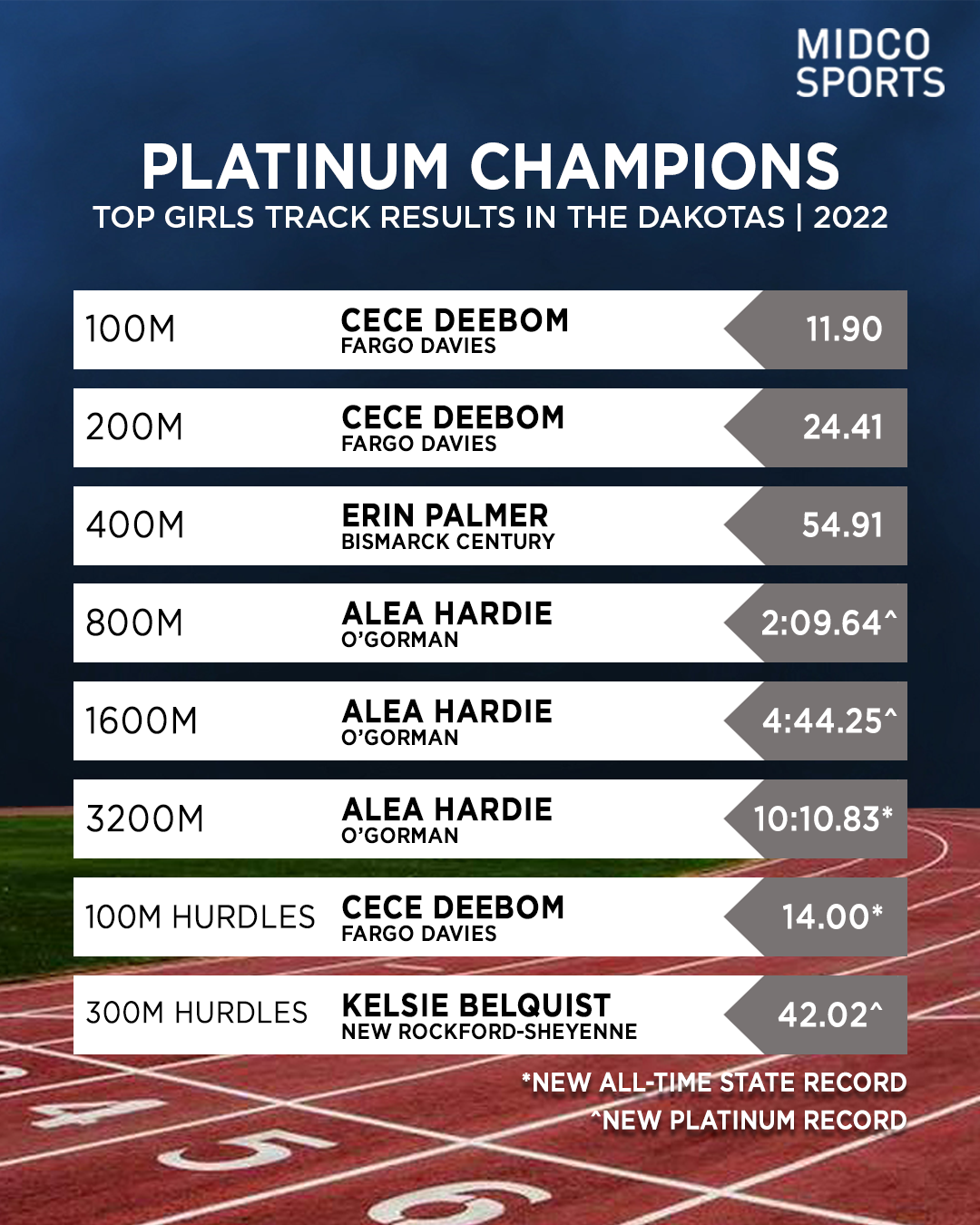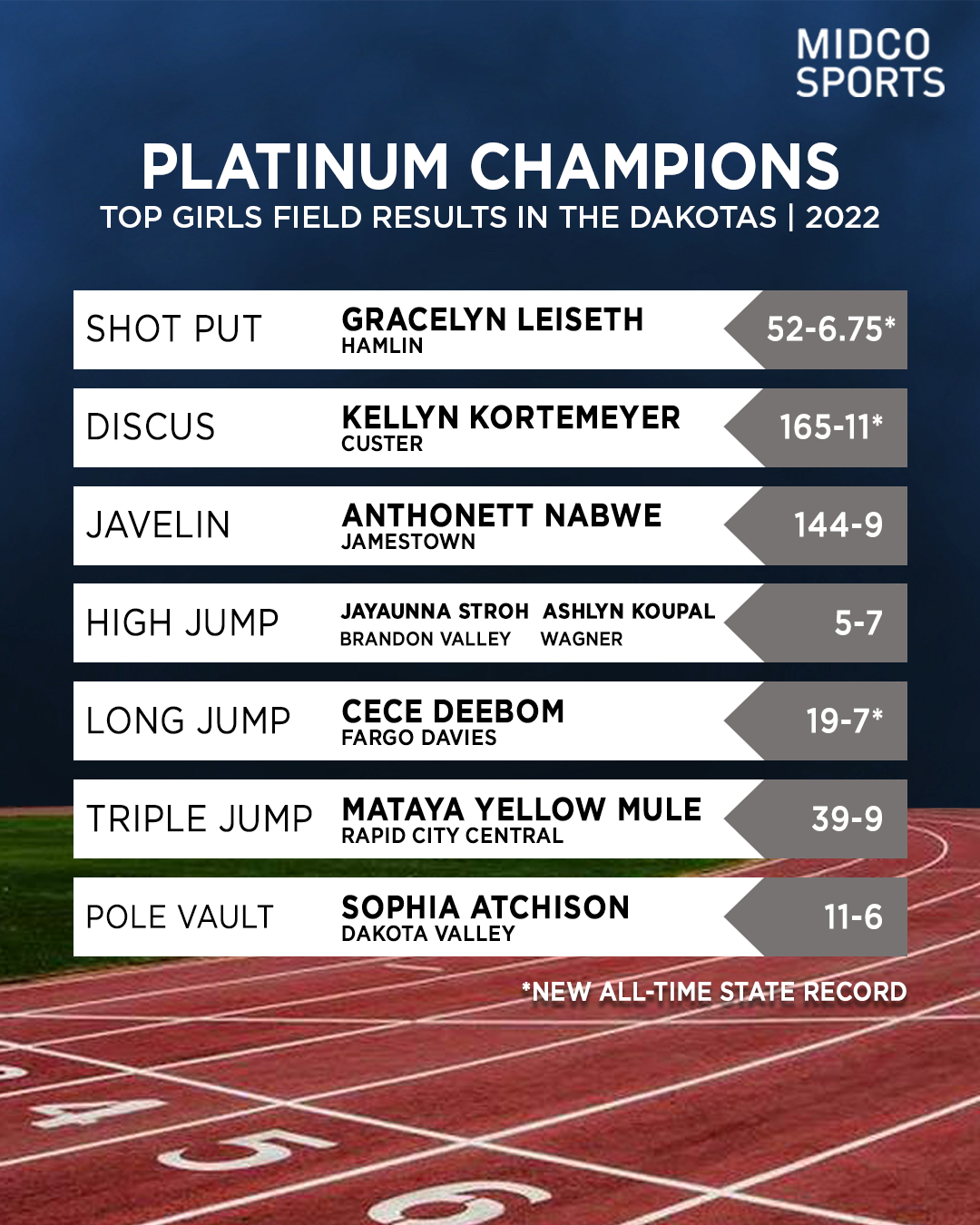 Congratulations again to our Platinum winners and to everyone that pushed them to greatness along the way! If I've missed any Platinum-worthy marks, please email me at alex.heinert@midco.com or contact me on Twitter at @AHeinertMidco.
Well done again, and until next spring, keep it Platinum, Track Nation!

Filed Under ND High School | SD High School | Running/Track and Field