Blog
In a matter of days, the Howard Wood Dakota Relays will welcome to Sioux Falls over 3000 student athletes as well as track fans from across the Upper Midwest for its 97th edition.
Annually one of the top high school track and field meets in the nation, the highlight of the Dakota Relays are almost always the invitation-only high school special events, two races which take place under the lights on Day 1 of the meet and feature the top sprinters and mid-distance runners in the region.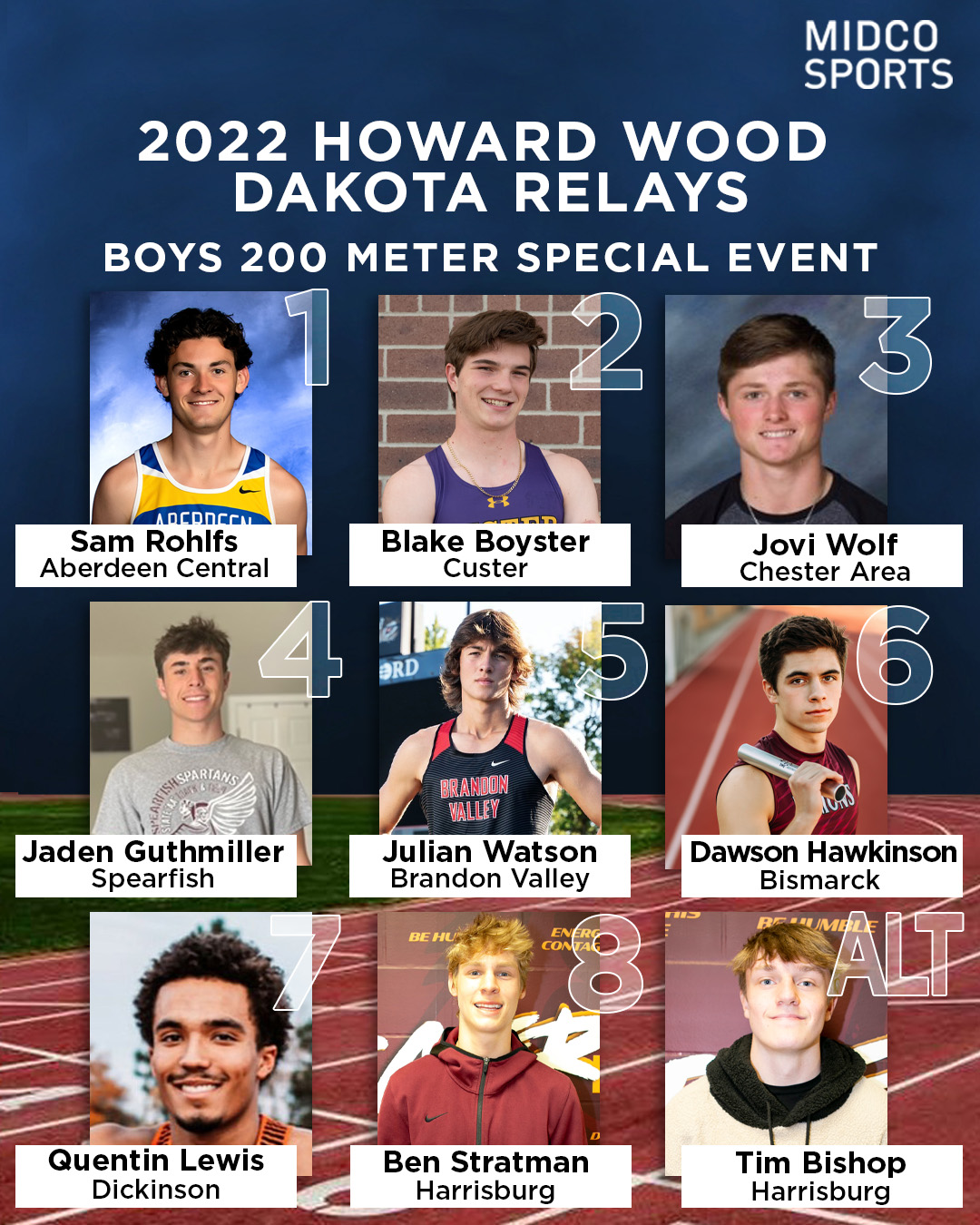 The group of young women assembled for Friday's Girls Special 800m is outstanding once again – read all about them here – and so is the field for the Boys Special 200m, comprised this year of some of the best speed merchants in North and South Dakota prep history.
Running in lane one is senior SAM ROHLFS from Aberdeen Central High School. Sam emerged last season as one of the top all-around track and field athletes in South Dakota, capturing AA state titles in the long and triple jump while placing top six in both the 100m and 200m. This spring, Rohlfs broke the all-time South Dakota record in the long jump, becoming the first prep athlete in state history to break the 24-foot mark. An all-state performer in football and basketball as well as track for the Golden Eagles, he currently ranks first in the Dakotas in both the long and triple this year and is top 5 in the 100m and 200m in AA. Sam will continue his track career this fall at South Dakota State. He is the son of Brent and Linda Rohlfs and the late Colleen Rohlfs, and he's coached by Greg Murley, Katie Anderson, and Brent Norberg.
Running in lane two is junior BLAKE BOYSTER from Custer High School. Despite being just a sophomore a season ago, Blake stood out at the 2021 South Dakota State Track Meet, winning the Class A open 400m and placing top four in the 100m and 200m. Boyster carried over that good form into the summer, where he was a USATF Region Champion and a Junior Olympic national finalist. A standout on the Wildcat football team and a school record holder in three events, Blake is currently top-ranked in Class A in both the 200m and 400m. He's the son of Brandon and Kristina Boyster and is coached by Karen CARE-um.
Running in lane three is sophomore JOVI WOLF from Chester Area High School. The youngest member of this year's field, Jovi has already set four Chester school records in less than two full years of varsity track. As a freshman, Wolf placed 3rd in the 200m and 5th in the 100m at the South Dakota State Track Meet, and he currently leads Class B in all three sprints and sits second in the long jump so far this spring. A two-time all-state selection in football for the Flyers, Jovi also plays basketball and baseball. He's the son of Jami and JoLynn Wolf, and he's coached by Misty Larson.
Running in lane four junior JADEN GUTHMILLER from Spearfish High School. One of the standouts of this year's track season, Jaden is the top-ranked sprinter in both the 100m and 200m in all classes in South Dakota. Guthmiller had a strong state track meet a season ago, finishing 3rd in the 200m and 4th in the 100m in Class AA, with his 10.69-second clocking placing him 8th all-time in state history. Earlier this spring, he broke the Spartan school record indoors in the 60m and outdoors in the 200m, both of which were held by 2015 Dakota Relays Special Event winner Damian Hall. Jaden is the son of Josh and Mindy Guthmiller and is coached by Aaron Nida.
Running in lane five senior JULIAN WATSON from Brandon Valley High School. After an impressive debut season for the Lynx in 2021 that featured top-six finishes at the AA state meet in the 200m and 400m, Julian has established himself this spring as one of the top sprinters in South Dakota prep history after breaking the all-time state record in the 400 meters with a 47.46-second clocking three weeks ago at the Pierre Legion Relays. He currently ranks top-five in all three sprints in the Rushmore State and helped lead Brandon Valley to their first Metro Conference team championship last week. Julian is the son of Eric and Jamie Watson, and he's coached by Troy Sturgeon.
Running in lane six is senior DAWSON HAWKINSON from Bismarck High School.The latest in a long line of Demon sprint greats, Dawson finished top-five in Class A in the 100 and 200 at the North Dakota State Track Meet a year ago, and he's only lowered his times this spring. Hawkinson currently ranks top-two in the Peace Garden State in the 100m, 200m, and 400m, with his 100-meter best of 10.63 seconds from earlier this spring good enough for fourth all-time in North Dakota prep history. A 4.0 student, he's earned an academic and athletic scholarship to the University of Mary, where he'll continue competing on the track while pursuing a degree in exercise science. Dawson is the son of Don and Jackie Hawkinson, and he's coached by Jeremy Schroeder and Scott Reichenberger.
Running in lane seven is senior QUENTIN LEWIS from Dickinson High School. Last spring, Quentin held his own against some of the top prep sprinters in North Dakota history, highlighted by a 4th-place finish in the 200m at the Class A state track meet. Lewis has only improved as a senior and currently ranks third in the state in the 200m and top seven in the 100m and 400m. A versatile athlete, he's been a standout defenseman on the ice for Dickinson High Hockey and recently played on Team North Dakota at USA Hockey Nationals. Quentin is the son of Marlon Lewis and Summer Patterson, and he's coached by Jay Schobinger.
Running in lane eight is senior BEN STRATMAN from Harrisburg High School. In his first season of varsity track in 2021, Ben reached the state track meet podium in two events for the Tigers, including a 7th-place finish in AA in the 400m, but he's become a title contender in all three sprint disciplines this year. One of the top quarter-milers in the Dakotas, Stratman ranks second in that event in South Dakota's biggest class and is top-eight in the 100m and 200m as well. He plans to attend the University of South Dakota in the fall. Ben is the son of Chris and Jaime Stratman, and he's coached by Kevin Kroger.
Tonight's alternate is junior TIM BISHOP from Harrisburg High School. Tim had a breakout sophomore season on the track in 2021, qualifying for four events at the state meet and leading off the Tigers' school-record-breaking 4x1 and 4x2 relay squads, both of which finished as runners-up in Class AA. Bishop is currently ranked top five in AA in both short sprints and is the reigning Metro Conference Meet champion in the 100m. A multi-sport standout, he starred at cornerback on the Tiger football team this fall, helping lead Harrisburg to the program's first state championship since 1999. Tim is the son of Steve and Tammy Bishop, and he's coached by Kevin Kroger.
The Dakota Relays Boys Special 200m will begin Friday, May 6, at 7pm CT from Howard Wood Field, and if you can't make it in person, you can watch this race and much more live on Midco Sports and streaming on Midco Sports Plus! Our two-day coverage of the Dakota Relays begins Friday at 6pm and continues Saturday at 1pm.
Enjoy the build-up to the best two days of track and field all year in the Dakotas, and I'll see you at the Wood this weekend!

Filed Under ND High School | SD High School | Running/Track and Field