Blog
Each year the Riggs Premier Football Academy conducts testing on the area's top sophomore and junior football prospects from South Dakota, Iowa, North Dakota, Minnesota, Nebraska and sometimes beyond that. Participants had the opportunity to test in the 40-yard sprint, 10-yard sprint, pro-agility, broad jump and vertical jump in front of college scouts. After the testing, they performed drills and some competition for college recruiters to see.
Here are the results of the tests from 2022:
40-yard sprint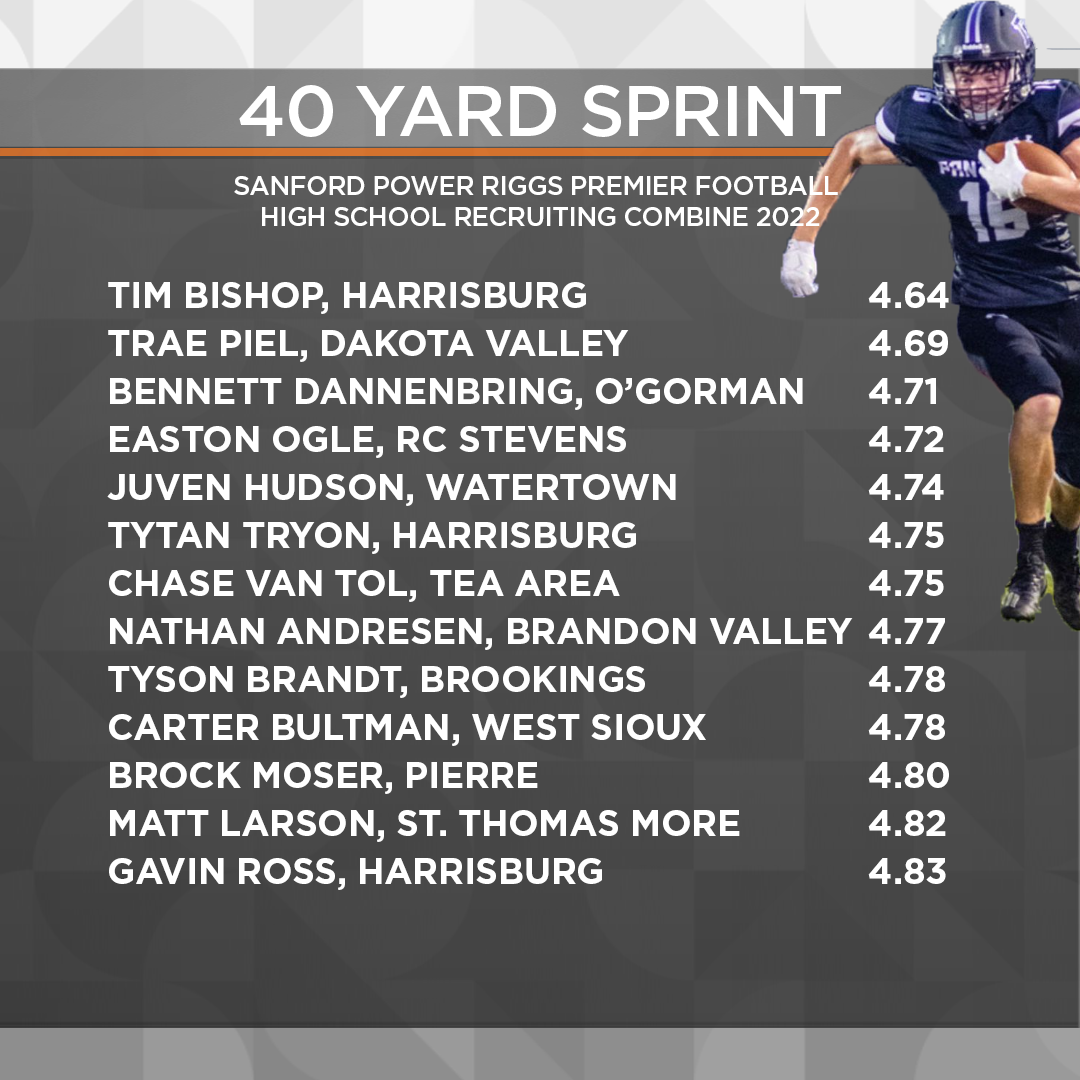 There were only two sprinters who went sub-4.7, Tim Bishop of Harrisburg and Trae Piel of Dakota Valley. Bishop had just finished running at the Howard Wood Dakota Relays where he participated in the open 100m (10.55 finished 2nd), the special 200m and also ran in the 4x100 relay. He had enough left in the tank to top the leader board with a 4.64 time, the 6th best ever at this combine. Trae Piel, a sophomore from Dakota Valley put the other sub-4.7 time on the board.
Bennett Dannenbring had the fastest time of any quarterback with an impressive 4.71 clocking. Abraham Myers had the fastest time of any lineman at 4.88.
Pro-Agility
The Pro-agilty test is one that many scouts look at for ability to change direction and explosion. Tyson Brandt set the pace with an electric 4.29 time. He rushed for 665 yards last season including 3 different 100 yard games in just 111 carries. After Brandt, several sophomores put up great numbers. Henry Theobald, Juven Hudson, Dawson Sechser, Trae Piel and Brock Moser are all class of 2024. Jack Thue was the top time for a QB in this test and Sam Hindbjorgen of Lincoln ran the best time of any lineman at 4.62 with Aiden Foley of Harrisburg just behind, clocking an impressive 4.64 for a defensive lineman.
Vertical Jump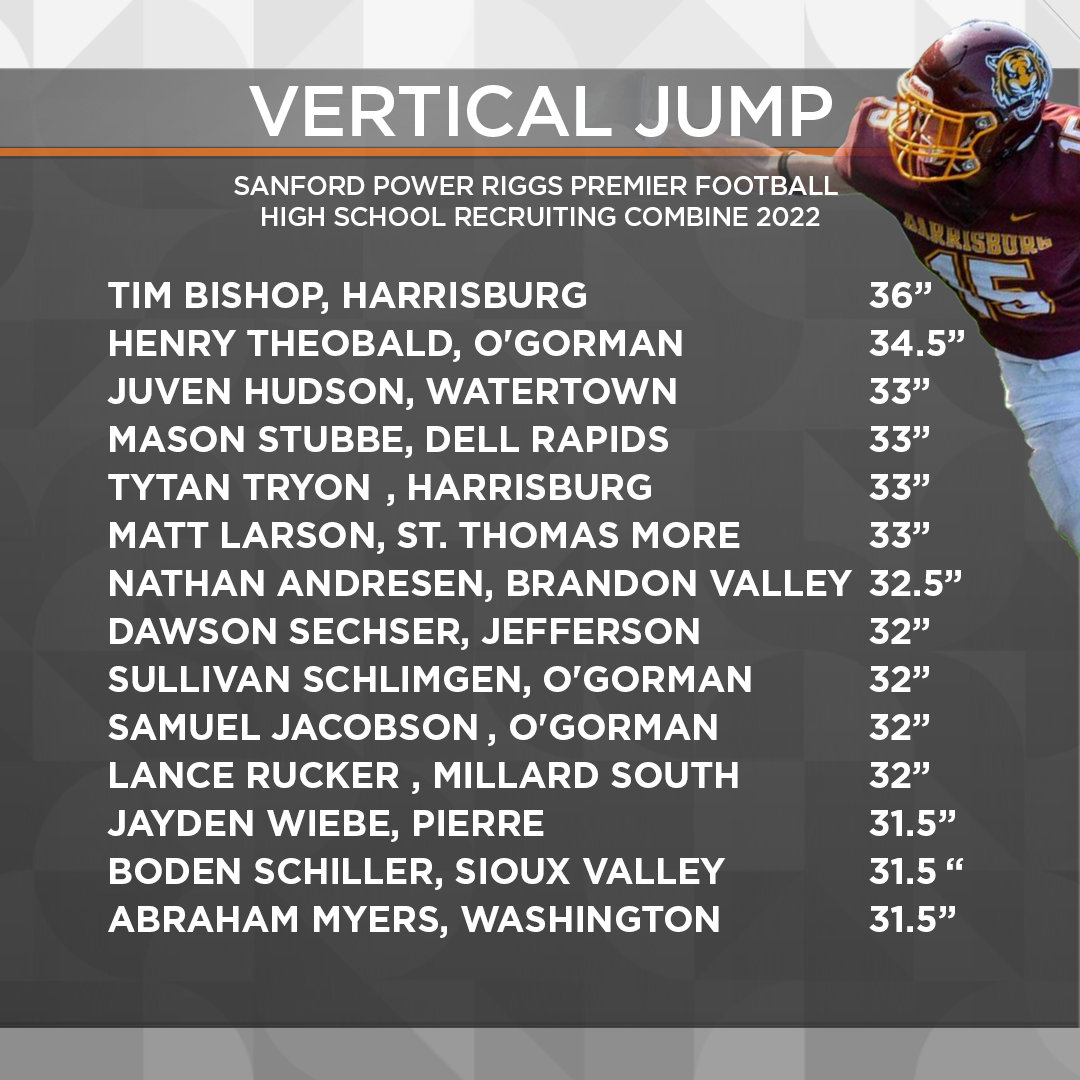 Tim Bishop continued his impressive performance at the combine by putting up the best vertical jump with a 36" leap.
Henry Theobald, the sophomore defensive back from O'Gorman distinguished himself with another great performance by reaching 34.5" on his vertical. Juven Hudson, Mason Subbe, Tytan Tryon and Matt Larson all reached the 33" mark.
Lance Rucker of Millard South in Omaha had the best leap for a lineman at 32".
Broad Jump
Victor Isele of Grand Island NW (NE) lapped the field with a 10'0" broad jump. He's a defensive lineman who checks in at 6.2.5" 218 lbs. That may have been the most impressive mark of any at this year's combine. It checked in as the longest jump ever recorded at this event, clearing the old mark set by Noah Heesch in 2020 by four inches.
Jayden Wiebe of Pierre wasn't far behind with a 9'11" jump. Tim Bishop and Dawson Sechser both put up an impressive 9'10" leap.

Filed Under Football | Varsity Sports | SD High School