Blog
The 2021 high school volleyball season is in the books and congratulations to all the teams, especially the state champions from Bismarck Century and Linton-HMB! This year, we decided to put a bow on the season by recognizing some of the top players in each class sponsored by North Dakota Farmers Union Insurance. We emailed all the coaches across the state to get nominations. We compiled that information and then had the difficult task of narrowing the list down to our two player of the year finalists and honorable mentions for each class. If you don't see a player that's worthy of being mentioned, please reach out and submit their name/school and stats. I'll do my best to add them. Email jody.norstedt@midco.com. We apologize in advance because it's inevitable that some worthy individuals will get missed for a variety of reasons. Also, some of the stats below won't be 100% accurate because they were gathered at various times during the postseason. Thank you for taking the time to check out this blog and congrats to every player across North Dakota because we know the season requires a lot of hard work, sacrifice and commitment!

Class A
Player of the Year Finalists
Nadia Chwialkowski, West Fargo senior: 530 kills, 338 digs, 27 blocks, 28 aces
Chwialkowski capped off a decorated career by helping lead the Packers to a 3rd place finish at the state tournament. The 2021 EDC Outstanding senior athlete of the year was dominant at the net boasting a 36.0% kill percentage. She's a 6-rotation player for the Packers and has been a starter since she was a freshman for Kelsey Gibbons' team. Coach Gibbons says, "Nadia is an outstanding leader on and off the court, and one of the best teammates I've ever had the opportunity to coach." Chwialkowski will play division one volleyball next season at Texas A&M Corpus Christi.
Kenadi Renner, Bismarck senior: 321 kills, 459 digs, 34 aces, 14 blocks
Renner led the Demons to a runner-up finish at the state tournament by being a consistent force in all aspects of the game for Bismarck High. The senior has been a 6-rotation player each of the last two seasons for Brianna Kline's program. In the state tournament, Renner led the Demons in kills with a total of 35 in the three matches. She's among the leaders in both kills and digs in the WDA. Coach Kline says "She was extremely consistent this season and could place a ball wherever she wanted and mix up her shots." Renner and Mia Hinsz, who was selected as WDA senior athlete of the year, were an excellent leadership duo that helped spark the Demons to their best finish at state since 2016.
Honorable Mentions
Logan Nissley, Century junior: 331 kills, 27 blocks, 325 digs, 19 aces
Macy Fridgen, Century senior: 279 kills, 73 blocks, 75 digs, 34 aces
Mia Hinsz, Bismarck senior: 588 digs, 96 assists, 41 aces
Piper Harris, Mandan senior: 735 digs, 49 aces
Ava Wild, Davies senior: 412 kills, 337 digs, 31 blocks, 47 aces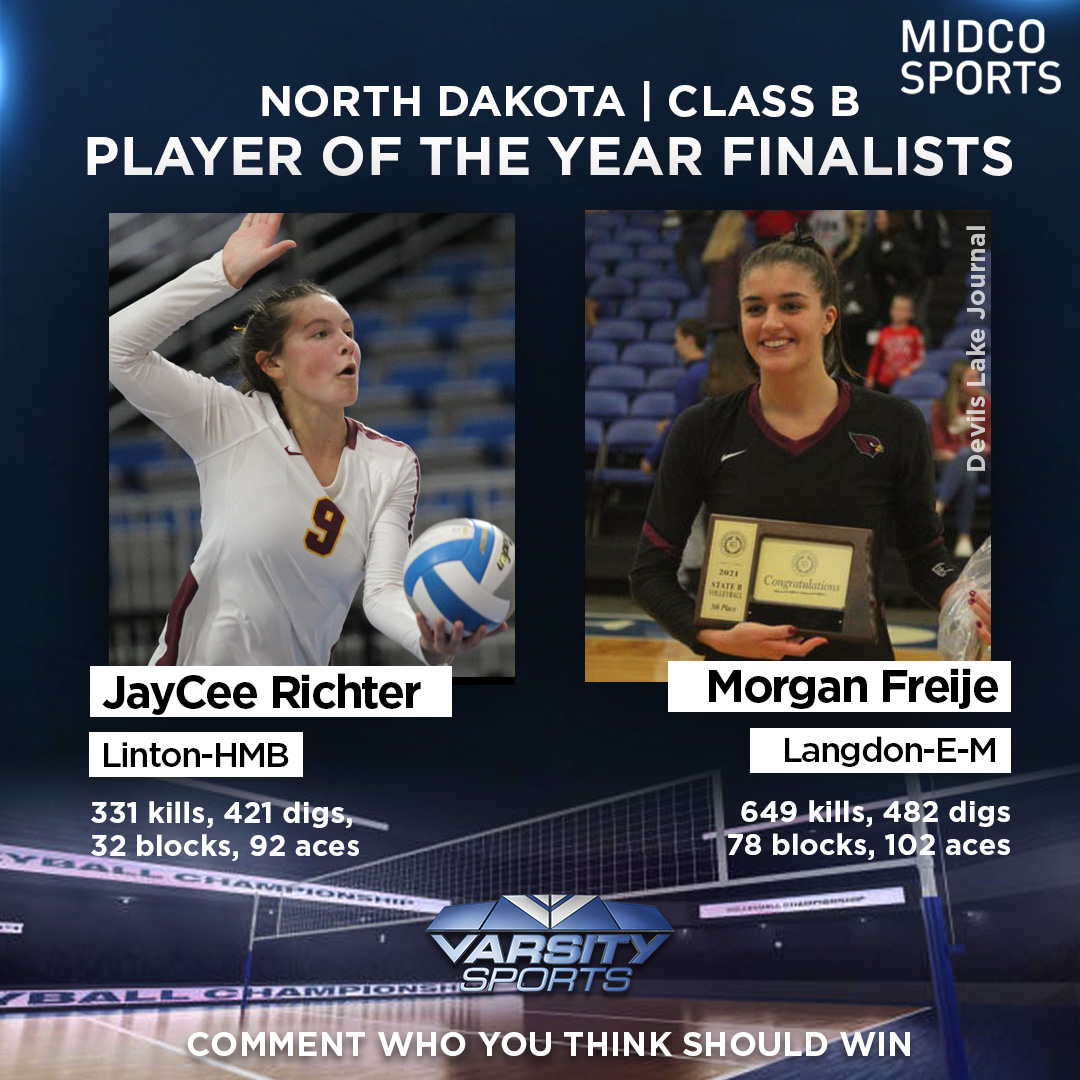 Class B
Player of the Year Finalists
Morgan Freije, Langdon-E-M senior: 649 kills, 78 blocks, 102 aces, 482 digs
Freije has been pegged as one of the top players in the state ever since her breakout sophomore season in which she helped lead Langdon-Edmore-Munich to the state championship. In her 5th year of playing varsity, Freije recorded a whopping 649 kills. An injury to teammate and standout hitter Cora Badding, put more on the senior's shoulders and she continued to deliver leading the Cardinals to a 5th place finish at state. Freije put up massive kill numbers on the biggest stage, recording kill totals of 18, 25 and 26 in the three matches at state. Head coach Rich Olson knows her presence will be missed, "Her leadership has helped elevate others around her."
JayCee Richter, Linton-HMB senior: 331 kills, 421 digs, 92 aces, 32 blocks
Richter wrapped up a phenomenal senior season by helping the Lions win their second consecutive state championship. The Class B senior athlete of the year topped 300 kills, 400 digs and 90 kills this season. She's been a starter for five seasons for the Lions and can play any position on the court. Her mom and head coach Jaime Richter describes her this way, "JayCee can take over the game just on her serving. She developed her hitting and blocking game this year, which makes her stronger than ever."
Honorable Mentions
Danielle Hagler, North Star senior: 751 kills, 46 blocks, 450 digs, 39 aces
Riley Hauff, Drake-Anamoose senior: 470 kills, 36 assists, 66 aces, 455 digs, 11 blocks
Kali Kubas, Trinity senior: 74 aces, 75 kills, 883 assists, 336 digs, 25 blocks
Emma Lucas, Northern Cass senior: 327 kills, 314 digs, 40 blocks, 46 aces
Kya Mauch, Hankinson senior: 346 kills, 454 digs, 61 aces, 48 blocks
Eden Olson, Our Redeemers senior: 185 kills, 972 assists, 53 aces, 320 digs, 9 blocks
Teegan Scherr, Linton-HMB senior: 329 kills, 348 digs, 68 aces, 14 blocks
Desidy Schwanke, Benson County senior: 395 kills, 329 digs, 97.5 blocks, 64 aces
Sydney Upton, Bishop Ryan senior: 582 kills, 101 aces, 31 blocks, 450 digs
Kinsey Zuroff, Beulah senior: 298 kills, 62 aces, 295 digs, 36 blocks, 23 assists
Others nominated
Eden Carrier, Cavalier junior: 280 kills, 265 digs, 56 blocks, 45 aces
Abby Cox, Oakes senior: 40 aces, 346 kills, 292 assists, 77 blocks, 306 digs
Emily DeGree, Des Lacs-Burlington senior: 372 kills, 84 blocks, 38 aces
Callie Hase, Linton-HMB senior: 550 digs, 39 aces
Ava Jahner, Trinity sophomore: 322 kills, 266 digs, 56 blocks, 76 assists, 52 aces
Ellie Powell, Bowman County junior: 330 kills, 43 aces, 87 blocks, 108 digs
Megan Roob, Richland senior: 383 assists, 147 digs, 83 blocks, 245 kills, 55 aces
Brenna Stroklund, Kenmare junior: 538 kills, 331 digs, 99 blocks
Megan Taszarek, Richland junior: 298 kills, 124 blocks, 195 digs, 51 aces
Shelby Vander Vorst, Strasburg senior: 350 kills, 244 digs, 22 blocks, 67 aces