Blog
The 2021 volleyball season is ripe with perennial contenders as well as a few surprise teams. Can O'Gorman, Sioux Falls Christian and Northwestern Area repeat as state champions? Jason Andera gives you a complete look at the favorites, contenders, surprise teams and top players to watch in all three classes of South Dakota high school volleyball for the upcoming 2021 season.
Class AA
1. O'Gorman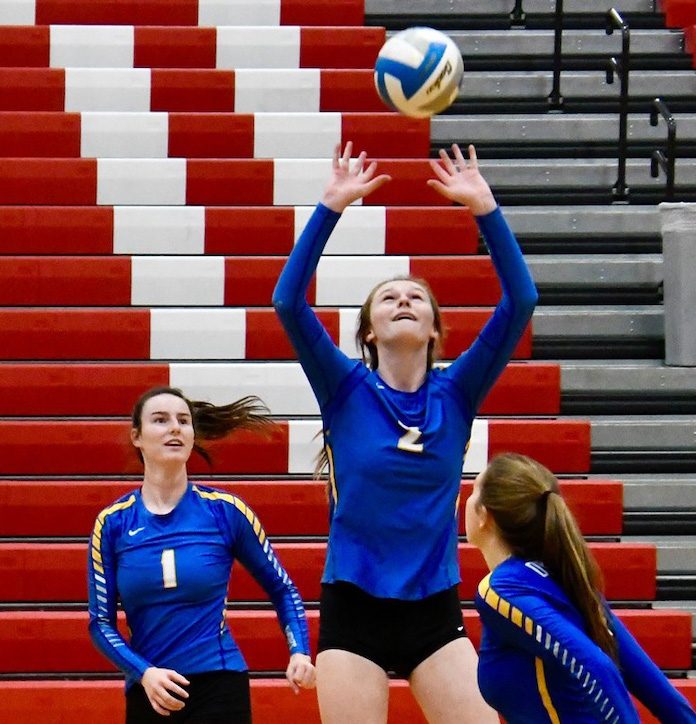 The defending champions lost a big senior class but remain the favorites in Class AA. "We have a lot of different pieces that are filling in different gaps, but they mesh well on the court," said the team's new Head Coach Cale Hecht. Bergen Reilly as a junior is one of the best setters in the country but they may need her to attack like she did last year with 4.8 kills per set. Coach Hecht is going to wait and decide how best to use the best weapon in the state. They are also strong up the middle with Brogan Beck and Bella Steffel. Macy Matheson and Makayla Tiahrt will have bigger roles this year at the pins. The Knights will be without Reilly for a few weeks in September while she is at the World Championships in Mexico, but when she gets back, they should be the team to beat.
2. Sioux Falls Washington

The Warriors have some all-state caliber players back this season. Although the team loses D1 player, Sydni Schetnan, they return four of their top five attackers from last year. Joslyn Richardson is one of the best opposite hitters in the state as a junior. Ellie Walker provides the punch at outside hitter, she's also one of the deftest servers in the state. Ndjakalenga Mwenentanda provides great blocking ability in the middle. The more volleyball she plays the more dominant she becomes. Jadyn Schetnan led the team in digs last year and will be very important in the back row. "We will have some younger players that are going to need to fill some big roles," said Coach Kelly Schroeder. "We are returning some key players as well with a lot of high-level experience from high school and club volleyball."
3. Watertown

When I talked to coaches around the state, they all expect that Watertown will have a strong team despite lack of experience. Head Coach Rosemary Bellum is ready for the challenge, "This will be a brand-new year for the Arrows. We have only one returning starter and not much height. We will have to rely on good defense, aggressive serving, and a quick offense." Karli Hanten is the team's only returning starter. Look for Emma Koch, Maddi Rohde, and Kendall Paulson to play big roles.
4. Sioux Falls Roosevelt

The Riders continued to show growth throughout last season, "Towards the end of last season we found some success and we're looking to build off that as we start up this fall," said Coach Kevin Vanderwal. "This group has been very dedicated to their offseason growth, so we're excited to put the pieces together and see what happens." Liz Denevan (S), Mya Vandrovec (RS) and Abby Ward (OH) lead the way for the Riders.
5. Harrisburg

The Tigers are locked and loaded for a good season, "Our goal is to be playing our best ball at the end of the season and to be a true contender to take state," said Coach Ronette Costain. Abby Meister is an SMSU commit. She has a powerful arm and a great knowledge of the game. Francie Mertz is an excellent blocker; Zoe Rallis is a vocal leader at libero and Morissen Samuels has a strong arm and sees the floor well.
More Contenders
Brandon Valley
The Lynx had a good year and made it to state last season. They hope to build off that with as deep of a roster as they've ever had. Kazi Ellingson and Taylor Stemen lead the way with Liz Kopp setting the ball. If there's a surprise team this year it might be the Lynx.
Pierre
Pierre was the surprise team of the Summer Slam team camp in late July. They have a scrappy team with a lot of potential with a powerful outside hitter in Ayvrie Kaiser.
Huron
Joshua Lien takes over for Shelly Buddenhagen after Huron made a trip to the championship game last year. "The 2021 expectations for the Huron Tiger Volleyball team are to be a competitive team in the post season," said Lien. "We are looking to capitalize on the returning starters while mixing in some young talent. Our speed will have to keep us in volleyball matches both offensively and defensively." Huron has some great players back, Emily Dale is one of the top middles in the state with Brynn Gose on the outside and Bryn Huber at libero.
Mitchell
The Kernels have some height this year and excel on defense, "We hope to be a very good ball control team to be able to compete with anyone," said Coach Deb Thill. Seniors Sarah Sebert, Kaspen Alm, Taylor Haring, and Kaitlyn Christensen lead the way. Junior Lizzie Tyler can play all over the court and will be one of the most dependable on the team.
Sioux Falls Lincoln
Five starting varsity players are back for the Patriots. Two of those players are future D1 players with Brynn Kirsch who's headed to Kansas next year and Bailey Plourde who's going to NDSU. Anna Engels and Linnea Nesheim also come back to the lineup with some experience and firepower.
Aberdeen Central
Head Coach Jackie Bindenagel leads a young team on the court this year. Grace Kuch is an explosive middle for the Golden Eagles. Kuch is just a sophomore but started last year and is a versatile hitter with great court sense. Sydney Evans has two years of experience as the starting libero and DS. Abby Berry will also play a key role as a senior setter.
Rapid City Stevens
Stevens has a new head coach and a lot of pieces to put together this season. Bailee Sobczak is their go-to-player on the pin.
Sioux Falls Jefferson
The Cavaliers will have almost exclusively underclassmen for their inaugural season. Maddie Paulson started for Roosevelt last year at middle and gives the team the spark and energy they'll need to compete. Beth Donnelly is the head coach after coming from Morningside College. "There's already a little bit of team chemistry that started out of nowhere. It's nice to have a group of girls to build a foundation that we're going to have to build," said Donnelly.
Rapid City Central
Jayna Morrill goes into her second season as head coach for the Cobblers and they had to overcome several hurdles. "This season we have high expectations and will continue to rebuild and improve in every aspect," said Morrill. "We have great senior leadership with great buy in for our program." Amarae Rinto, Katelyn Thormahlen, Lindsey Nelson and Leila Roybal return to the court.
Sturgis
Sturgis return 12 seniors to the court under Head Coach Debbie Cano. Jollen Cano led the team in aces and assists last year while TyLee Oswald will be the main blocker on the front row for the Scoopers.
Top Players:

Preseason Player of the year
Bergen Reilly, O'Gorman (S)
Next 10
Liz Denevan, SF Roosevelt (S)
Kazi Ellingson, Brandon Valley (MH)
Brynn Kirsch, SF Lincoln (L)
Abby Meister, Harrisburg (L)
Ndjakalenga Mwenentanda, SF Washington (MH)
Baily Plourde, SF Lincoln (OH)
Joslyn Richardson, SF Washington (RS)
Bailee Sobczak, RC Stevens (OH)
Mya Vandrovec, SF Roosevelt (RS)
Ellie Walker, SF Washington (OH)
More Great Players in Class AA
Brogan Breck, O'Gorman (MH)
Emily Dale, Huron (MH)
Brynn Gose, Huron (OH)
Ayvrie Kaiser, Pierre (OH)
Liz Kopp, Brandon Valley (S)
Maddie Paulsen, Jefferson (MH)
Landree Wilson, Brookings (OH)
Class A

1. SF Christian

Nine state titles in 11 years! That's the kind of on court success Darci Wassenaar has had at Sioux Falls Christian. Last year they graduated four seniors including player of the year Abby Glanzer. They promise to be strong once again with a strong front line that includes Kylah Vandonkersgoed, Katie Van Egdom and Sydney Tims.
2. Dakota Valley

The Panthers have been strong for several years, they're coming off a good season where they made it to the championship game under Head Coach Mary Miller. This season they return several key pieces to the court. Sophie Atchison is the leading returning attacker but comes into the season with an injury. DV will look toward Jorja Van den hul, Madeline Stout and Tori Schulz for their attacks. Kate Van rooyan and Sammi Archer play a big role on defense and Logan Miller is one of the best setters in the class.
3. Winner
The Warriors made a big push under Jamie Keiser last season and have the top player in the class back in Ellie Brozik. She averaged 5.7 kills/set last year and hit .307. Jenna Hammerbeck and Skyler Hanson will play bigger roles attacking this season. Hammerbeck is versatile on defense, she averaged 3.6 digs/set a year ago. If they can replace Mackenzie Levi setting the ball, the Warriors should be in contention deep into the playoffs.
4. Madison
The Bulldogs are in contention every year under Head Coach Jill Kratovil. Madison has their setter Kyle Krusemark, libero Raena Rost and one of their middle hitters, Audrey Nelson back this year. They'll have to replace one of the biggest hitters in the state with the graduation of Abby Brooks. Look for Ali Vacanti to step up to give the team some big hits. "Our girls are scrappy," said Jill Kratovil. "We have a lot of defense back from last year. We might not get those big hits but we're going to do a good job placing the ball."
5. RC Christian
As Rapid City Christian continues to grow, their sports teams do too. The Comets keep getting stronger in volleyball especially. Olivia Kieffer has improved every year and goes into her junior campaign as one of the top players in the class. She averaged 4.2 kills per set to lead the team as a sophomore last season.
More Contenders
Parker
Carly Rozell has done a great job in her short time coaching the Pheasants. Last season the 20-8 showed a lot of improvement but this year they must get their underclassmen to step up and fill a lot of spots. Brooke Berens is ready to provide some senior leadership. The middle hitter put away 3.2 kills per set and almost a block per set last year on her way to earning all-state honors. Another important senior, Alexis Even, is great on defense. If Parker can reload with a winning team this year, they could become a perennial favorite.
Garretson
Dennis Northrup's team nearly won 20 games last year and have a great group returning. Lily Ranshau, Logan Bly, Jaelyn Benson and Anna Jones are just a few of the key returners for the Blue Dragons. Garretson will still be fairly young but could be one of the most improved in the state.
Top Players:
Class A Preseason Player of the year
Ellie Brozik, Winner (OH)
Next 10 in Class A
Brooke Berens, Parker (MH)
Elyssa Clark, Baltic (MH)
Olivia Kieffer, RC Christian (OH)
Rachael Krog, Elkton-Lake Benton (L)
Kylie Krusemark, Madison (S)
Logan Miller, Dakota Valley (S)
Sydney Tims, SF Christian (MH)
Katie Van Egdom, SF Christian (OH)
Jorja VanDenHul, Dakota Valley (MH)
Kylah Vandonkersgoed, SF Christian (OH)
More Great Players in Class A
Sophie Atchison, Dakota Valley (OH)
Ryen Hawkey, Tea Area (OH)
Carlee Laubach, Canton
Lily Ranschau, Garretson (OH)
Emma Vanregenmorter, Dell Rapids (MH)
Class B
1. Warner
Warner came close last year making it all the way back to the title game. They have been steadily improving and working their way back to a championship since they won it all in 2018. With almost everyone back this season, it feels like Warner could get back to the top. Jennifer Aman led Warner with 4.3 kills per set last year. She leads a group their top ten attackers from last year who return to the court. Ava Nilsson is just a sophomore this year and has been the setter for several years already. She is an excellent ball handler and has plenty of attackers to find.
2. Northwestern
The two-time defending state champs reload once again. The Wildcats will have some brand-new faces to go with Ella Haven and Brooklinn Halvorson who have played significant minutes for Northwestern. "The new players have been waiting for their turn and now it's their turn," said Coach Nora Groft. "They're a fun bunch of kids that are still trying to figure out who they are as a team." They will still definitely be a title contender in Class B.
3. Chester Area
Has been one of the favorites every year in class B. The Flyers are a mix of experienced veterans leading the way with some exciting young players. Breckyn Ewoldt and Jada Kenyon are seniors who both can attack the net from the middle. Some of those exciting younger players are just 8th graders and could play big roles on this team. "We're working to get those younger players up to speed," said Head Coach Jean Benson. "They're coming into their own and are stepping up to be offensively productive as well."
If those young players can add to the power that Ewoldt and Kenyon bring, the Lady Flyers could be a title contender.
4. Bridgewater-Emery
The Huskies had a junior-heavy team that had success last year making it to the state tournament. Julia Weber has vaulted to become one of the elite individuals in the class. Taylor Schallenkamp, Cara Meyer and Casey Meyer are all seniors this year as well which gives B-E a great foundation for success.
5T. Kimball/White Lake
The WiLdKats had a good season last year and have enough talent back to keep building on it. Dani Deffenbaugh had a breakout sophomore season with 3.0 kills per set and 48 blocks. Ryann Nielsen, Cami Comfert, Harley Namanny and Madison Heath all return to the court with experience. Nielsen could be the key after leading the team in assists as a freshman last year.
5T. Burke

The Cougars have a strong cast coming back led by junior Adisyn Indahl who has great court awareness and can attack and play defense. Look for Elly Witt to set with Hailey Haiar, Kailee Frank and Elenna Koenig to all play big roles this season.
Top Players:
Class B Preseason Player of the year
Ava Nilsson, Warner (S)
Next 10 in Class B
Isabel Aesoph, Faulkton Area (OH)
Jennifer Aman, Warner (OH)
Hadley Carlson, Arlington (OH)
Dani Deffenbaugh, Kimball-White Lake (MH)
Breckyn Ewoldt, Chester Area (MH)
Brooklinn Halvorson, Northwestern (S)
Ella Haven, Northwestern (MH)
Jayda Kenyon, Chester Area (MH)
Copper Lurz, Philip (OH)
Julia Weber, Bridgewater-Emery (OH)
More Great Players in Class B
Hannah Bartscher, Ethan
Emily Comes, Harding County
Adisyn Indahl, Burke
Molly Larson, Gayville-Volin
Tiffany Pelton, Avon (MH)

Filed Under Varsity Sports | SD High School