Blog
The state's largest class is now made up of Sioux Falls area teams and Rapid City teams only. Eight of their nine games will be in class and each team will get one 11AA opponent. A Sioux Falls public school won 12 straight championships in the largest class up until 2018. Since then a non-Sioux Falls public school has taken home the hardware. This year the Sioux Falls public schools added another team with Jefferson which may make it more difficult for a Sioux Falls school to get it done.
Jandy's Preseason Top 5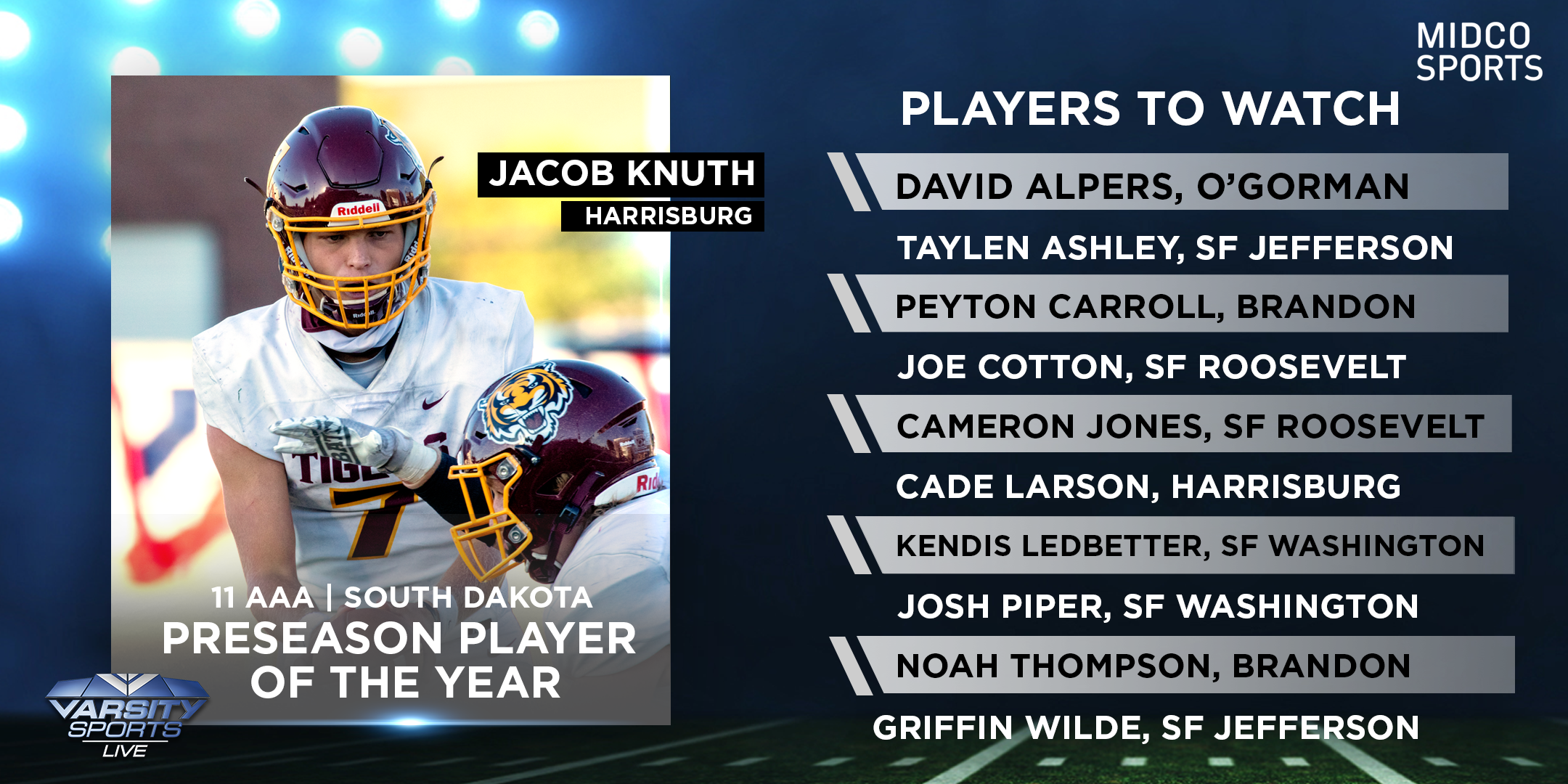 1. Harrisburg
The Tigers achieved a lot of firsts last year, including winning at Howard Wood Field, winning a playoff game in the largest class, and getting to the dome in 11AAA. This year they continue to elevate expectations with one of the deepest teams they've ever had. Seven starters are back on offense and six more on defense to try to get the job done. "We look to build off a title appearance from last season," said Coach Brandon White. "We feel the guys we have coming back are going to be the leaders. If we can stay healthy, we feel like we can make a playoff run at the end of the season."
Jacob Knuth headlines a strong offense. Knuth put up great numbers as a junior and committed to the University of Minnesota in the offseason. He continues to push the bar as a leader and a player. He is surrounded by one of the best offensive lines in the state. Josh and Jordan Larsen are future South Dakota Coyotes who will start up front with Alex Foley, Mason Jacobson also back. Gavin Ross looked great at running back in limited duty last year, he should be one of the top backs in the state this year. And Knuth's weapons at receiver are among the best around with speedster Lincoln Carlson stretching the field and Andrew Walter who can go all over the field to make catches.
The defense has a particularly strong front seven led by Cade Larson and Aidan Viox at linebacker and Aidan Foley and Tyman Long up front. Plus, they have one of the best kickers around with Bryce Soli.
Harrisburg hasn't been at this level of expectations, but they know there's not much room between any of the nine teams in the class, it will take a healthy and clean game each week to win games.
2. Brandon Valley
The champions are back but do they have what it takes to defend their title? The biggest news out of Brandon since they walked off the field with a 35-14 win against Harrisburg in the championship game, is the head coaching situation. Chad Garrow had to step aside while he fights a brain tumor and Coach Matthew Christensen has assumed the interim role. "We won't have Coach Chad Garrow in his full capacity," said Christensen. "That is a major factor. He is a great coach."
On the field the five starters return on offense and five more on defense. Offensively the Lynx relied on big plays from quarterback Joe Kolbeck, running back Tate Johson and receiver Jackson Hilton last year. This year they'll have to replace all of them. Lucas Slack and Jack Thue compete for the quarterback position in fall camp. Slack got some time last year in spot duty and has worked hard to take over as a junior this year. Look for Jordan Johnson to try to fill the shoes of Tate Johnson at running back. Peyton Carroll and Sam Scholten will be the go-to-guys in the passing game. The offensive line was a question mark going into last season, by the end of the year it was a strength. This year most of those guys are back and form one of the best fronts in the state. Future USD hippo, Brady Koupal starts at center with all-state caliber players Andrew Bunkers, Nate Meyers and Navarro Schunke returning up front. Schunke may be the next major D1 prospect from the state, he stands 6'5, 285 and is just a sophomore. Wrestling fans know all about this heavyweight champion. Defensively the Lynx will rely on Ryan Doll at linebacker, Noah Thompson in the secondary and Owen Warren up front to lead each level. Kyler Briest and Dominic Tucker also return to start for their senior years. Overall this team has the potential to make another championship run. The big questions remain, how will this team come up with enough explosive plays to contend? I think Slack, Johnson and Carroll are up for the challenge.
3. Sioux Falls Roosevelt
The Riders were the most affected by the addition of a new high school in Sioux Falls. But they are strong up front and have some of the most talented running backs in the state. Head Coach Kim Nelson thinks the Riders will be fine, "I think we have some good experience on the lines and at running back. We're looking at them to be the leaders of the team and so far they haven't disappointed." The offensive line is led by Joe Cotton, Dylan Pryzbilla and Nick Bunkers. Roosevelt may have the best running backs in the state led by Tyree Nave. Quarterback remains the biggest question mark for Roosevelt. Last year they had two sophomores vying for the starting spot, it was Taylen Ashley who is at Jefferson now, and Bennett Dannenbring who went to O'Gorman. This year they once again have two sophomores trying to earn the starting spot. Elijah Else and Jackson Brouwer. "It's a learning curve for both of them but it's starting to flatten out," said Nelson. "I like both of them and they're both good players." Defensively they'll rely on Lane Ferguson in the middle of the line and All-State end Cam Jones as well as linebacker Matt Goehring and De'andre Joseph.
4. Sioux Falls Washington
The last time Washington made a change at head coach it took a while for the team to regroup and dominate. In Ryan Evans' second year at the helm, the Warriors are looking to raise the bar after their 3-7 finish last year. "We have a veteran team that really started to come into their own towards the end of last season," said Coach Evans. "Our players had a fantastic offseason and are willing to compete each and every day."
Seven starters return on offense including all five guys up front. Last season the Warriors just couldn't stay healthy on the offensive line, this year they hope to reset and become a strength of the team. Aiden Brink is a four-year starter and all-state center. Alex Haeffner is a third-year starter at tackle and he's flanked by Kael Miedema on the other side with Jason Bartlett and Hoyle Bowman at guards. Max Thomson is back at quarterback for his third year. Thomson has shown consistent improvement each year and is primed for a breakout season. He averaged 179 yards passing per game and had a 2:1 TD to interception ratio as a junior. Josh Piper is one of the all-time greatest receivers at a school that's produced some of the best in state history. Piper is a third-year starter and is hoping for another big year. On defense the Warriors graduated two fantastic D-1 linebackers but return two more studs with Gabe Frerichs and Patrick Osborn back. Kendis Ledbetter is one of the top players in the state returns on the defensive line. He verballed to the University of North Dakota after his great junior season. The secondary features Matthew Agyeman, Ashton Zych and Garrett Hoffman who all return with starting experience. If you're looking for some newcomers to make an impact this year look for sophomore linebacker Mason Wilson, junior defensive lineman Abraham Myers and running back Blessing Taniah to have big years. If the Warriors can get the production they expect from their running game, they should be able to make big strides.
5. O'Gorman
This O'Gorman team might be one of their least experienced teams since Jayson Poppinga took over as head coach. "We have a lot of competition for starting spots," commented Poppinga. "We have very few starters returning from our earliest out in the playoffs since I've coached at OG. Will take time to figure out our strengths and with a demanding schedule, we don't have the luxury of waiting to the middle of the season."
Bennett Dannenbring who went to Roosevelt last year has been named the starting quarterback for O'Gorman in this his junior season. He joins just two returning starters on offense, Chase Harris on the line and Manny Struck at receiver. Look for David Alpers to spend more time on offense at tight end this year too. Alpers was an all-state defensive lineman who committed to South Dakota State. He and Anders Mattecheck and Nate Ratzlaff are back at linebacker. Those three are the only returning starters for the Knights on defense. Rush Landry saw significant action last year and should play a big role for the Knights this year.
More contenders
Jefferson
The Cavaliers open their inaugural season with several impact players. "Our athletes officially became Cavaliers on June 1st," said Head Coach Vincent Benedetto. "With the process of starting a new school we stressed that during the 2020 school year, they need to finish strong at their respective schools- in the classroom, hallways, and athletic fields. They did that, many were a part of the Roosevelt basketball state championship team, many competed in track, baseball, and tennis at their respective schools." Now those players will play for the state's newest high school. No player may make a bigger impact than Taylen Ashley at quarterback. Ashley threw for nearly 2000 yards and ran for another 433 yards as a sophomore starter at Roosevelt last season. He has several big-time weapons including Griffin Wilde who started with him last year at Roosevelt. Plus, they get London Kolb and Robert Hutchinson who come over from Lincoln. All those receivers have all-state potential. Kolb is especially effective on defense where he had 65 tackles, 4 PBU's and 2 INT's last year. Beau Giblin also has playing time under his belt after starting as a sophomore at Roosevelt last year. Look for big contributions from Taylen Sanow at running back and Sam Siegfried at TD/DE. This team has just a handful of seniors so they'll have to get big contributions from young players, "There are five players on our roster that saw significant varsity time during the 2020 season. Varsity football compared to JV and Freshman football is a big step up," said Benedetto. "We need our juniors to carry themselves like seniors and need our sophomore class to step up this year as well. There will be challenges and adversity along the way. Our coaching staff and player leadership will be vital to staying the course and improving each week."
Lincoln
The Patriots have a lot to replace including a three-year starter at quarterback in Tommy Thompson. "We are going to be a young team who plays many underclassmen," said Head Coach Jared Fredenburg. "We will only have 12 seniors on the roster so our young guys will have an ample opportunity to receive playing time and step up into starting roles. Our younger players are very talented, but many have not seen varsity action."
Look for Trenton Peterson to claim the starting quarterback position as he competes with Tate Schafer. Angel Jushge got some action in the backfield last year and should be the main ball carrier this year. Sam Heier and Gavin Brison have a chance to step up as playmakers at receiver. Elliot Renville is the lone starter returning on the offensive line. The defense has a little more experience with senior Kobe Lage and junior Gabe Gutierrez at linebacker. Jackson Geerts and Sam Hindbjorgen are big-time disrupters on the defensive line. Johnny Cooper is one of the top defensive backs in the class.
Stevens
The talent is coming along at Stevens. Do they have enough depth to last all season? That's the question that the Raiders are trying to answer as they build their program. They have one of the best running backs in the state with Uriah Glynn back. Their line is stout with Ben Goldy entrenched at tackle and Jed Jenson is showing improvement at quarterback. The Raiders have a good receiving corps back with Kadin Nelson and Easton Ogle. Defensively they have some of the top players that Stevens has had in the last decade with Eli Oxner at defensive back, and Luke Chiolis and Gavin Skinner at linebacker.
Rapid City Central
The Cobblers bring back 17 lettermen to continue to reverse the tide under head coach Richard Cruce. They'll build from the inside out with a solid offensive line. Dawson Miller is one of the best and he's just a junior and sets the tone at left tackle. Trent Farren, Drew Solinsky and David Miller all have starting experience and are back on the line. Lane Darrow has started since he was a sophomore and will be the feature back this season. Heidar Al-azragi and Ryland Lamke are the two returning starters on defense. As of the writing of this no starter at quarterback has been named, Ryan Wetch, Jace Johnson, and Aiden Mason are all competing now.
Preseason Player of the Year
Jacob Knuth, Harrisburg
Jacob has spent much of his life improving at quarterback, he's dedicated his time and effort for the past four years on being the best. Last season he broke out as the most talented signal caller in the state. He not only posted big numbers, but he did all the little things to put Harrisburg on his back and lead them to the title game. Knuth has committed to the University of Minnesota to play quarterback next year. The last South Dakotan to play FBS quarterback was Aberdeen native Josh Heupel who went to Oklahoma. Knuth's arm talent is unquestioned, but he also makes plays with his feet. He is the fastest quarterback in South Dakota that I've seen since Taryn Christion with Roosevelt. Both Christion and Knuth are right around sub-4.6 40-times.
Next 10 in 11AAA
David Alpers, O'Gorman
Taylen Ashley, SF Jefferson
Peyton Carroll, Brandon Valley
Joe Cotton, SF Roosevelt
Cameron Jones, SF Roosevelt
Cade Larson, Harrisburg
Kendis Ledbetter, SF Washington
Josh Piper, SF Washington
Noah Thompson, Brandon Valley
Griffin Wilde, SF Jefferson
More Big-Time Players in 11AAA
Andrew Bunkers, Brandon Valley
Ryan Doll, Brandon Valley
Owen Warren, Brandon Valley
Navarro Schunke, Brandon Valley
Brady Koupal, Brandon Valley
Lucas Slack, Brandon Valley
Ayden Viox, Harrisburg
Bryce Soli, Harrisburg
Andrew Walter, Harrisburg
Jordan Larsen, Harrisburg
Josh Larsen, Harrisburg
Gavin Ross, Harrisburg
Manny Struck, O'Gorman
Rush Landry, O'Gorman
Lane Darrow, RC Central
Dawson Miller, RC Central
Ben Goldy, RC Stevens
Eli Oxner, RC Stevens
Uriah Glynn, RC Stevens
Nick Bunkers, SF Roosevelt
Tyree Nave, SF Roosevelt
Matt Goehring, SF Roosevelt
London Kolb, SF Jefferson
Robert Hutchinson, SF Jefferson
Aiden Brink, SF Washington
Max Thomson, SF Washington
Abraham Meyers, SF Washington
Gabe Gutierrez, SF Lincoln
Jackson Geerts, SF Lincoln

Filed Under Football | Varsity Sports | SD High School