Blog
After the 2020 season brought us a double dose of perfection, I'm curious what 2021 has in store. Bismarck Century enters the year on a 22-match win streak after winning its fifth title in six years. Linton-HMB finished off a perfect season by sweeping Langdon-Edmore-Munich for the state championship last fall. I see those two programs being the favorites again in their respective classes, but you know the rest of the contenders will be hunting for those upsets throughout the year.
Class A Preseason Rankings
1. Century
You have to go all the way back to 2010 to find the last time Century didn't play in a state championship match. It's been an impressive run highlighted by six state championships in that span. Head Coach Jamie Zastoupil returns a number of players with experience, headlined by all-state junior outside hitter Logan Nissley. Nissley has registered 304 kills and 251 digs in her varsity career. She'll become even more valuable to the Patriots this season after transitioning into a six-rotation player toward the end of last season.
Senior Macy Fridgen is a skilled middle hitter that puts up a huge block. The Patriots also return two veteran setters in seniors Delani Clarke (806 career assists) and Abby Fletcher (386 career assists). "We have a really strong senior class that will be good leaders both on and off the court," said Zastoupil. I expect the Patriots to keep swinging away and be the top contender for another state championship crown.
2. Jamestown
The Blue Jays graduated a talented trio from last year's roster that finished runner-up in the WDA tournament and earned a first-round win at state. But the cupboard isn't bare for Sara Hegerle's program. I expect senior hitters Hunter Peterson and Annie Nabwe to elevate their play this season, along with returning setter Katie Trumbauer. Trumbauer was among the WDA leaders in assists last fall, and she provides a steadying presence for this group.
"This team has a lot of potential to be successful," said Coach Hegerle. "They have great chemistry on and off the court and a strong work ethic. We will spend a great deal of our time on our passing and defense this year, as we lost many of our defensive players to graduation."
3. West Fargo
The Packers graduated seven seniors off last year's state runner-up squad, but they have some elite front-line talent returning in senior Nadia Chwialkowski and junior Chloe Pfau. Chwialkowski, a Texas A&M Corpus Christi commit, has over 550 kills in her career along with 72 blocks and 242 digs. "She'll be a key component and contributor to our success," said Head Coach Kelsey Gibbons. Pfau is coming off an incredible sophomore year and will be expected to take on a larger role as an upperclassman.
Junior Olivia Soine will run the offense for a third straight season. She has over 700 career assists and 44 career aces. I expect the Packers to be the front runners in the chase for the EDC title.
4. Davies
After winning the state title in 2019, the Eagles settled for a third-place finish at state in 2020. Carolyn Olson's team finished the year with a 27-7 record and graduated a talented senior class led by all-state standout Grace Solberg. "We will be inexperienced early in the season, but we should be in the mix to qualify for the state tournament at the end," said Olson. Senior hitter Ava Wild will be among the best hitters in the state and has been playing varsity since her freshman year.
5. Bismarck
The Demons made huge strides last season and hope to carry that momentum into this year. After starting out with just three wins in their first eight contests, Bismarck won seven of its final eight matches to close the regular season. Unfortunately, their momentum took a hit with losses to Legacy and Mandan at the WDA tournament. The roller coaster season was likely a product of its youthful roster. "In 2020, we had a very young team," said BHS Head Coach Brianna Kline. "This season our expectations are high with being one of the only teams in the west returning potentially over half of our varsity team."
Senior outside hitter and returning all-region selection Kenadi Renner will be the player that gives opposing coaches trouble. Renner erupted for a big season last year recording 147 kills, 271 digs and 27 aces. Sophomore hitter Tayla Andersen has the potential to become an all-WDA player this season. Senior setter Mia Hinsz should be one of the best assist machines in the state following a strong junior campaign. I expect the Demons to have a bounce back year.
Bubble Teams: Mandan, Sheyenne, Shanley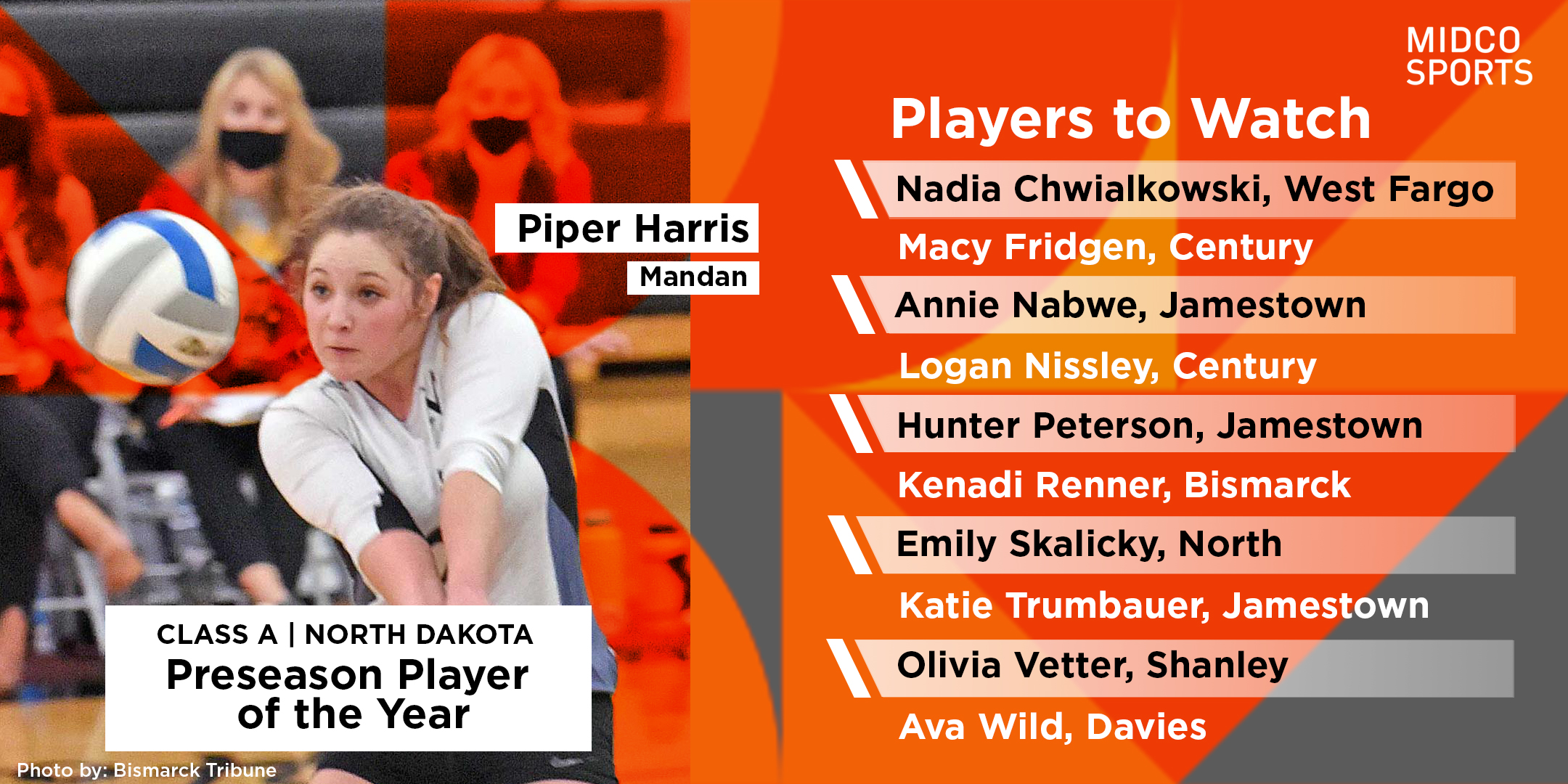 Class A Preseason Player of the Year
Piper Harris, Mandan | Last Season: 570 Digs, 50 Assists, 12 Aces (49 digs in one match last season set school record)
10 Players to Watch in Class A
Nadia Chwialkowski, West Fargo
Macy Fridgen, Century
Annie Nabwe, Jamestown
Logan Nissley, Century
Hunter Peterson, Jamestown
Kenadi Renner, Bismarck
Emily Skalicky, North
Katie Trumbauer, Jamestown
Olivia Vetter, Shanley
Ava Wild, Davies
Class B Preseason Rankings
1. Linton-HMB
Choosing the defending state champion Lions as my top-ranked team was somewhat of a no-brainer. The Lions were 25-0 last year and return virtually their entire roster led by seniors JayCee Richter and Teegan Scherr, the all-state picks from a season ago. Richter is in her fifth year as a starter and holds the all-time school record for aces and digs. Scherr is in her fourth year as a starter and has recorded over 1,000 career digs.
Senior libero Callie Hase is also a member of the 1,000-dig club and another piece to what makes the Lions such an outstanding defensive team. Senior Kim Gefroh and juniors ShayLee Bosch and Gracie Schumacher will also be key players in the Lions' lineup this year. "We play an up-tempo type of volleyball and work hard to stay in system to speed the game up," said Head Coach Jaime Richter. "We have a variety of hitters that Gracie, our setter, can go to at any time. The whole team has a very high IQ and work hard to outsmart their opponents."
The Lions only lost three combined sets all season last year. I don't know if they'll be able to repeat their dominance to that extent, but I don't see any reason why they can't either. It should be another great fall to be a Lions volleyball fan.
2. Langdon-E-M
The Cardinals have played in each of the last two state championships and have a good opportunity to make it three in a row this fall. It's been quite a run for the Langdon-Edmore-Munich volleyball program. They haven't suffered more than five losses in a season since 2013. They're a juggernaut in Class B volleyball and continue to develop talent year after year.
This season, senior and returning all-state pick Morgan Freije will be the go-to player. Freije recorded 244 kills, 20 blocks, 58 aces and 290 digs last season. She's been in the varsity lineup since 8th grade and continues to raise her game to new heights each season. She'll be receiving assists from sophomore all-region setter Jalynn Swanson again. Swanson showed great decision making as a young setter last season and totaled 732 assists. She also broke the school record for assists in a match last year with 55 versus Rugby.
Sophomore Cora Badding is another dynamite hitter for the Cardinals. She topped 200 kills as a freshman and stands at 6-feet tall. "We will have some experience and be versatile at two hitting positions with Freije and Badding," said Head Coach Rich Olson. "We have a talented young setter that has the potential to be one of the best around in Jalynn Swanson. The remainder of our lineup will be new players that are eager to prove themselves at the varsity level." Look for the Cardinals to be flying high once again this season.
3. Thompson
Like the teams ranked above them, the Tommies are a program that consistently delivers wins. Last season, Lisa Strand's team finished 23-2 with their only losses coming to Langdon-Edmore-Munich, the latter in the state semifinal round. Replacing a dynamic senior class led by last year's Region 2 Outstanding Senior Athlete of the Year Kenzie Hughes will be tough, but the cupboard isn't bare either.
The senior trio of Mya Krogstad, Libby Koerber and Jasmine Welke will provide leadership for this year's crew. Krogstad finished last season with 171 kills, 277 digs and 40 kills. Thompson always tries to challenge itself scheduling-wise and Coach Strand is excited for that opportunity again. "We have some matches outside the region that will give us a chance to measure our team against other in the state," said Strand. The Tommies are scheduled to face Langdon-E-M on September 9. Look for the gals in green to be in the mix for a state title in November.
4. Northern Cass
The Jaguars were among the top ranked teams all season last year entering the state tournament with an 18-1 record. They settled for a fourth-place finish at state and graduated some key pieces including all-state pick Morgan Nelson. Head Coach Angie Johnson will lean on her trio of returning varsity players this year, especially early on. "We will have a lot of new faces on the varsity court this year, but they are adapting well and open to the challenge," said Johnson. "We have three returning varsity players, and they will be a good source of leadership on the court, as well."
Senior outside hitter Emma Lucas cracked my top 10 players to watch, and for good reason, after recording over 200 kills and 180 digs a season ago. Coach Johnson describes junior outside hitter Halle Crockett as a "POWERHOUSE" in explaining the way she attacks the ball. Crockett finished with 197 kills and 145 digs in 2020, and I expect her and Lucas to be a force in Region 1 this season. Senior Abby Richman holds down the libero spot after transitioning from setter last season. She's the vocal leader of the group and is always dishing out positive encouragement to her teammates according to her head coach.
5. Our Redeemer's
The Knights are another program that has been on an impressive run of success. Our Redeemer's will be seeking its eighth consecutive region championship this fall. Head Coach Kara Nunziato likes what she has returning. "We have a collegiate level setter running our offense and many full rotation players returning to our team," said Nunziato.
That veteran setter is fifth year starter Eden Olson who has accumulated well over 2,500 career assists. Nunziato says Olson brings a sense of control and confidence to the floor. Olson will be setting for some veteran hitters in the senior trio of Calli Weekly, Sydney Popinga and Cheyenne Lang. Lang was sidelined with an injury last year but should be a key contributor this fall. Popinga led the Knights in aces and kills last season. The Knights have the talent to make some noise this fall.
Bubble Teams: Kindred, Central Cass, North Star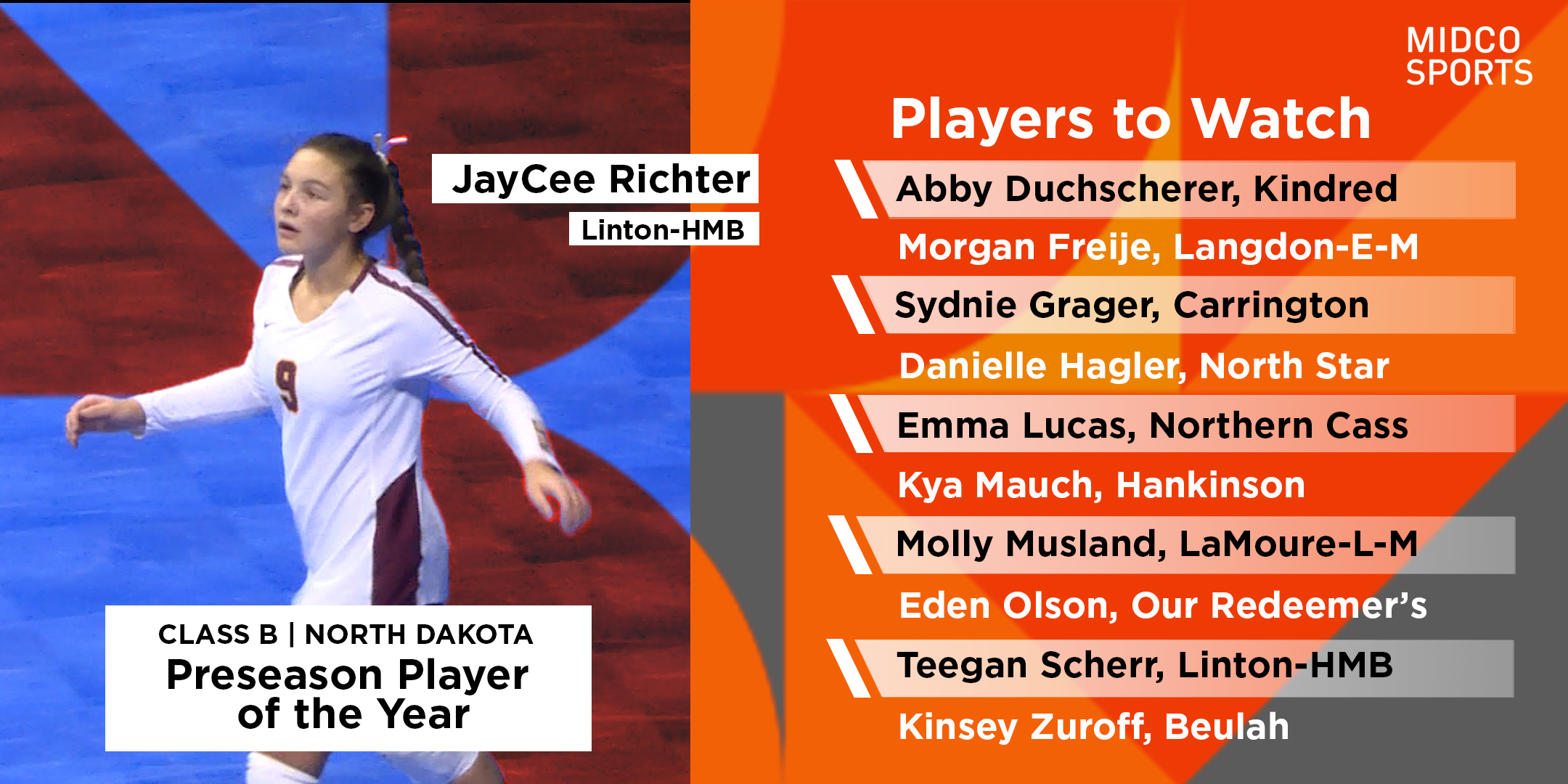 Class B Preseason Player of the Year
JayCee Richter, Linton-HMB | Holds all-time school records for aces & digs
10 Players to Watch in Class B
Abby Duchscherer, Kindred
Morgan Freije, Langdon-E-M
Sydnie Grager, Carrington
Danielle Hagler, North Star
Emma Lucas, Northern Cass
Kya Mauch, Hankinson
Molly Musland, LaMoure-L-M
Eden Olson, Our Redeemer's
Teegan Scherr, Linton-HMB
Kinsey Zuroff, Beulah

Filed Under Varsity Sports | ND High School | Volleyball