Blog
From sixteen teams to ten. That's the change taking place at the division featuring the biggest enrollments in North Dakota high school football.
As if that change isn't enough, there will be an imbalance in the class with six teams from the western side of the state and only four from the east. As far as playoff qualifying goes, the top three east region teams and top five west region teams determined by region record will qualify for the playoffs. From there, the QRF rating system organized by NorthDakota-Scores.net will seed the teams one thru eight. It's going to be interesting to see how this system works, but I'm guessing most coaches will stick to the "control what we can control" frame of mind.
Another noticeable change will be seeing EDC vs WDA crossover games all season long. Typically, those contests have taken place early in the season with the exception of last year when all of those games were canceled due to travel restrictions brought on by the COVID-19 pandemic.
Selfishly I'm excited about this change because I think it has the potential to really grow the interest across the board. The EDC fans, coaches and players are going to become more interested in what those WDA programs are doing week to week and vice versa. Now is probably a great time to drop a shameless plug that Varsity Sports Live delivers the best state-wide football coverage each week with our live, one-hour show featuring highlights, team reaction and analysis every Friday night from 10:30-11:30 pm! Plus, we'll be bringing you a live game nearly every week this fall on Midco Sports! You can also check out the live schedule.
Okay, so I should probably get into the nuts and bolts of what I see happening this season in Class AAA… I mean, 11AA football. I'll get it figured out by the start of the regular season, I promise. Bismarck Century has won 22 straight games including back-to-back Class AAA state championships. They're going to be the team to beat until proven otherwise.
As you'll read about below, there's some great talent at this level including plenty of division one prospects. I'm looking forward to seeing some future stars emerge, too. Sheyenne and Century alone graduated some tremendous talent from their rosters that helped them reach the Dakota Bowl last fall. But those programs have proven they can reload year in and year out.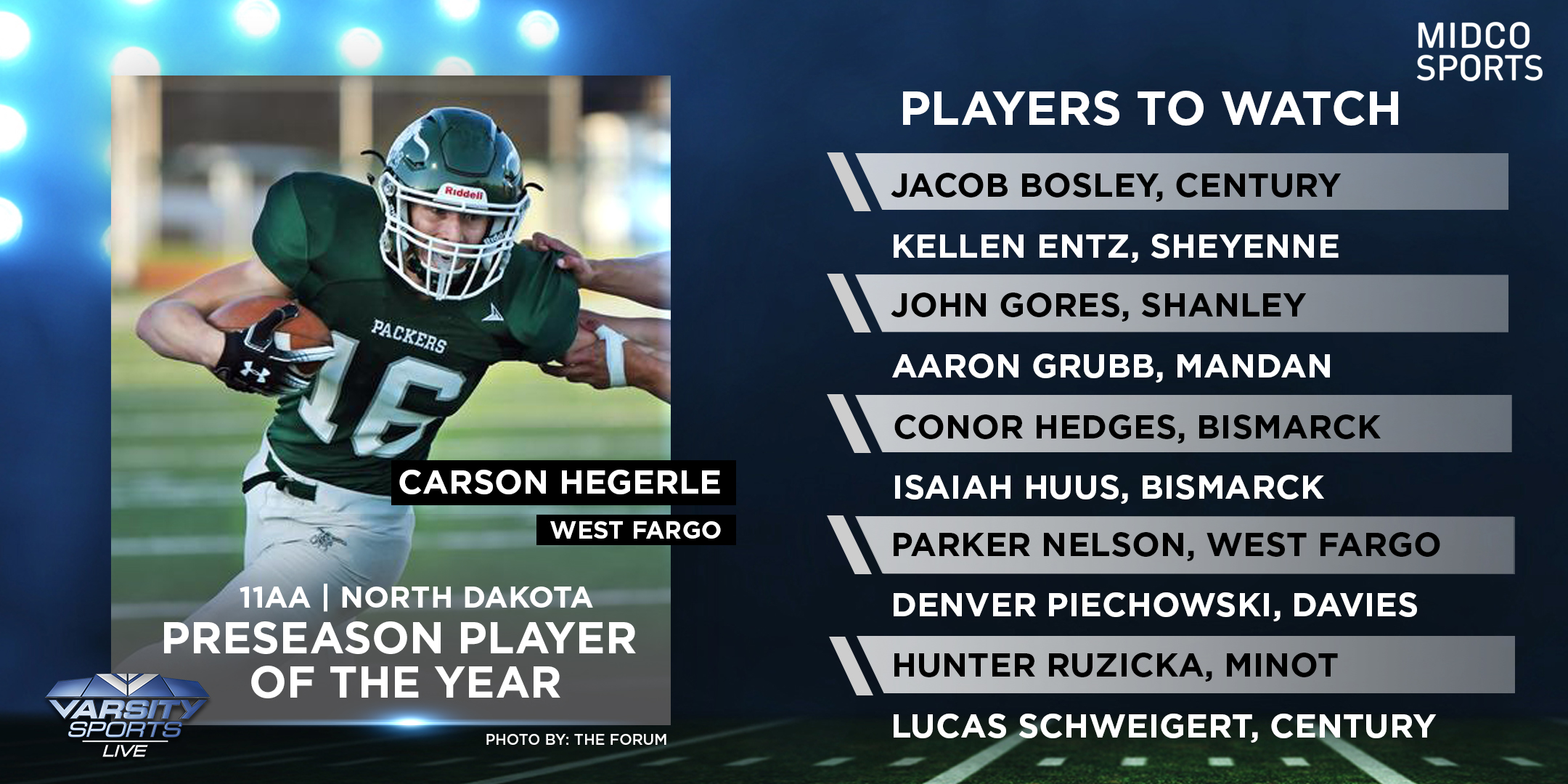 1. Century
The last time Century lost a football game none of the players on this year's roster saw the field. It was the 2018 state championship game against Bismarck High. The Patriots won their final 22 games (including two state titles) as a Class AAA program and now they enter the "new-look" Class 11AA as the prohibitive favorites. Century's dominant run has coincided with some dominant play in the trenches led by 2021 grad Andrew Leingang who's now a freshman at Kansas State. The Patriots have quite a bit to replace on offense after graduating their starting quarterback, all-state running back and four starters on the offensive line. Still, I believe Ron Wingenbach transforms this group into a title contender by the season's end.
Impact Players
I know I mentioned some key departures above, but Century has one of the top players in the state returning in 6'0" 270 lb Sr. OL/DL Lucas Schweigert. Schweigert racked up 30 unassisted tackles last season from his defensive tackle spot and earned first-team all-state honors in the process. He's been a beast for a few years now and his combination of strength and size is going to wreak havoc on the rest of the state.
6'1" 200 lb Sr. Brady Dahl is in line to be the starting quarterback for this year's squad. Like the guys before him, he'll be asked to run the ball quite a bit and I believe he has the skillset for it. Joining him in the backfield will be speedy junior running back Peyton Arndt who rushed for nearly 400 yards last season while creating a few explosive plays catching the ball out of the backfield, too. I heard a lot of high praise surrounding Arndt going into last season, so I expect him to get a lot of touches for the Patriots in 2021. With Schweigert and 6'2" 270 lb junior Jacob Burckhard at the defensive tackle spots, opposing teams are going to have to abandon running up the middle against Century. Those two should eat up plenty of blockers allowing a guy like 2nd team all-state returner Jacob Bosley to make tons of tackles from his linebacker position.
2. Sheyenne
Entering its 8th year as a program, the Sheyenne Mustangs have turned into a perennial state title contender. That's the good news. The bad news is that they've come up short in back-to-back years with losses in the Dakota Bowl to Century. Maybe a third time could be a charm? They have their work cut out for them if they hope to earn that third straight trip to the Fargodome. Jeremy Newton's team graduated seven starters on offense and five starters on defense from that 2020 squad. They won't have current NDSU freshman Barika Kpeenu to lean on in the ground game and their defensive line will look different without all-state picks Abe Hestdalen and Kole Menz. Make no mistake though, the Sheyenne program has been built to contend every season and we'll see some new names emerge on Friday nights. The Mustangs have led the EDC in scoring defense each of the last three seasons. If they can continue to build off that success, they should find themselves playing in the final game of the year once again.
Impact Players
The Mustangs have the most experienced quarterback at the 11AA level with 6'0" 185 lb Grant Warkenthien returning for his third season under center. Warkenthien completed 60 percent of his passes last season for over 700 yards and 8 TD. He was also the team's second-leading rusher with 259 yards and a trio of touchdowns on the ground. Warkenthien attended several camps around the region this summer and the hope is that the investment pays off with a big senior season.
I expect the ground game to be fueled by returners like seniors Josh Henricks and Matt Treib. Treib rushed for over 200 yards last season, reaching the endzone three times. Junior speedsters Ty Schlichting and Kaden Rahr will get chances in the backfield, too. 6'3" 275 lb Brennan Sellheim will anchor the offensive line this season and has all-state potential.
Defensively, the leaders will be in the secondary with Tate Gustafson and third-year starter Kellen Entz. Those two were interception machines last year. Entz has received plenty of interest on the recruiting trail, too. He tweeted out an offer to play for his father at NDSU earlier this month and also holds offers from NSIC programs, MSUM and Northern State.
3. Bismarck
After finishing 5-5 in 2019, the 2020 season was a huge bounce-back year for Bismarck who finished 7-2. For all the successes of last year, the Demons were left thinking "what might've been" had the state's leading rusher, Isaiah Huus, been able to play in the playoffs. Huus suffered an infection in his knee and underwent season-ending surgery right before the start of the playoffs. The Demons were still able to defeat West Fargo in the quarterfinal round and nearly stunned Sheyenne on the road in the semis before eventually falling to the Mustangs 28-21. The Demons only return three starters on offense and two on defense, which means there's a chance of growing pains early in the season. They should benefit from a schedule that has them playing at home for three of their first four contests including the season opener against Mandan on Thursday, August 26th – a game you can watch live on Midco Sports!
Impact Players
It all starts with senior running back Isaiah Huus, who I nearly tabbed as my preseason player of the year in the 11AA class. I pretty much had to flip a coin between the Demon standout and West Fargo's Carson Hegerle. Huus, and his 6'0" 205 lb frame, was hard to bring down last season on not only the football field but the wrestling mat as he repeated as a state champion following his recovery from knee surgery. Despite missing the postseason, Huus, who can be described as a freight train on the football field, still led the state with 1,281 rush yards and 21 touchdowns.
Senior Conor Hedges is the lone returning starter on the offensive line, so the development of depth will be key with that position group. Senior Caden Fischer returns at the QB spot. Fischer battled the injury bug a bit during his first year as a starter, but still managed to pass for five touchdowns and rush for five more. Accuracy is one of Fischer's best strengths. He completed over 70 percent of his passes a year ago and he should continue to benefit from having Huus in the backfield.
Defensively, look for linebackers Ethan Stotz and Brock Fettig to shoulder the load.
4. West Fargo
I'd have to say that from week one to the end of the season, the West Fargo Packers made the biggest improvements of any team in the EDC in 2020. I know that this year's team will look dramatically different, but I'm interested to see if that momentum continues especially when it comes to the players they have returning at some key positions like QB, RB and WR. We'll get those answers early with the Packers playing a very tough schedule to start the season: at Minot (Aug. 27th), vs Sheyenne (Sept. 3rd on Midco Sports), at Century (Sept. 10th), and vs Davies (Sept. 17th). Back-to-back games against the two teams that met in the Dakota Bowl last season? That won't be easy, but Jay Gibson and his veteran coaching staff will have his crew ready for battle.
Impact Players
I alluded to the key positions that have experience up above and that starts with the maturation of senior quarterback Peyton Jantzi. I thought Peyton made some huge strides in his game last year and was playing with great confidence down the stretch. It appears he's been dedicating himself to getting better by attending camps throughout the summer and that'll help as he tries to make the most out of an offense that has some dynamic weapons.
I tabbed Carson Hegerle as my preseason player of the year in Class 11AA. It was neck and neck between him and Bismarck's Isaiah Huus, but I feel Hegerle's all-around impact makes him more valuable. Hegerle shined on offense, defense and special teams last year. The 6'3" 190 lb receiver and defensive back racked up 425 yards on 33 receptions and four touchdowns on offense while finishing with the second-most interceptions in the conference with four, one of which he returned for a touchdown. His blazing speed helped him become one of the most feared return men, too. He had two return touchdowns on our live broadcasts alone last season. Hegerle has been the top recruiting target in the 2022 class as he holds several FBS and FCS offers.
Parker Nelson is another difference-maker on both sides of the ball. Nelson really burst onto the scene last year becoming one of the top running backs in the EDC. He's also a solid defender from the safety spot.
5. Davies
The Davies Eagles are my preseason #5 team for the 2nd consecutive season. I'm not sure if they look at that as a good thing or a bad thing. They continue to have upper-echelon teams but just can't seem to break thru in the postseason and reach their first Dakota Bowl since 2014. Wayne Werremeyer did a remarkable job in his first season as head coach, guiding the Eagles to a 6-1 regular season before falling 26-21 to Mandan in the state quarterfinal round. The graduation of four all-state picks will be tough to replace, but the Eagles typically have solid depth and that'll be to their advantage. They open the season on their brand-new turf field hosting the 25th street rivalry game against Shanley and finish the year off with another big showdown, visiting Sheyenne. I put them in this #5 spot, but cases could be made for both Mandan and Shanley.
Impact Players
In 2020, Davies was returning some pretty good experience at key spots with Reid Hartness at quarterback and Truman Werremeyer as the "quarterback" of the defense from his linebacker spot. Both those guys impacted games on both sides of the ball throughout their respective careers, but now it's time for new names to emerge. 6'1", 185 lb senior RB/DE Denver Piechowski will be the most familiar name to Davies fans following his 2nd team all-state campaign in 2020. Piechowski is explosive as an edge rusher and made a ton of plays in the opposing backfield last season. He showed some similar traits on offense, but his role will undoubtedly expand on that side of the ball as a senior.
The quarterback spot will be sorted out through fall camp according to Coach Werremeyer with Senior Dylan Feldner competing against sophomores Grant Tschosik and Gage Brewer. Feldner was a solid linebacker for the Eagles as a junior. Juniors Ray Brown and Oliver Lucht are a couple of other notables that are expected to make a bigger impact this fall.
The Bubble Teams
Shanley
The Deacons got off to a strong 3-0 start last season but sputtered down the stretch winning just one of their final five games including a 49-28 quarterfinal playoff loss to Century. The offense wasn't the issue for Shanley last year. The Deacons were the 3rd highest-scoring team in the state averaging 35.1 points per game. We'll see if Shanley can keep up that scoring pace following the graduation of all-state quarterback Cooper Mattern who led the EDC in passing yards and touchdowns.
Junior Michael Rostberg takes the reins at quarterback and will undoubtedly lean on returning skill guys like returning all-state pick John Gores, Aidan DeVine, Tyler Kraft and Isaac Emineth. In all, the Deacons return eight starters on offense and six on defense. They'll need all the experience they can get going up against a brutal schedule that includes old Class AA rival St. Mary's on September 17th.
Mandan
The Braves put together a strong season last year, finishing 5-4 with a playoff win on the road over Davies. Todd Sheldon's team will be a little more inexperienced in 2021 though with only two starters returning on offense and three starters back on defense. Sophomore Max Carlson and junior Isaac Huettl are the top candidates to take over at quarterback.
Whoever gets the nod under center will have a good weapon in senior tight end Aaron Grubb. Grubb was a good red zone threat last year hauling in four touchdown passes. He'll also be a leader on defense after finishing second on the team in tackles with 38 including 13 TFL. The Braves open the season on Thursday, August 26th vs Bismarck High in a game you can see live on Midco Sports.
Class 11AA Preseason Player of the Year
Carson Hegerle, West Fargo
10 Players to Watch in Class 11AA
Jacob Bosley, Century
Kellen Entz, Sheyenne
John Gores, Shanley
Aaron Grubb, Mandan
Conor Hedges, Bismarck
Isaiah Huus, Bismarck
Parker Nelson, West Fargo
Denver Piechowski, Davies
Hunter Ruzicka, Minot
Lucas Schweigert, Century

Filed Under Football | Varsity Sports | ND High School