Blog
Reid Meierkort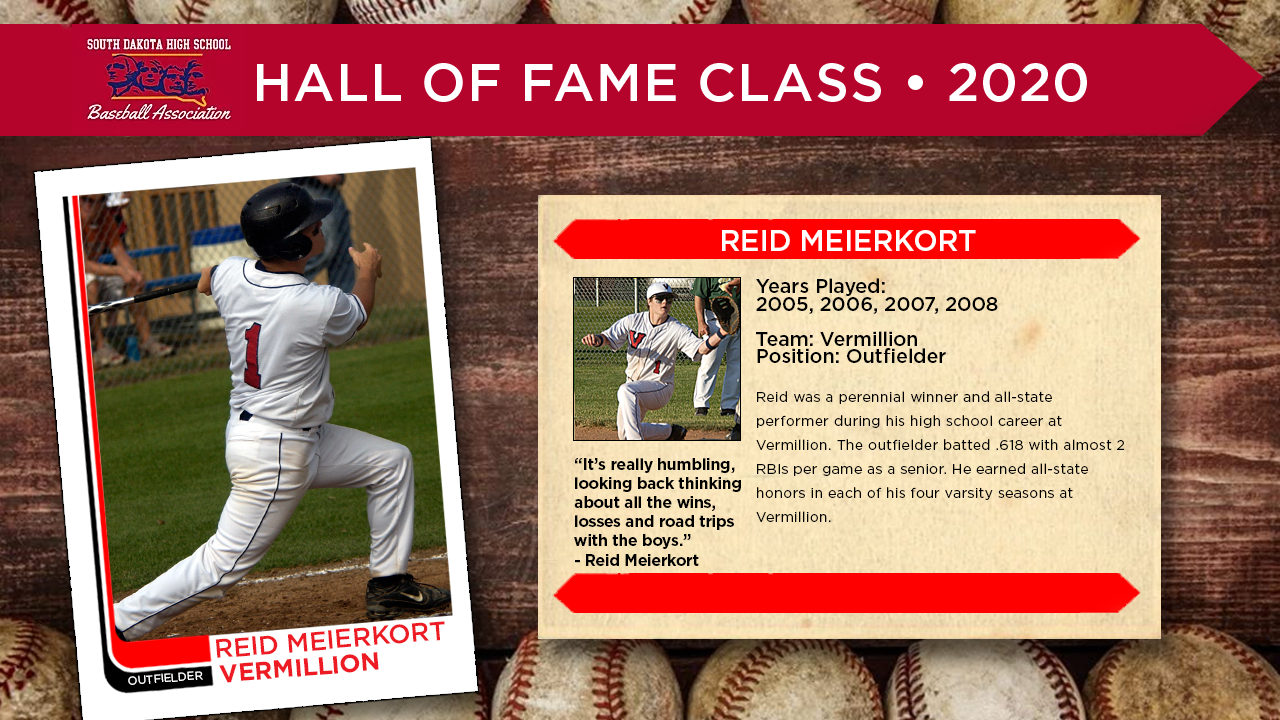 Years Played: 2005-2008
Team: Vermillion
Position: Outfielder
Reid was a perennial winner and all-state performer during his high school career at Vermillion. The outfielder batted .618 with almost 2 RBIs per game as a senior. He earned all-state honors in each of his four varsity seasons at Vermillion.
Reid was honored to be part of the inaugural hall of fame class, "When I first got the call, I thought it was some of my buddies pulling a prank on me to be honest with you," said Meierkort of his notification that he'd been selected to the SDHSBA Hall of Fame. "It's really humbling, looking back thinking about all the wins, losses and road trips with the boys."
Reid's team was always in the mix for a state tournament but came up just short of winning a state title. One of Reid's favorite memories was trying to fool his new teammates when he first moved to Vermillion as a freshman. He told them that he was a switch hitter, but after not having success hitting left-handed, he switched to hitting right-handed and belted a triple for his first varsity hit.
Jake Adams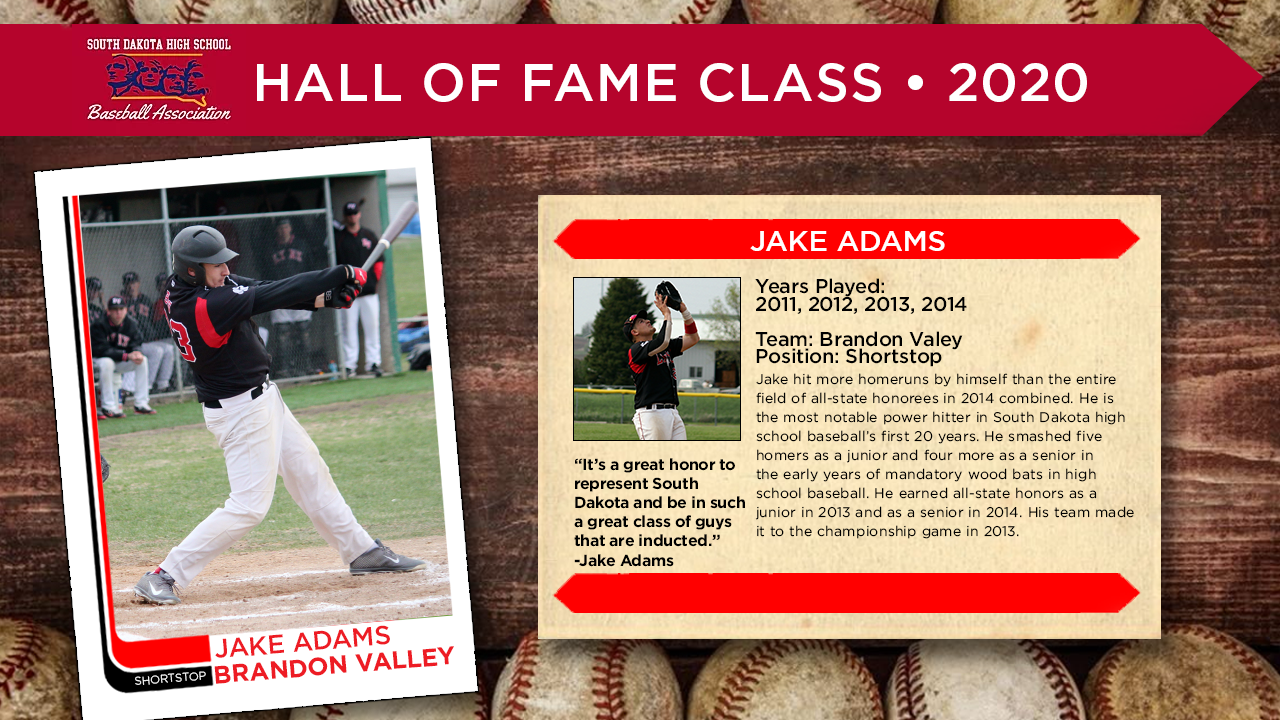 Years Played: 2011-2014
Team: Brandon Valley
Position: Shortstop
Jake hit more homeruns by himself than the entire field of all-state honorees in 2014 combined. He is the most notable power hitter in South Dakota high school baseball's first 20 years. He smashed five homers as a junior and four more as a senior in the early years of mandatory wood bats in high school baseball. He earned all-state honors as a junior in 2013 and as a senior in 2014. His team made it to the championship game in 2013 which was one of his favorite memories during his high school career. "My whole sporting career in my junior year we finished second. Our best opportunity for a championship was baseball but Connor Grove of Roosevelt had our number that day." Another great memory was during his senior season, "My brother-in-law [Mitch Hoover] was pitching and he was a freshman at the time, I was playing shortstop. We got a ground ball right to me and I caught the ball, flipped it to second base and we got a double play. We hardly got any double plays because we were too slow so that was big."
Jake went on to play at DMACC out of high school, then played one season at the University of Iowa where he broke the school record and Big Ten single season record with 29 home runs. He went on to get drafted by the Houston Astros in 2017 and is currently in their farm system.
It's a great honor to represent South Dakota and be in such a great class of guys that are inducted.
Layne Somsen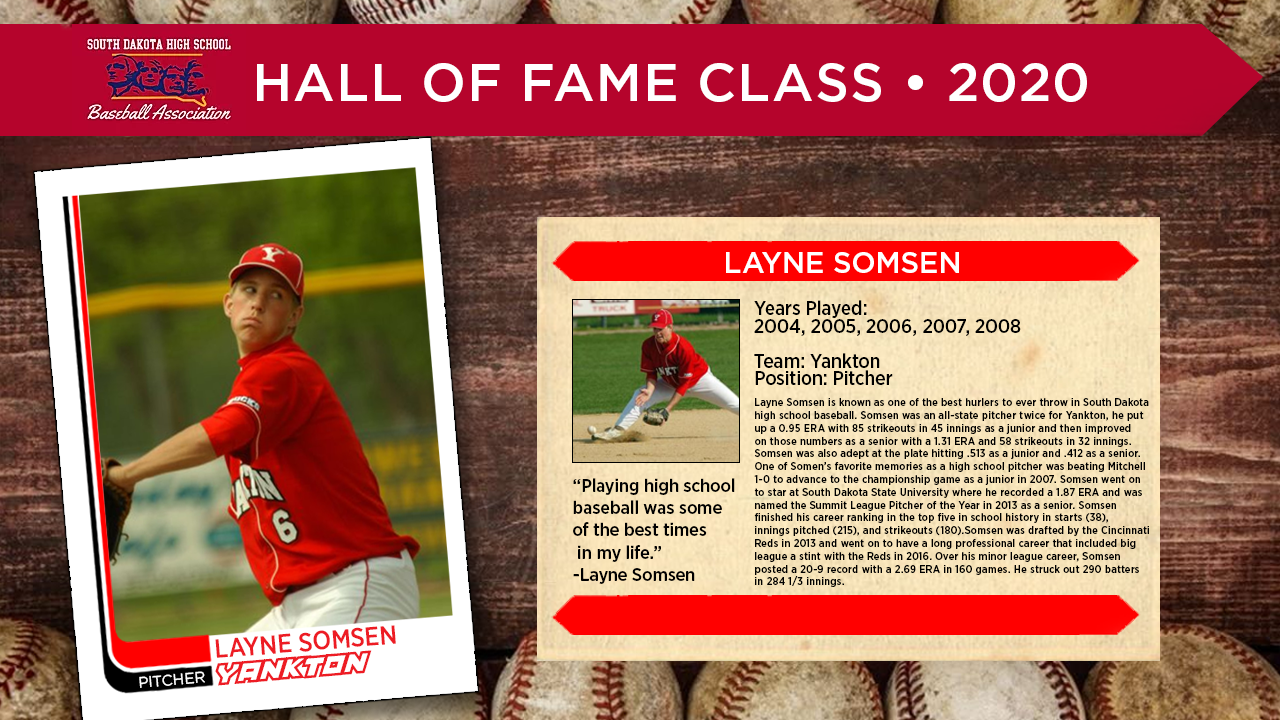 Years Played: 2004, 2005, 2006, 2007, 2008
Team: Yankton
Position: Pitcher
Layne Somsen is known as one of the best hurlers to ever throw in South Dakota high school baseball. "Playing high school baseball was some of the best times of my life. We were lucky enough to have some pretty good teams," said Somsen.
Somsen was an all-state pitcher twice for Yankton, he put up a 0.95 ERA with 85 strikeouts in 45 innings as a junior and then improved on those numbers as a senior with a 1.31 ERA and 58 strikeouts in 32 innings. Somsen was also adept at the plate hitting .513 as a junior and .412 as a senior.
One of Somen's favorite memories as a high school pitcher was beating Mitchell 1-0 to advance to the championship game as a junior in 2007.
Somsen went on to star at South Dakota State University where he recorded a 1.87 earned run average and was named the Summit League Pitcher of the Year in 2013 as a senior. Somsen finished his career ranking in the top five in school history in starts (38), innings pitched (215), and strikeouts (180).
Somsen was drafted by the Cincinnati Reds in 2013 and went on to have a long professional career that included big league a stint with the Reds in 2016. Over his minor league career, Somsen posted a 20-9 record with a 2.69 earned run average in 160 games. He struck out 290 batters in 284 1/3 innings.
Jason Schmidt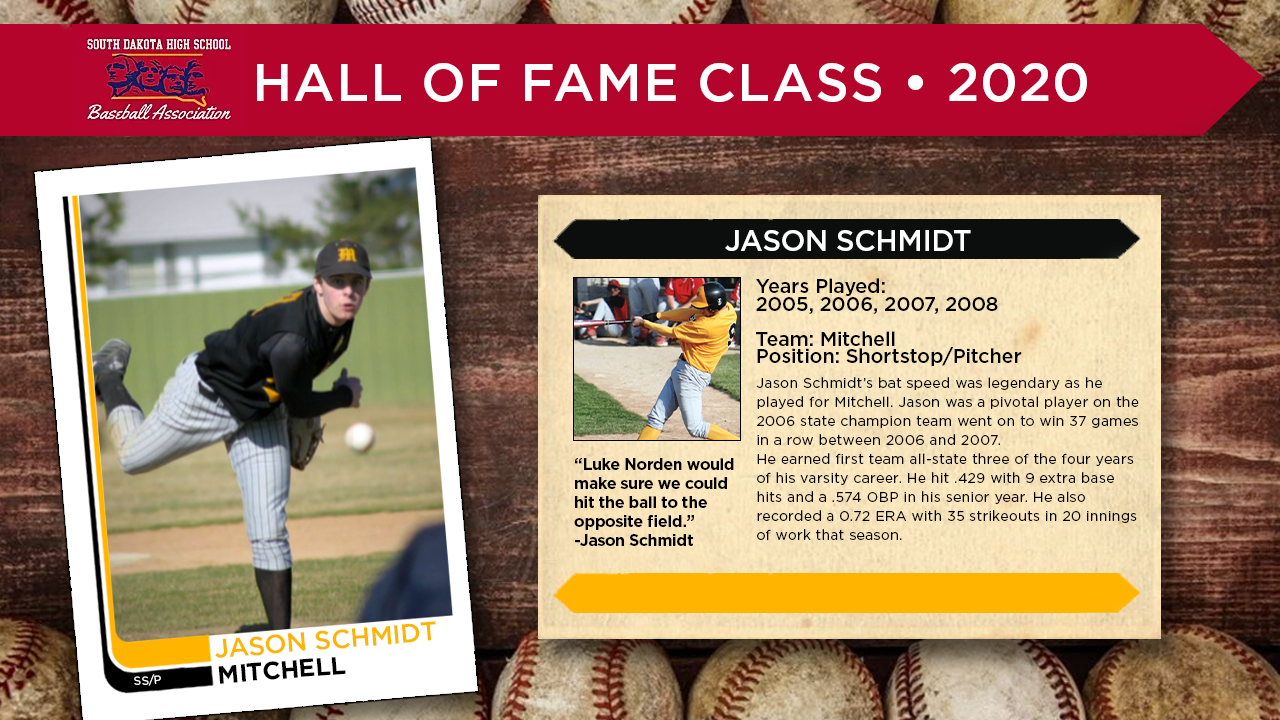 Years Played: 2005, 2006, 2007, 2008
Team: Mitchell
Position: Shortstop/Pitcher
Jason Schmidt's bat speed was legendary as he played for Mitchell. He always was at or near the top of the state in on base percentage because he had a great eye at the plate too. He credits his coach Luke Norden for making him a complete hitter, "He would make sure we could hit the ball to the opposite field," said Schmidt. Jason was a pivotal player on the 2006 state champion team went on to win 37 games in a row between 2006 and 2007.
He earned first team all-state three of the four years of his varsity career. He hit .429 with 9 extra base hits and a .574 OBP in his senior year. He also recorded a 0.72 ERA with 35 strikeouts in 20 innings of work that season.
Schmidt went on to have a stellar career at Mt. Marty from 2009-2012 where he picked up a conference athlete of the year award in 2011.
Dusty Coleman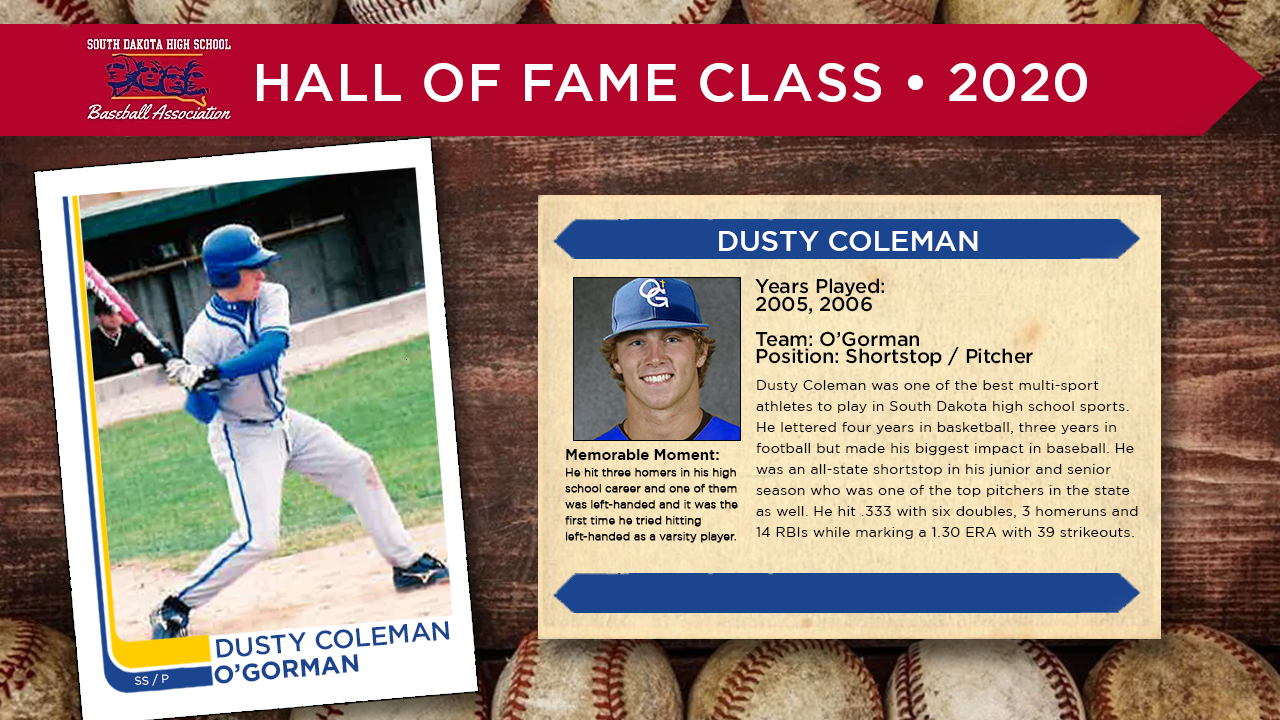 Years Played: 2005, 2006
Team: O'Gorman
Position: Pitcher/Shortstop
Dusty Coleman was one of the best multi-sport athletes to play in South Dakota high school sports. He lettered four years in basketball, three years in football but made his biggest impact in baseball. He was an all-state shortstop in his junior and senior season who was one of the top pitchers in the state as well. He hit .333 with six doubles, 3 homeruns and 14 RBIs while marking a 1.30 ERA with 39 strikeouts. But what made Dusty so memorable was that it seemed there was nothing athletically he couldn't do. He hit only three homers in his high school career and one of them was left-handed and it was the first time he tried hitting left-handed as a varsity player.
Coleman went on to play two years of college baseball at Wichita State when he was drafted by the Oakland A's. He played in the Oakland farm system from 2008-2014. From 2015-2017 he made his big-league debut with the Kansas City Royals and played in their minor leagues. He then had another stint in the major leagues with San Diego in 2017 before retiring from professional baseball.
Tyson Gau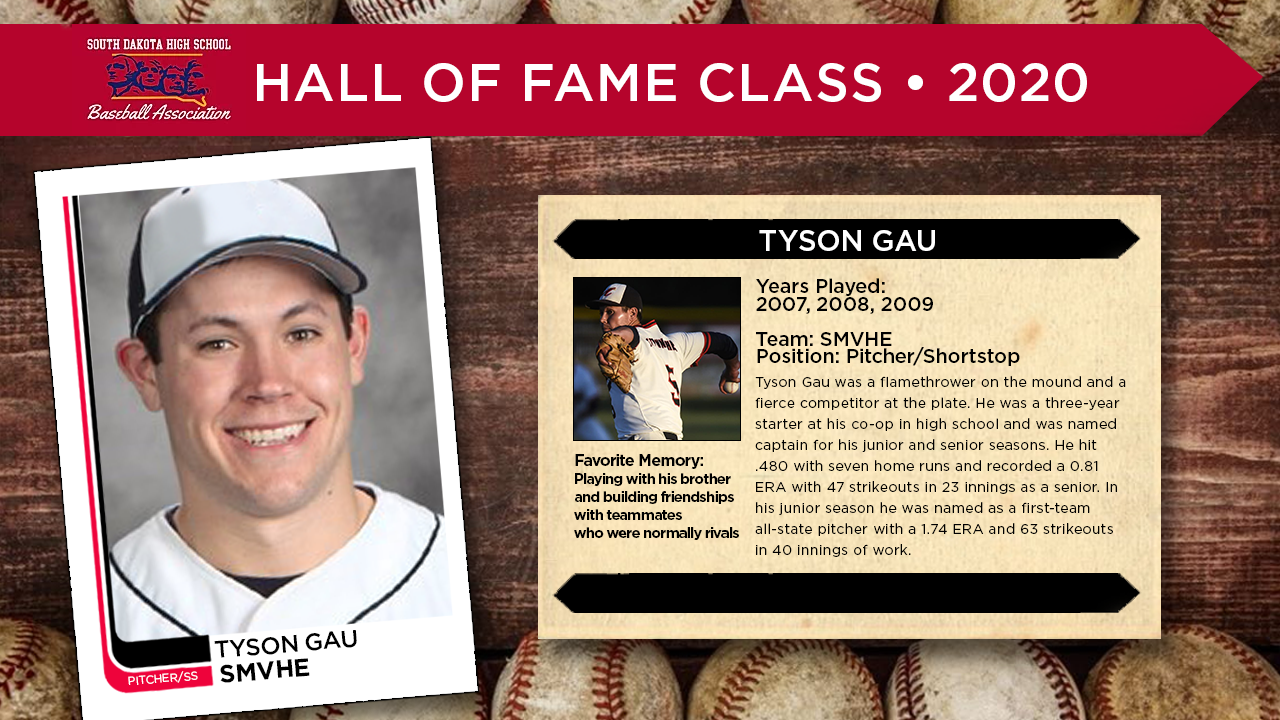 Years Played: 2007, 2008, 2009
Team: SMVHE
Position: Pitcher/Shortstop
Tyson Gau was a flamethrower on the mound and a fierce competitor at the plate. He was a three-year starter at his co-op in high school and was named captain for his junior and senior seasons. He hit .480 with seven home runs and recorded a 0.81 ERA with 47 strikeouts in 23 innings as a senior. In his junior season he was named as a first-team all-state pitcher with a 1.74 ERA and 63 strikeouts in 40 innings of work.
"I loved playing with the rivals I usually played against," said Gau who's team had anywhere from four to six schools co-oping in his high school career. He remembers his favorite moment of high school baseball when he faced Parkston in the region playoffs in 2007, "I remember hitting the ball out of the park even though I was leaning into the opposite batter's box."
He originally planned to play football at DWU but after a knee injury in the summer before his freshman season, he decided to play college baseball at Augustana.
Jack VanLeur

Years Played: 2003, 2004, 2005, 2006
Team: Brandon Valley
Position: Pitcher
Jack VanLeur was an intimidating force on the mound in his time at Brandon Valley and was always willing to take the ball. He and his rubber arm found plenty of individual and team success at Brandon Valley as he became known as the best pitcher in his era in high school baseball. He was a two-time all-state selection in baseball. As a junior, he led the Lynx to a runner-up finish at the state tournament to Aberdeen.
VanLeur went on to pitch college baseball at Creighton from 2007-2011 and then played in the Canadian-American Association and the American Association in independent baseball through 2013.
"I love being outside playing. I used to just throw a tennis ball at my garage for hours. I'd rather strike someone out than hit a homerun."
Connor Schaefbauer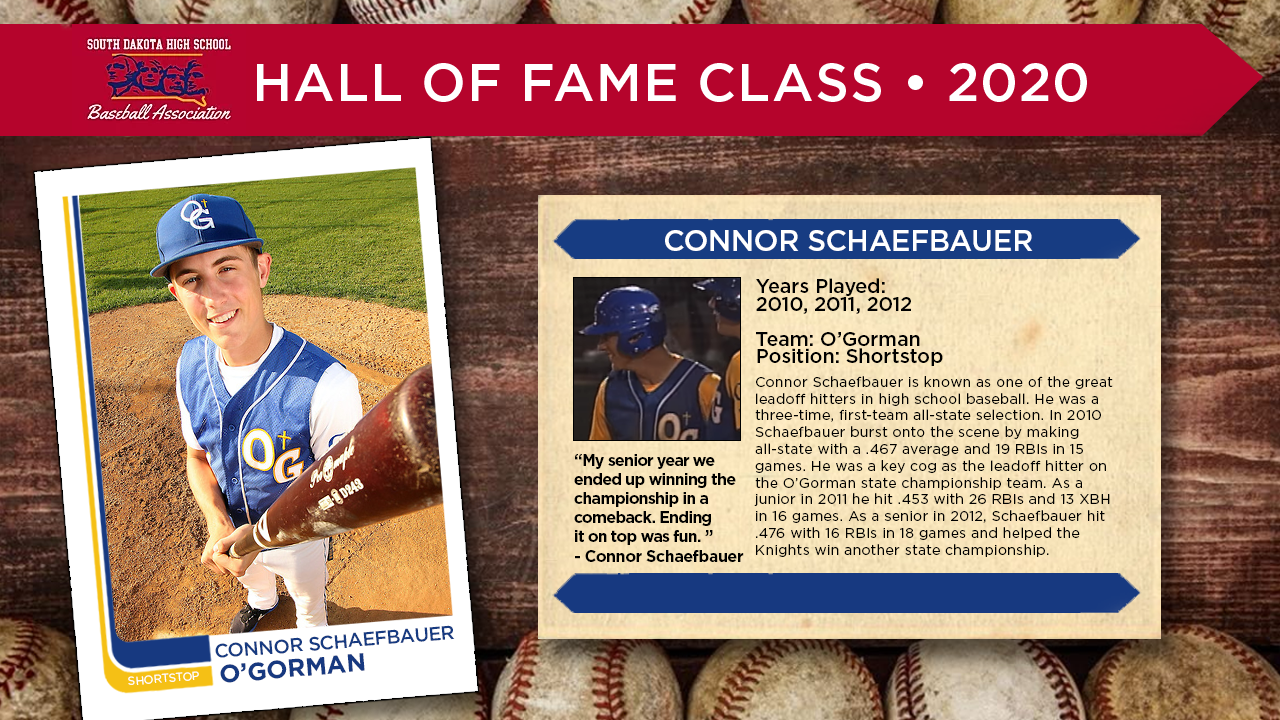 Years Played: 2010, 2011, 2012
Team: O'Gorman
Position: Shortstop
Connor Schaefbauer is known as one of the great leadoff hitters in high school baseball. He was also stellar with the glove and a tremendous competitor who took home two state titles. He played with O'Gorman for three seasons and was a three-time, first-team all-state selection. In 2010 Schaefbauer burst onto the scene by making all-state with a .467 average and 19 RBIs in 15 games. He was a key cog as the leadoff hitter on the O'Gorman state championship team. As a junior in 2011 he hit .453 with 26 RBIs and 13 XBH in 16 games. As a senior in 2012, Schaefbauer hit .476 with 16 RBIs in 18 games and helped the Knights win another state championship.
Schaefbauer continued his career after high school at the University of Minnesota. He punctuated a great career as he earned All-Big Ten first team in his senior season in 2016.
Robb McClemans

Years Played: 2002
Team: Brookings
Position: Shortstop
Robb McClemans was a power in the middle of the Brookings lineup and helped his team win a state title in their first year of spring baseball. McClemans was named player of the year in 2002. McClemans has fond memories of his year in the SDHSBA. "We were right around .500 during the season. But our coaches Billy McMacken and Matt Krogman gave us the confidence to play with better teams in the playoffs, I'm honored to be in the hall of fame after just one year."
McClemans started his college baseball career at South Dakota State University, then transferred to Mt. Marty College where he was honored with all-GPAC second team and also tied a national NAIA record when he hit two grand slams in one game.
Bryce Ahrendt

Years Played: 2002-2003
Team: Tri-Valley/West Central/Montrose/Baltic/SF Christian Rangers
Position: Pitcher
Bryce Ahrendt was one of the top competitors in SDHSBA Class B history. He went 25-0 in his years as a high school pitcher. Bryce remembers one of his favorite games as a high school player,
"We were playing Flandreau/Colman-Egan we faced Chris Webber and whenever we played them it was a good game. It was always a battle but got them every time. I had a no-hitter going into the 7th and he had a one-hitter, but we got them."
Bryce led his team to two state tournament championships in 2002 and 2003. He was named player of the year in 2003. After high school he played at Augustana and was named team captain his senior year. He also played for the San Angelo Colts and Rio Grande Valley WhiteWings in the United League Baseball.
"I wasn't expecting to get a call saying 'Bryce, you're a hall of famer.' It was pretty cool. "
Cole Knippling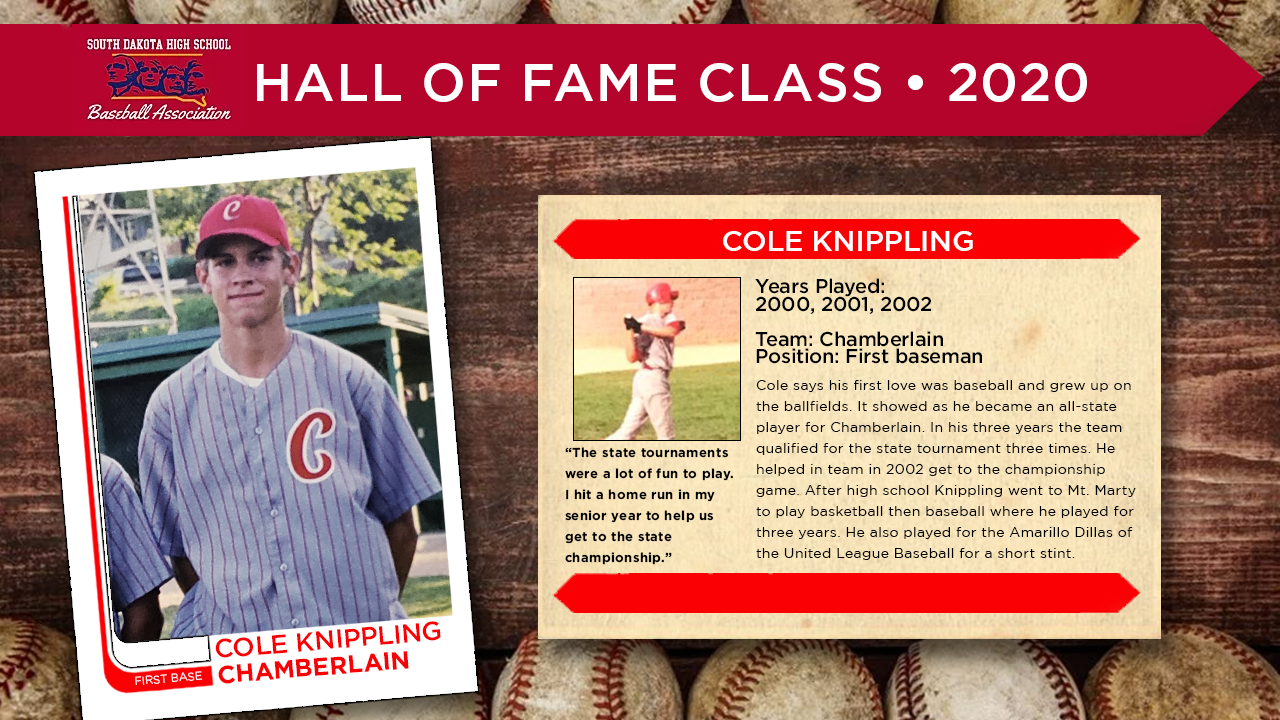 Years Played: 2000, 2001 and 2002
Team: Chamberlain
Position: First baseman
Cole says his first love was baseball and grew up on the ballfields. It showed as he became an all-state player for Chamberlain. He helped in team in 2002 to the championship game.
He talked about some of his favorite memories playing for Phil Johnson and Brock Sundall. "The state tournaments were a lot of fun to play. I hit a home run in my senior year to help us get to the state championship."
After high school, Knippling went to Mt. Marty to play basketball and but switched to baseball and played for three years. He also played for the Amarillo Dillas of the United League Baseball for a short stint.
Jared Donahue

Years Played: 2005, 2006, 2007
Team: Winner/Colome
Position: Pitcher
2007 graduate of Winner High School, Jared was a four-sport athlete, also competing in wrestling, basketball and track. He had a fantastic junior season, going 10-0 with a miniscule 0.69 earned run average. Jared was a two-time all-state selection in baseball and played at SDSU and Dakota State after high school.
Derek West

Years Played: 2002, 2003, 2004
Team: Chamberlain
Position: Shortstop/Third baseman
Derek West was a fierce hitter and great athlete at Chamberlain. He credits the great coaching in high school to much of his success, "We may have had the best high school coaches we could have possibly had with Phil Johnson and Brock Sundall."
West was a three-year varsity starter and was named to the all-state team each of those years. West capped off his stellar prep career by hitting .481 as a senior. Derek's most memorable moment of high school baseball was playing in the state championship game in 2002.
West continued his baseball career at Southwest Minnesota State University as a recruited walk-on. By the time he was a senior, he earned All-American.
Landon Busch

Years Played: 2010, 2011, 2012
Team: Brookings
Position: Pitcher/Outfield
Landon Busch was an outstanding overall athlete who excelled on the mound and at the plate for Brookings. Landon said baseball wasn't always number one but grew to love baseball the most, "Basketball was my favorite sport growing up and baseball was my second favorite. As I moved into high school baseball became more of a priority."
Busch was named all-state in 2011 and 2012. He hit .390 as a senior and .486 as a junior. He was also an outstanding pitcher for the Bobcats. After high school Busch went to pitch at Kansas State and transferred to South Dakota State University to finish his college career.
Drew Heithoff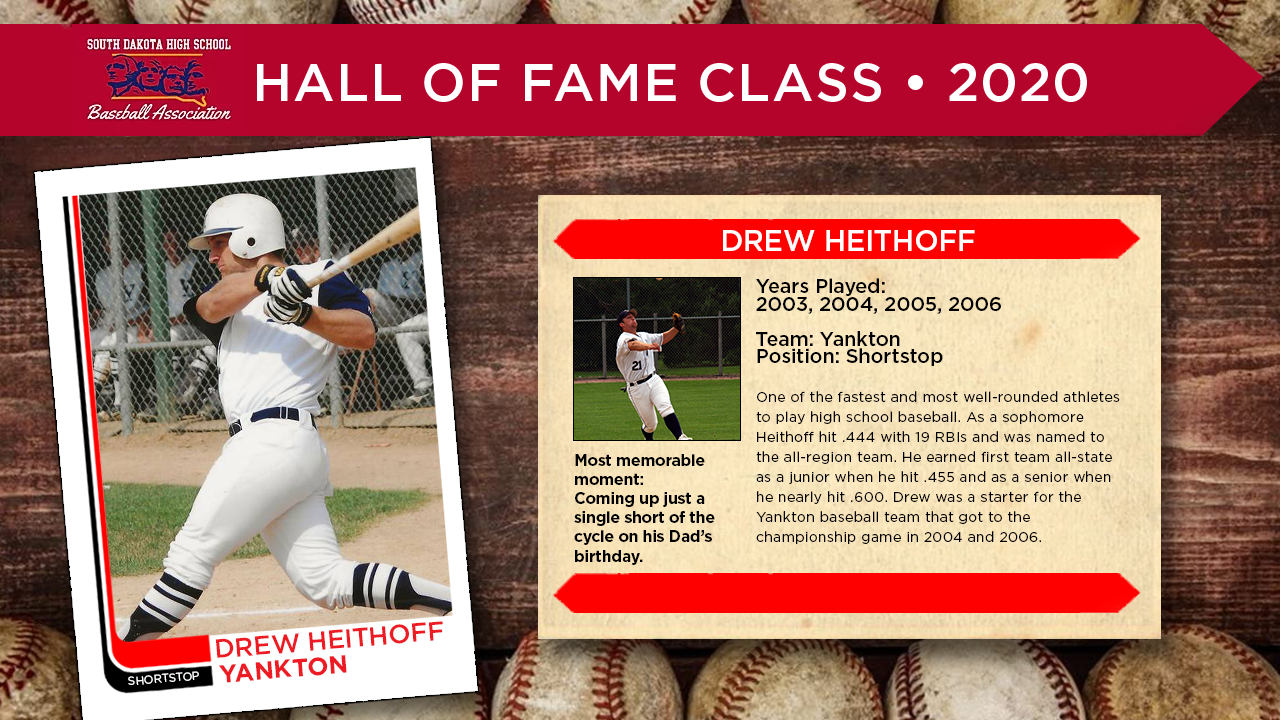 Years Played: 2003, 2004, 2005, 2006
Team: Yankton
Position: Shortstop
One of the fastest and well-rounded athletes to play high school baseball. As a sophomore Heithoff hit .444 with 19 RBIs and was named to the all-region team. He earned first team all-state as a junior when he hit .455 and as a senior when he nearly hit .600. Drew remembers the great road trips on the teal green transit bus that Yankton had but his most memorable moment was on his dad's birthday when he was a single short of going for the cycle.
Drew was a starter for the Yankton baseball team that got to the championship game in 2004 and 2006.
After high school, Heithoff starred at Augustana where he set records for career stolen bases, games played and plate appearances. He went on to play in the Frontier League for the Schaumburg Boomers.
Justin Kline

Years Played: 2004, 2005, 2006, 2007, 2008
Team: Aberdeen
Position: Catcher
Justin Kline has always loved baseball; he got his first taste of varsity ball after tagging along with his older brother to practice where he ended up making the team as an 8th grader. Kline was a major part of Aberdeen's run of four titles in five years between 2004-2008.
Justin made a big impact as a freshman where he earned all-state honors as a catcher. He was ultimately named to the all-state team four times during his high school career. Kline was named South Dakota Player of the Year in 2008 during the spring when he hit .512 with 18 RBIs in 43 at-bats over 16 games. Kline broke every high school offensive career and single season record for Aberdeen.
After high school, he played two years at NDSU where he was selected to the Louisville Slugger Freshman All-America Team by Collegiate Baseball Newspaper and was named to the 2009 All-Summit League second team. He finished his college career after an injury at Presentation College for one year.
Aberdeen 2008 Team
The 2008 Aberdeen team went 15-3 and captured their fourth title in five years of Class A baseball. They were littered with stars that season. Their head coach was John Krogstrand and they were assisted by Mark Gulseth. Gulseth had been the head coach for the other three championship teams but stepped down to just help after accepting the head coach job at Northern State.
The team captain Justin Kline was a central part of that Aberdeen run. He hit .512 with 18 RBIs in 16 games for Aberdeen. Evan Nolte also was a first team all-state selection, he hit .412 with five extra base hits. Sam Heintzman led the team in innings pitched (21.2) and strikeouts (34). Matt Kervin, Evan Jordre, Tayler Morsching all earned All-Region recognition as well.
This team has stayed tight, in part due to remembering a teammate who passed away. Each year they get together to remember Bryce Anglin who died during his college years at Northern State. Visit Bryce Nation Foundation for more on the Bryce Nation Foundation.
St. Thomas More 2010 Team
St Thomas More has built a reputation for winning. It started back with their first titles in 2009 and 2010 where they gained the reputation as the most dominant class B team in SDHSBA history and St. Thomas More had just started their program in 2008 under Head Coach Jeff Pekny.
The 10 team had the luxury of building with 9 seniors. During that season STM ran their record to 22-0 and didn't get involved in many close games, they even beat Class A Rapid City Central and Rapid City Stevens.
That team hit six home runs to lead the state and batted .434 as a team. Nolan Johnson was an all-state selection hitting .571 with 10 extra base hits and 20 RBIs. Jared Jacobson was named to the All-State second team hitting .560 with 18 RBIs. Ethan Jarding and JJ Johnson earned all-state recognition as pitchers. Their team ERA was 1.26. The 2010 Cavaliers will go down as one of the best ever.
Bud Jenniges
Bud helped build baseball in South Dakota. After moving back to Hot Springs in 2001, Bud coached baseball as a high school club sport and also a town team. He also served on the SD High School Baseball Board of Directors for 9 years. Bud received the friend of SDHSBA award in 2014. After 65 years as a player and coach, Bud finally retired as a fan and supporter of all levels of baseball from Little League to MLB. He later passed away in 2017.
J.R. Yde
J.R. loved baseball. When his older son Dane reached high school, he was one of numerous parents that helped found high school baseball in South Dakota. He would form a co-operative Class B high school team made up of Baltic, Tri-Valley, Montrose, West Central, and Sioux Falls Christian high schools and make their home at historic Renner Field. His team would finish with the league best record and as the runner-up in the state tournament in 2001. The following year, the Rangers won the State Championship and J.R. was named South Dakota High School Baseball's Coach of the Year.
Jason Gault
The first coach for the Vermillion HS baseball team. He joined the board in 2012 and became the second ever president in 2017. The highlight of Gault's coaching career was Vermillion's 2012 state championship in which they came back to score the final four runs of the game and win in 9 innings.
Jason was there from day one and his contributions to the board are unmeasurable. He was a big part of the changes that were made to high school baseball in his time on the board.
Phil Johnson
He played baseball at the University of Minnesota, then moved to Chamberlain where he eventually became a coach and was a founding member of the SDHSBA board. He took Chamberlain to several state tournaments, but credits the community including his wife Deb for making Chamberlain baseball special.
Brad Schramm
In 2003 Brad was the first president of the SDHSBA. He did everything in the early years to keep this organization running smoothly. He served three four-year terms as the president until he stepped down in 2016. He'll be remembered for his dedication to the sport and tireless work to grow the organization.
Lyle Smith
Lyle made his name as a baseball guy as the head coach of the Iowa State baseball team. He moved to Sioux Falls and ran the Sioux Empire Baseball Association and helped grow baseball in the state's largest city. Before the SDHSAA was run by a board, Lyle organized the high school league. His contribution to South Dakota baseball cannot be underestimated.

Filed Under SD High School | Baseball/Softball