Blog
Officials, referees and umpires are in short supply, and the future of all those individuals who go out there day after day, in what often is a thankless job, is looking bleak, as they are getting asked to carry a bigger load.
There are obviously a number of reasons why this trend continues. Some of them include abuse aimed at officials across all sports, the age of most of the current officials, the fact there are more competitions and games year-round, and the pay.
However, for those of us who frequent athletic events at all levels throughout the calendar year, it is fairly obvious what the biggest cause is. The abuse officials take on a daily basis is dreadful.
A recent survey by the National Association of Sports Officials (NASO) reported more than 75 percent of all high school officials quit due to adult behavior and, what's more, 80 percent of new officials step away after only two years of officiating. In an article published last July, the Iowa High School Athletic Association recorded a 12 percent decrease in its total number of registered officials across basketball, baseball, football, soccer, swimming, track and field, and wrestling, all sports that require assigned officials for postseason events from 2007-2017.
It has come to the point where scheduling is starting to get impacted. This past season, the Minnehaha girls and boys basketball teams had to move their games up a day so they'd have officials available.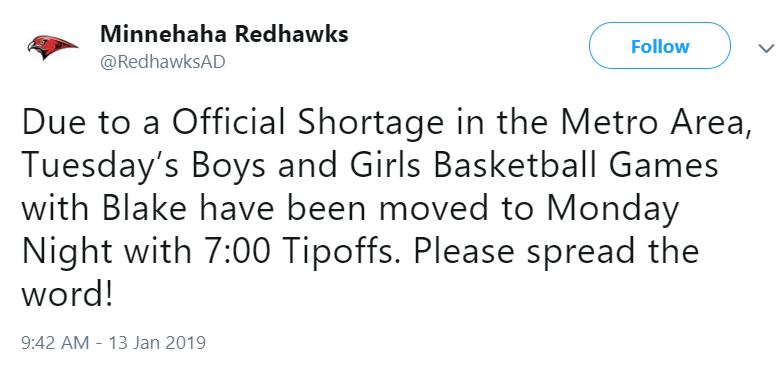 It is obvious that there is a problem, and the reasons for it are as plain as day. So the question becomes: how do we start to change it?
Former Minnesota Twins third baseman Corey Koskie has been an advocate for creating more positive environments in youth sports after witnessing one major issue: too much complaining and too much negativity from kids, their coaches and their parents. In 2018, he started a website called Linklete, designed as a place for young athletes and parents to be inspired, encouraged and mentored.
On Twitter this past summer, he shared a story about a 14 year old's experience as he was working a baseball game. It's very disheartening to read, but an all too common story.
There was an incident where the away team coach was yelling at me multiple times about my calls. Although the calls weren't all perfect, I did my best. I just turned 14, and this is my second season to umpire. He was yelling and telling me how bad of an umpire I was, and how I should not be umping. There were also some moms from the away team that were yelling all the time as well.

I want to continue to improve as an umpire, and I'm sure I will learn more every game. But if this happens again, I don't really want to umpire again. I need to better understand how to deal with parents and coaches. It is hard to be the only umpire on the field in games like this.
Causes like Koskie's are a step in the right direction. In a story from WCCO's David McCoy last summer, Koskie said, "Stuff happens in youth sports that parents, kids don't know how to handle. And I want to build a platform in which it could be a reference for the parents and the kids to go to to help them go through some of the tough times in youth sports."
Parents, coaches and kids need to get back to finding the joy of playing a game, working with others and developing interpersonal skills. Some of the hostile atmospheres many officials endure will eventually mean there are no more games to attend, because there won't be anyone there officiate them. So encourage, cheer and clap. And if you can't do those, just sit there and shut your yap.

Filed Under Football | Basketball | College | ND High School | SD High School | Baseball/Softball